How can you make your home look more expensive without breaking the budget?  Is it possible to get a high end look and still have a comfortable, family-friendly home?  Our homes have a direct link to how we feel and we're more energetically happier, aligned, and energized when our homes are put together and look good.  So keep listening to discover how to get your home to feel a little extra without spending a lot of extra.  Are you ready?  Listen above, or read on below, to find out.
Links mentioned in this episode:
By making some smart design choices you can really elevate the look of your home. And it's so important to live in a home that is beautiful and makes us feel good.  When we live in prettier spaces, we show up differently.  We feel energetically charged and higher.  
Think about how you feel when you're all dressed up for an event with a fabulous outfit, your hair done, when you're all put together you show up differently.  You hold your head higher, you feel happier and more confidence.  Compare that with how you feel when you're in your old sweats with your hair up in a bun and haven't showered for days.  
Or think about how you feel when you walk into Nordstrom, Neiman Marcus, or Saks Fifth Avenue compared to how you feel when you walk into Walmart.  It's a different vibe, right.  Both stores are good and have their place, but one makes us feel different than the other. 
We want our homes to feel a little dressed up, you know… a little extra (while still being comfortable and livable) because I want you to feel good in your home.
So I'm sharing some ways to give your home that expensive look.  You can do this on any budget and pick and choose which ideas you connect with and that would work in your home.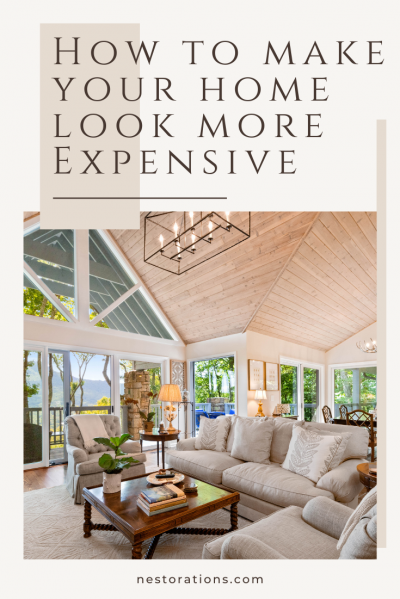 Choose and Use a Color Palette
High end homes and model homes, which do an amazing job of making you want to buy a home, often have one thing in common.  They have a cohesive color palette.  All the rooms flow together and feel connected.  
You see similar colors repeated throughout the home. And this is luckily something you can easily do in your own home.  
When picking a color palette I like to pick 3 colors and those are the 3 colors you see throughout the home.  I have a whole post devoted to choosing color palettes which is worth your time to check out. 
Tips to Choose Your Color Palette
An important tip when working with a color palette is to use varying shades of the 3 colors.  It keeps your home from feeling flat which gives a low end vibe. 
For example, if your 3 colors in your color palette are white, browns, and blues you'd want varying shades of those colors.  Light browns, darker or mid-tone browns, varying shades of blue like navys, spa blues, light blues.  Varying the shades is a big part of making your home flow, but feel visually connected.
A neutral color palette is best to get that expensive look. With whites, and either beiges or grays, depending on your preferences. (I'm a beige girl myself over gray since it's warmer and cozier.) And then your accent color like blues, greens, blacks, reds, whatever you accent colors you like.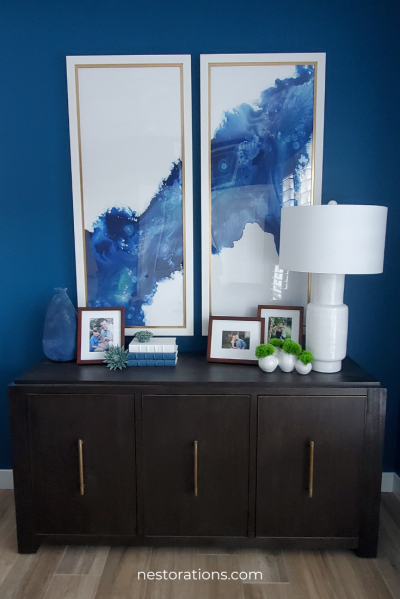 Hang Large Artwork to Make Your Home Look Expensive
Hanging larger art work makes your home look more expensive.  Larger wall art automatically gives a high end look and it naturally anchors your room
It's grand, it creates a statement. Even if it's neutral and muted with colors, it feels dramatic and expensive.
Ideally, if you can avoid mass produced artwork that looks too common it's preferred since it gives a little more personalization.
But the idea is to go a little bigger for that grand scale and expensive look..  
Where to get larger scale artwork: HomeGoods, Etsy, make your own from photos or images you have of landscapes from places like Artifact Uprising or Costco.  When it comes to art I prefer framed art but framing is where the high costs really are.  If you buy art that's unframed you can get it framed although expect the costs to creep up.  You can go to Michaels with their coupons and sales to keep the costs down and I think they run  promotions for like 70% off a few times a year.
Custom Woodwork Makes a Home
Look More Expensive
Custom woodwork is likely the most expensive option to make your home look more expensive but it's definitely worth it.  
Ideas for custom woodwork are board and batten, grids or squares, shiplap (vertical shiplap is a new fresh take on this), beadboard, and modern patterns. The ideas are really endless but it will all make your home look more expensive.
Moldings and millwork are a great way to create a focal area that doesn't feel busy or overwhelming. And when it comes to costs…molding in itself is not expensive as you can get baseboard or crown moldings for less than $2 a linear foot but the install costs a lot if you hire.  
Painting is another added cost to factor in with custom woodwork. If you're just painting base or crown you can definitely do it yourself.  But if you install a whole wood paneled wall I recommend getting it professionally painted since they'll spray it for a smooth, factory finish.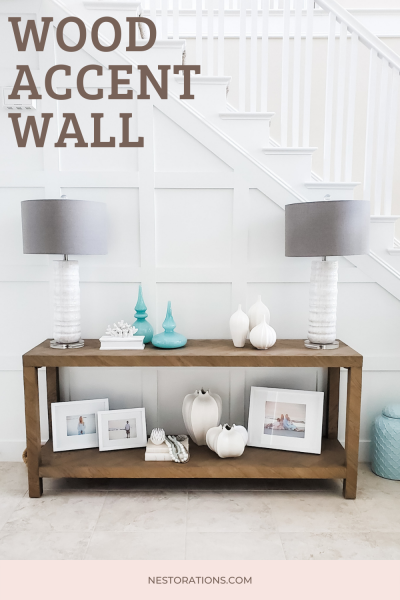 Add Statement Lighting to Make Your Home Look Expensive
It's time to ditch the basic light fixtures and go for something a little more visually  interesting.  Go a little bigger. Go a little more dramatic. 
I often see smaller lights, especially kitchen pendants because I think our tendency is to get scared when we see something larger in our homes because we're not used to it. 
If you're nervous about adding a larger light in your home, cut out a piece of cardboard or poster board to the same size you're considering and hang it from the ceiling. Blue painters tape works great for this or you can use a thumbtack and a thin string to hang your paper light fixture cutout.
When adding statement lighting, look for unique shapes, different textures, and colors.  Something that is visually interesting and will naturally draw your attention is a great choice.
Add Texture for a High-End Look
Adding texture to our homes makes them look more expensive. Having that variety adds layers and visual interest which makes our homes look high end. 
You can add texture with fabrics which is the easiest to do and change out.  You can also add texture with tile, wallpaper, light fixtures, accessories, art.  You really have a lot of options.
Texture also helps our homes feel more comfortable and cozy which grounds our homes so they don't feel too formal and stuffy. 
So, when you're out shopping, look for things that are tactile and that you want to touch. Add those little touches into your home for that expensive look. 
Declutter to Make Your Home
Look More Expensive
The final tip is not the most exciting or sexiest design tip out there, but it's HUGE and I can't stress this enough. 
You need to get rid of the clutter.
Clutter takes away from your home's design and gives the feel of a cheaper home.  
Clutter actually affects your energy by draining you.  When you're surrounded by kids toys, shoes, stuff it impacts how you feel each and every day.  I want you to show up as your best self so it's time to get rid of all that extra stuff and get some storage systems in place.  
For example…use the example of Nordstrom vs Walmart.  When I walk into Nordstrom, everything has it's place, it's organized.  But when I walk into Walmart, it's often crowded, cluttered and things aren't always in their place.  
Let me ask you a question here…how many times have you been in Walmart and seen things that someone stuck on a shelf because they didn't feel like putting it away in the right place?  But, you hardly see that at Nordstrom. When we're in quote "nicer" places we treat them better.  Your home is no different.  A put together, clean and organized home sets a different expectation than a messy one.
Getting rid of clutter is a sign of respect
for your home and yourself
As my coach, Lisa Carpenter always says, "the things we love we take care of."
So take care of your home and get rid of that clutter to help your home to look more expensive
A bonus tip that goes along with decluttering is clean up those cords and go wireless.  Getting rid of cord clutter makes your home look more finished and polished.  If possible, run your cords to your TV in the walls so they're hidden from sight. It's a little thing that makes a big difference.  
You can absolutely create a home that looks and feels more expensive by following as many of these ideas as you can.  It will elevate your home and overall make you feel better living in a beautiful home you love.  
Also, I'm opening up a few spaces to work together so if you want help and are interested in working together.  Send me a DM at nestorations or email me at hello@nestorations.com and we can connect.  Hiring a designer makes a huge difference and I'd love to be able to work with you.  
Please follow and like us: