Note:  If you haven't read Part 1 of our home remodel series, then please read that post first before diving into this one. If you're caught up then let's dive in.
I'm not gonna lie…this week was a doozy.!  And that's why I'm late getting this one out.  
Listen to the Home and Nestorations Podcast
Home Remodel: Week 2 Tile Removal
Before I dive in I just have to say that I have a whole new respect for my clients who have done remodels.  Through living in my own remodel I have a new understanding for the discomfort and mess they've lived through. 
This week our tile floors were removed, and even though I was warned how messy it is, (and I've seen client's homes go through tile removal) it's a whole new situation when it's YOUR OWN HOME.  Day one of tile removal was noisy, messy, and the dust was real.  Thank goodness our installer prepped and protected our whole house which helped a ton.  He put plastic sheets up, zippers up at doorways and openings, and plastic on the stairs and carpets. Although, even with all that protection, tile and construction dust will get everywhere since it's so fine.  
Day one of tile demo left us with piles of tile, mortar on the floors, and lots of dust.  We chose to live upstairs during this time to keep costs down and minimize how much we had to move.  To avoid the mess, you could choose to move out and live somewhere temporarily or it might be a great time for a mini vacation.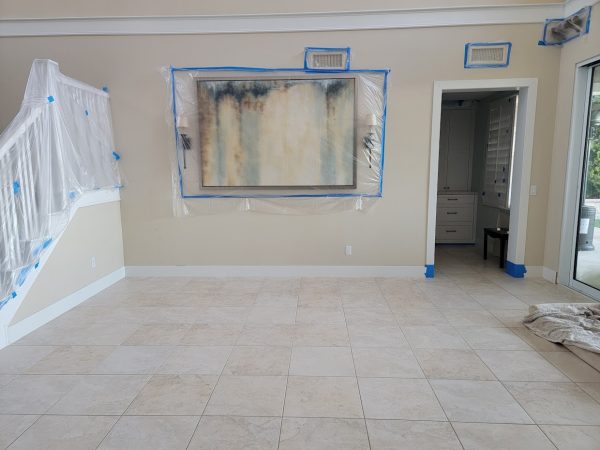 The Reality of Tile Removal
I literally said to my husband at the end of Day 1 "what the heck did we do?  Was this a huge mistake?"
Like I said above, tile removal is no joke.
Dust was EVERYWHERE.
But on day two, the installers used the jackhammer chisel to scrape up all the mortar and then the grinding machine to sand it down and create a smooth floor.  
At the end of day two the floors were pretty much all done and I felt MUCH better.  I didn't think I made a huge mistake anymore and I felt like I could see the new vision I had for our house coming to life.   
After the dust settled we spent time cleaning up even more. We wiped down walls, vacuumed and mopped up the concrete floors, took down some plastic (since dust was all over that, too).  It was still a little dusty since raw concrete is like that, but it was much more livable. 
We put a sheet down with Dexter's dog bed so he could lay downstairs during the day if he wanted to so things felt more normal again to him. 
Our family was still living upstairs, but downstairs didn't feel so bad anymore and going up and down to get food from the fridge and freezer was totally doable. 
Since the guys worked so fast, our house was pretty peaceful again and we could resume living until the next phase began.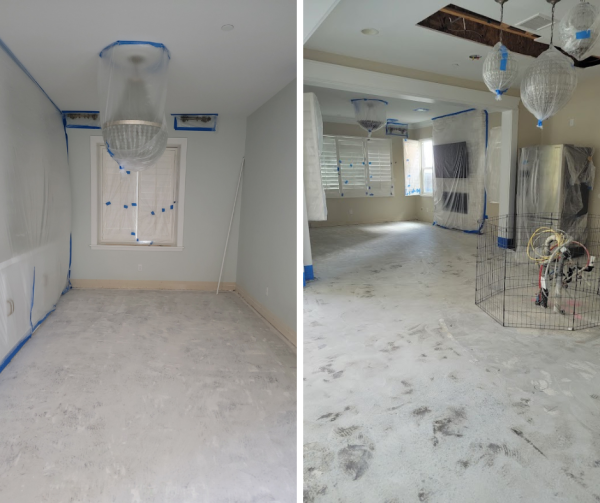 Next Step: Carpenter Meeting
Once the flooring was totally gone, we could meet with the carpenter and go over final details for the kitchen cabinetry.  The meeting lasted a couple of hours as we talked through options and then he took final measurements.  
This was a really important meetings with lots of decisions.  Many of them seem small, but they have a big impact on the end design.  It will be some time until our cabinets are ready, but it'll be worth the wait. 
Decision fatigue is REAL and I was wiped out after this week.  TGIF! 
Get Access to Room Design Essentials
Do you feel stuck designing and decorating your own home? 
My signature (and crazy helpful:) Room Design Essentials training is getting a refresh and opening up soon.  Be the first to know when you can sign up and learn how to design and decorate your home with confidence.  
It's not totally uncommon to make some last minute changes as projects move forward.  We had to make a few changes for personal reasons and reign in the budget.  Not ideal, but sometimes life lifes.  And life did for us.  
It's better to make changes as soon as you can.  Sometimes changes are possible.  But sometimes,they're not.  Luckily, we were able to cut a few things for phase 1, swap out some appliances, and add some DIY projects to our "to do" list to get our budget back in check.  
I'm not gonna lie…this week was stressful.  I'm a girl who likes things planned out very carefully (whether that's for me or for clients), but we didn't have a lot of choice in the matter and so I went into full action mode to make the changes we needed to happen.  I don't think any of our changes will negatively impact the final result so I'm good with the changes we made. 
It's really easy to get carried away with any home remodel.  When you're already spending a lot of money, $100 here or $100 there doesn't seem like a big deal.  And maybe it isn't to you.  But, everything adds up and having a final number to work from for your project is key.  
You have to prioritize and figure out your "must haves" and "nice to haves" or else your budget could get out of hand.  
I had a solid budget spreadsheet in place before our project, but with the help of my husband (who is seriously gifted in the spreadsheet department) we created something super solid.  I'm thrilled to be able to use the new spreadsheet with my clients and students moving forward. 
Budget management is a common problem and I want my clients and students to really have a solid budget plan in place so they can track and manage their project with confidence.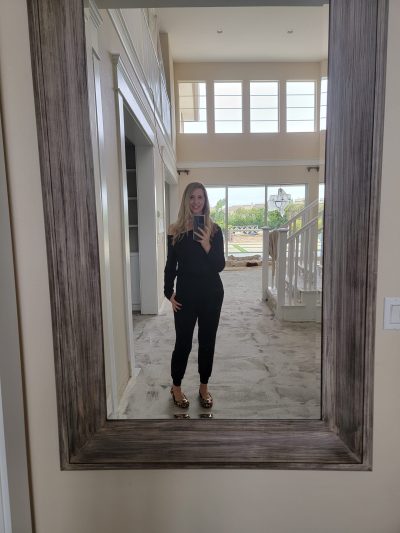 Home Remodel Week 2: Final Thoughts
Week two was definitely stressful. But, I think also normal.
It sounds amazing to update your home or remove features that have bothered you for years. But that doesn't make living through those changes easy.  
And if you have to make any last minute changes to the project, like we did, well…that's not necessarily fun either. I got into some major overthinking (a norm for me;) and worry (another norm).  With my client's projects, I always have their back and carefully think over every little detail.  With my own home, this was much harder to do.
All my vendors and showrooms said that a designer doing their own home is the worst.  We know all the options and possibilities and making decisions is tough.  I must say that I agree.  It's pretty easy for me to make decisions about someone else's house, but mine was a whole other story.  I don't have a designer to bounce my ideas off of.  
But, in the end, you have to do what works best for YOU.  Don't worry about what others say or think.  That's what I keep telling myself:)
How to work with me or learn from me
If you're thinking of starting a remodel, reach out to me to set up a design consultation.  I'll help make sure you're getting started on the right foot.  
Designing a project and managing all the details is a lot of work and it can become overwhelming quickly.  I can help take the stress off of you.
https://nestorations.com/contact
Or if you're more of a DIYER, my online program, Room Design Essentials, is right up your alley. It teaches you the A-Z of designing a space quickly so you can design and decorate with confidence.  It works for both homeowners and real estate investors.  And I'm in the process of revamping this to give you even faster and better results.  
To be the FIRST to know and get on the waitlist go to: https://nestorations.com/waitlist/
Please follow and like us: