Can you actually get a whole room designed in a day?  Does it sound too good to be true?  What if I told you that you could.  Would you believe me?  Well, I'm here to tell you that you can get your room designed in a day and I'll tell you how in this episode.  If you've ever wished you had a personal designer just for a day, this is for you. So listen in, or read on, and find out how to get your room designed in a day.
Listen to the Home and Nestorations Podcast
Can you actually get a whole room designed in a day?  Does it sound too good to be true?  Imagine how it would feel to be at peace in your home and love your space without spending months, or even years, thinking about it.   We often spend more energy thinking about updating our homes than actually updating our homes. 
It's really draining to be unhappy with our homes, but it doesn't have to be that way.  So let's take action and get your space designed in a day.  
In my design business there are two paths to work with me:  as a student in one of my online programs, like Room Design Essentials, or as a client in my 1:1 interior design services.  I offer design consultations and Full-Service design, which is my luxury service where I take your project from start to finish over several months or more.  
But the other service I offer that gives you the fastest results is my Design in a Day service.  It's an action packed service that gets you results quickly so you can feel at peace in your home fast. 
Note: ALL design services can be done long distance.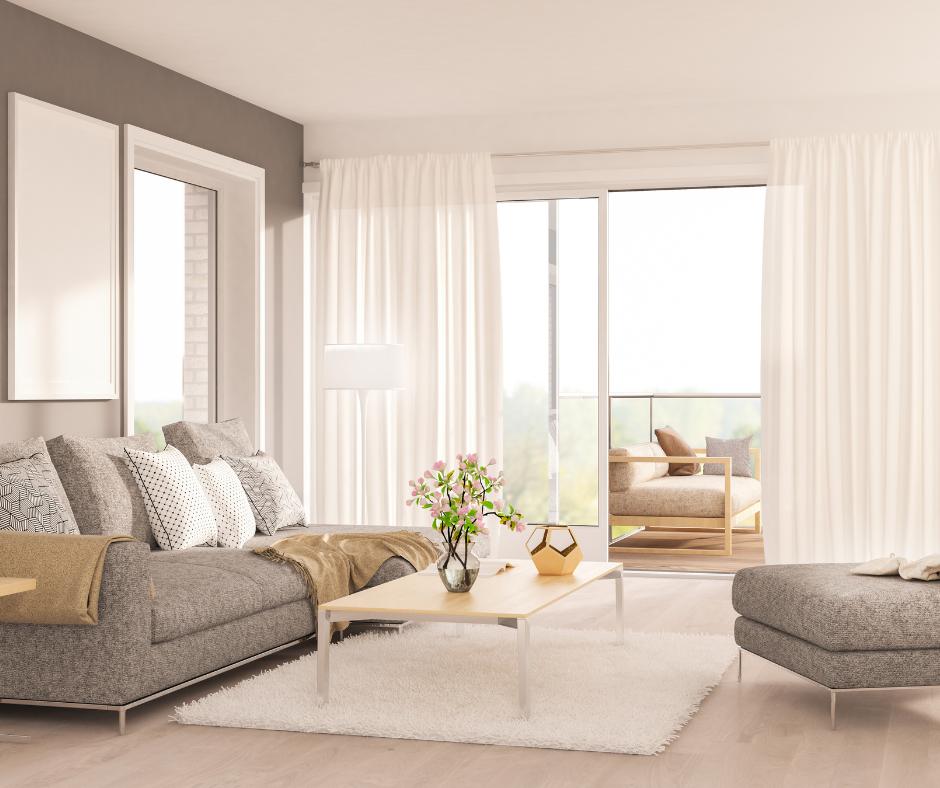 How Can Design in a Day Work for You?
Design in a Day is such a valuable service that can help you get the results you want in your home or rental property QUICKLY.
Imagine you have a rental property, an Airbnb or VRBO, that isn't booking and it's losing you money each month.  You need your property to stand out and stop the scroll since you're competing with lots of other properties.  Design in a Day can help. 
Maybe you're going furniture shopping want a second opinion to make sure you're on the right track and not making expensive mistakes. How great would it be to have someone there to help you make the right decision?
Or imagine you had a leak and the contractor wants all your finishes and materials picked out.  Yikes…You aren't sure what to do or where to start.  During a Design in a Day session we can get that done for you.
What if you have a planned renovation coming up but you're overwhelmed and need help planning and picking out materials.  We can do that in Design in a Day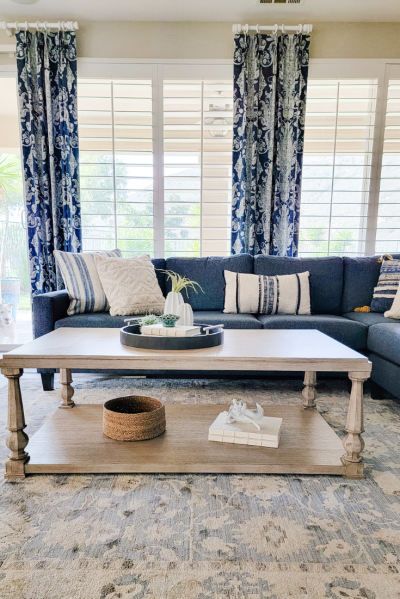 How to Use Design in a Day
Design in a Day is a collaborative, 6 hour design session where we work side-by-side to design, shop, and style your room.  
We can use our time together in lots of ways, including:
We can solve space issues in your home and come with a good room layout 

We can choose colors and color palettes which helps create flow in your home and makes it look more cohesive

We can shop and source the main  furniture pieces for your space (online or in person)

We can rearrange your existing furniture and find pieces that fit your space and style better

We can design custom built-ins together

Design a kitchen or bathroom layout 

We can select colors and materials for your kitchen or bathroom remodel

We can accessorize and style your space so it looks complete and professionally styled.  We can shop in person or online for these.  This is one of the biggest challenges for both homeowners and real estate investors.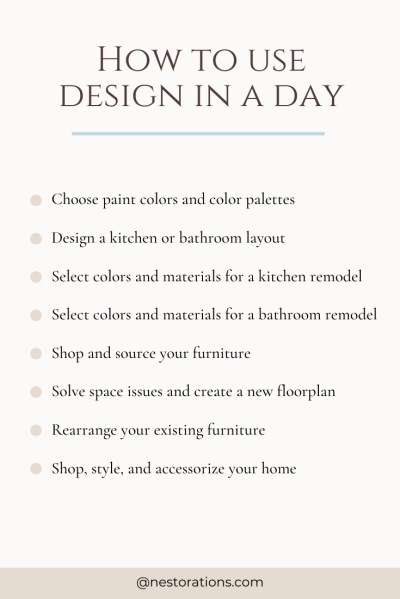 Who is Design in a Day for?
Design in a Day is for you if you're ready to take real action and stop sitting on the sidelines.  This is a collaborative working session and we're going to get results for you FAST.
Design in a Day is also for anyone who wants that professional designer touch and to work with a designer, but at a much lower investment point.  Full service design fees are thousands of dollars because there are hours upon hours of work and details to manage.  That's not needed for everyone and if you're here it might not be for you either.
Design in a Day is the most affordable way to work with me and get amazing results (other than my courses and trainings).
This is an incredible option if you own an Airbnb or VRBO and you want to help your property stand out and stop the scroll. 
What's the Process for Design in a Day?
Design in a Day starts with a one hour design consultation before your session over Zoom or in person.  During your consultation we'll talk through your design challenges and we can make a plan about what to work on during our session so we can hit the ground running and get you the results you've been waiting for.
Once we have a plan in place, we'll schedule our working session and I'll prepare in advance so we can get as much done in our time together.  
If you're thinking, wait…I might want to give it some time and think about my purchases before I commit.  That's perfectly okay.  I want you to feel confident with your decisions.  We'll still pick materials that are right for your space and then when you're ready, you can add to cart or complete your purchase.  This is about helping you get results and moving forward. 
Next, I'll send you tips and instructions to help you put any final details in place and complete your space with confidence.  
How Can You Design Your Space in a Day?
There are some steps you need to take if you want to design your room in a day on your own. 
First you have to define your design goals and what you want to accomplish.  It's helpful to create an inspiration board on Pinterest or a Google doc with photos of rooms that you love. Think about what style you want to embrace?  What colors do you want to include?
Next, you have to pick your starter piece for the room.  That's the first piece in your room and then you build your room around it.  Don't overthink this please. 
Then, once you pick out your other furniture pieces you'll lay them out in your space with blue painters tape cut to size to make sure everything fits before you buy. 
After that, you can think about special details to include like window coverings, focal walls, etc..  You should also have this in the back of your mind while you're picking out your furniture.  
Last, you can style and accessorize to complete your space to give it that designer touch.
You can do this all on your own, but it's much easier if we're doing it together.  
Imagine how it would feel to have your room done and finished in one day.   Do you spend so much time thinking about updating your home but don't actually do anything about it? 
Maybe you're nervous to make the wrong decision or that you might buy the wrong thing?  But the truth is that your home isn't going to get designed on it's own.  You have to take action if you want to make a change.  So imagine would could be possible if you stopped thinking about doing something and actually did it?   
It's time to take action and get that room designed.  Read more about Design in a Day here. Then, reach out to by commenting below or send me a DM on Instagram @nestorations to get started today.  Let's get your room designed in a day.
Learn how to design a room from start to finish with Room Design Essentials
Room Design Essentials is a step-by-step program to help you learn how to design and decorate your space with confidence.  
Please follow and like us: