After designing homes for clients, friends, and family, it's now our turn.  That's right, this designer is designing her own home. 
To say I'm excited is an understatement. 
To say I'm exhausted is also an understatement. 
I joke (sort of;) that I need to hire a designer.  A designer takes the stress off because there are a LOT of decisions with a home remodel.  And a lot of work managing it all.  And don't forget that you have to pack, move and store furniture, set up your temporary living arrangements, etc..  Sometimes people even move out of their homes during their remodels which helps to keep their stress levels down. 
We're actually not moving out and we're basically setting up camp upstairs for the time being.  It just made sense for our family and our dog, Dexter. And since I'm managing everything it makes it easier to stay at home to oversee things.
Listen to the Home and Nestorations Podcast
Get Access to Room Design Essentials
Do you feel stuck designing and decorating your own home? 
My signature (and crazy helpful:) Room Design Essentials training is getting a refresh and opening up soon.  Be the first to know when you can sign up and learn how to design and decorate your home with confidence.  
Alright, back to our remodel.  It's been what feels like years in the making.  Well, the dreaming part was a long time.  But it wasn't until about 1.5 years ago that we decided we're going to make some real changes.  
Now in full disclosure…we LOVE our home. I love the floorplan, I love how bright it is.  I love that it was a new home when we bought it. There is so much I love about our home. 
But, this was a builder spec home.  Meaning, we didn't get to pick anything out ourselves.  It was all chosen by the builder before we even knew we were moving to San Diego.  Had we had a choice, we would've picked different things.  But we bought it anyway knowing that even if some parts of it weren't our taste, the house was our dream and we could always change things down the line. 
And almost 9 years later…we are. Which, is really about the time any home could use a little updating.  We want the space to feel like us and be more functional.  Speaking of function (or lack of) our kitchen island, while HUGE, had zero storage.  For such a large island, what the heck?  Can't you give a girl some storage?  That whole ginormous pie-shaped, baseball diamond island has one set of small drawers beside the sink.  What a waste of space!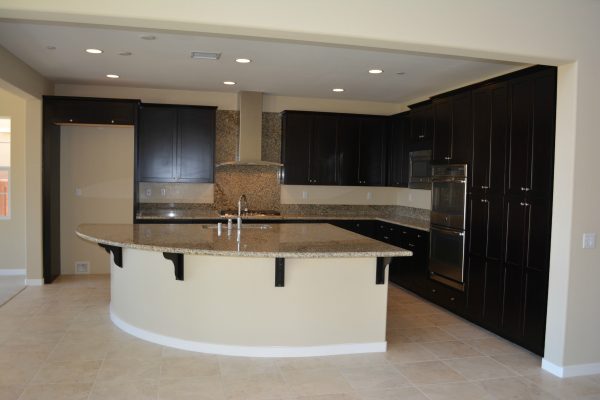 We didn't really do much to our kitchen over the years.  We added the trio of lights over the island, a fridge, and four stools. Other than that, it pretty much looked the same as when we moved in.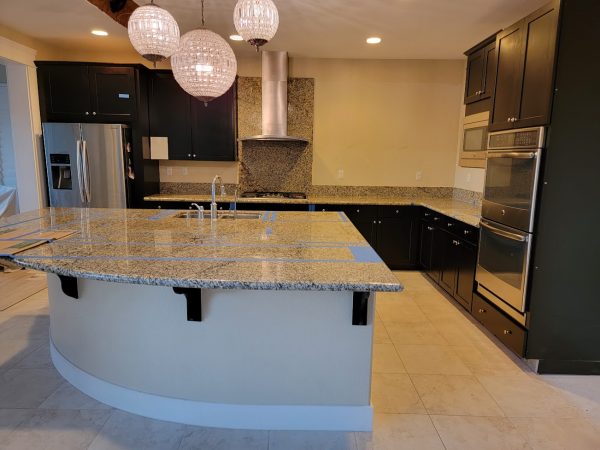 Even though I had a team member create sketches and a render of our kitchen remodel, I still love to use blue painters tape to map out where things are.  As you can see I've taped out our island to create a large rectangle.  I'll share sketches of the kitchen in another post.
So…what are we actually doing in our home?  Well, that's a great question and it's changed quite a bit.   
Orginally, we were going to refresh our kitchen and change our floors.  We planned on painting the cabinets, building a new (more functional) island, and changing the countertops.  But since we eventually wanted to change our floors it made more sense to do it at the same time, rather than invest that much in a kitchen update and then risk damaging it with a floor redo.  But, as it often happens with remodels, we started to expand our original plan.  
Now instead of refreshing the kitchen, we're remodeling the entire kitchen and adding:
new cabinets
new countertops
new lighting
new appliances 
new floors on the first floors
Talk about scope creep.
We're also updating our downstairs bathroom. The new house flooring will go into that space and it's pretty dark in there so we're removing a wall to open it up. Since I opened up a friend's (and client's) bathroom down the street, we knew the change would be great. Even though it's a lot of work, it felt right for us to do it at the same time.
And even though it WAS NOT part of the plan, we're updating our Jack and Jill bathroom upstairs, which is our son's bathroom. We unfortunately had a leak and they had to demo a lot of the room during leak detection.  Home insurance is helping a little bit with that space although I really wish we didn't have a leak in the first place.  One space is stressful enough.  Add even more and it's even more challenging.  
As you can tell, we've got a lot of work going on.
Our Home Remodel: The Prep
I thought it'd be easy peasy to pack our our first floor…and boy did I underestimate this!  It turns out we have a lot more crap than I realized. And I consider myself a minimalist.  I had a good grip on the kitchen and in my defense, I cook at lot (and really enjoy it) so I do have a lot of stuff in my kitchen but I like it all organized so it's easy to find everything.
We also had to get the furniture out of the house so we could get our tile demoed. Tile demo is a mess so we needed to clear stuff out.
That's where Pack Rat came to the rescue!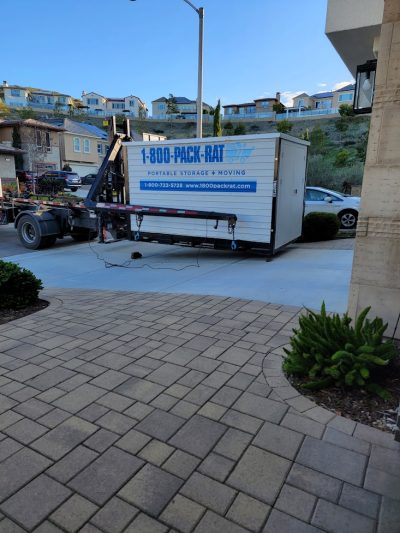 We rented a 12′ storage container for our big furniture items on our first floor to keep them safe.  The cost was reasonable and saved us from moving a bunch of furniture upstairs.
We're leaving it in our driveway in case we need to get anything and to keep costs down.  Also, since it isn't moving we didn't have to worry about packing everything up super carefully.
Our Home Remodel: The Demo
We decided to hire a demo crew to break down the kitchen and bathroom.  It saved us a lot of time and they had all the tools to do it all quickly. They also transported everything to the dump for us as part of their service.  We already did some of the work by moving cabinets to the garage.
To be honest, this is something you could do yourself (and get out your frustration) if you rent a dumpster for a week.  Demo is a lot more than what you see on HGTV.  You could really hurt yourself if you don't know what you're doing.  You could cut a wire, a pipe, and create a bad situation.  Brad and I went back and forth on this. I knew how limited our time was so we went with it.  Although the jury is out on the value.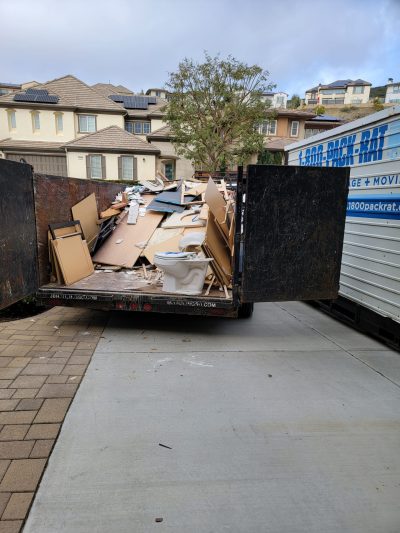 By the end, the dump truck was completely full.  It's amazing how much waste the home remodel industry creates.  We did sell most of our appliances so they didn't go to the landfill and get stripped for parts.
And below our giant island is on it's way out.  There were some crazy supports in there to secure it.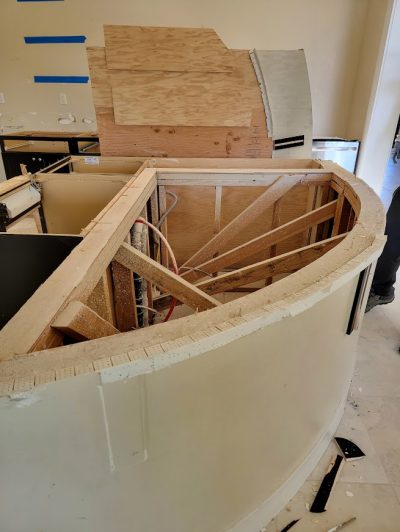 All cleaned up!  It's amazing how much brighter the kitchen looks without those dark cabinets.
Tile demo is next. And also the messiest and noisiest part.  Wish us luck!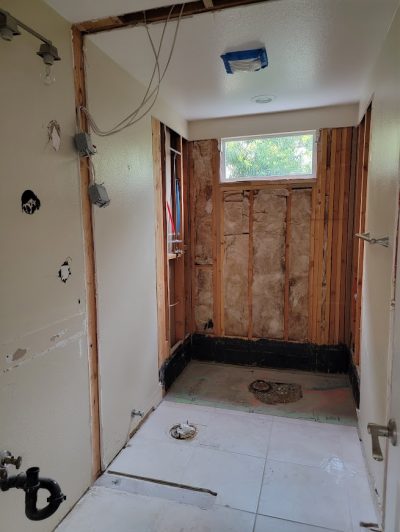 Removing that wall (don't worry, it's not load bearing) really opens up the space and lets more light in.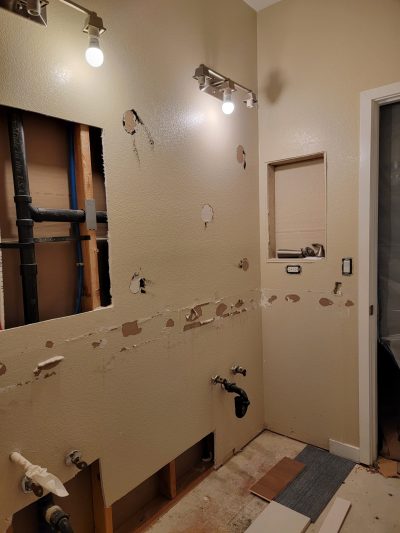 This is our Jack and Jill bathroom. Most of this was already removed during leak detection.  Next is putting it back together. 
We're definitely being very budget-friendly since this is a kids' bath and not part of our original plan. 
Our Home Remodel: Tile Prep
Choosing to remove and retile our home is likely the biggest factor as to why our remodel will be a little challenging.  We could've added luxury vinyl planks (LVP) on top our our existing tile, but we opted against it.  We like the sturdy feeling of a solid floor.  
We chose not to lay hardwood since we didn't want to worry about scratching.  We had hardwoods in our previous home and our large greyhounds did a number on that.  Instead, we using large wood plank tiles.  I love them.  And while I don't love the idea of grout, we're going as thin as we're allowed on the grout so it's a good compromise.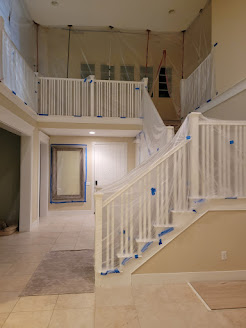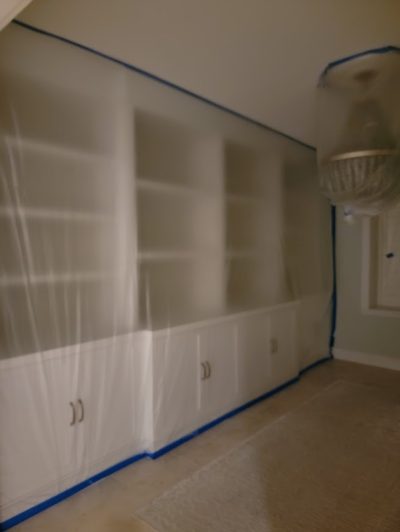 The crew took a whole day to prep our house and protect everything with plastic since removing tile is a mess.  FYI…That's the sign of a good company. 
I feel like John Travolta from the 70s movie "The Boy in the Plastic Bubble."  We have plastic everywhere. Our home is two stories and very open so they took the time to separate our downstairs from our upstairs (which we totally appreciate).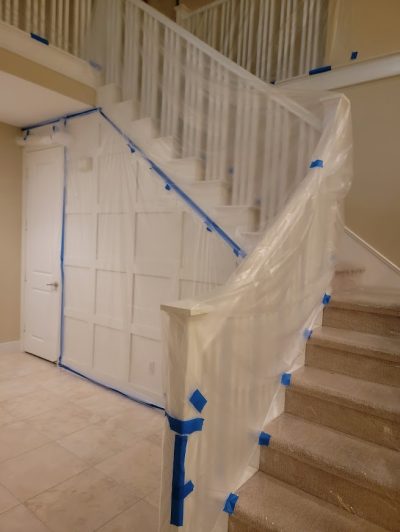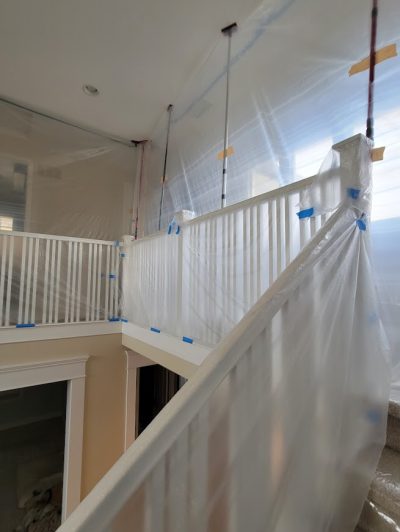 Our Home Remodel: Living in It
What's it like living in a home remodel?  Well, it's not for everyone.  But, we're pretty laid back and know it's only temporary. It's a small time to be uncomfortable (which happens to be my word of the year) for an amazing outcome. 
Since we chose to live in the house, we're camping out upstairs.  We created a temporary kitchen in our laundry room to cook and prep food.  It's fine for now, but ask me again how I feel in another month. I created different zones in our temp kitchen to help keep us organized.  We have a food prep area with cutting boards, and a cooking area with a toaster oven, microwave, small appliances and a double burner. And we have a dishwashing area (thank goodness for our big utility sink).  And we have areas for small appliances, plates/bowls and silverware.  
We've had super cold and rainy weather in San Diego so grilling isn't a good option right now, but we need the rain so I'm good with that.  
The messiest part of our remodel is the tile demo which will take a few days.  Once that is done, we'll still have a mess, but we'll be on the path to rebuilding.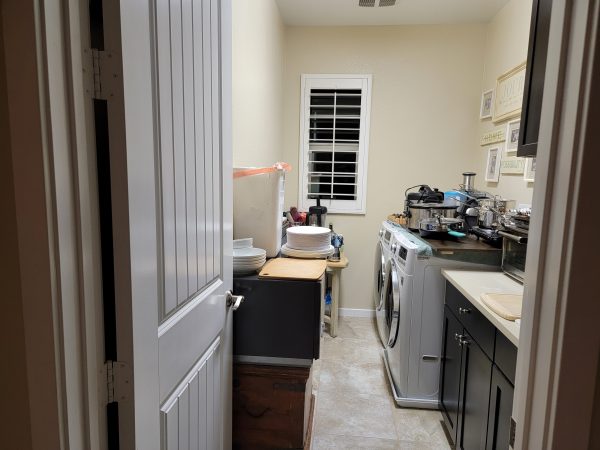 Home remodels aren't just stressful for us.  They're stressful on our furbabies.  Our retired racing greyhound, Dexter, did great during the kitchen demo being home with us.  As you can see he was snoozing and relaxing most of the time.  
But during tile demo he'll go off to camp for the day to play with his friends. Tile demo is loud and messy and not good for our pet's ears. Tile crews wear ear protection so it's good to have pets out of the house for this part.
Now that our first floor is empty he's a little confused but for the most part he's handled this like a champ.  We'll see how he does during tile demo…which starts tomorrow morning. 
Next week I'll share another progress post for you.  Stay tuned…
How to work with me or learn from me
If you're thinking of starting a remodel, reach out to me to set up a design consultation.  I'll help make sure you're getting started on the right foot.  
Designing a project and managing all the details is a lot of work and it can become overwhelming quickly.  I can help take the stress off of you.
https://nestorations.com/contact
Or if you're more of a DIYER, my online program, Room Design Essentials, is right up your alley. It teaches you the A-Z of designing a space quickly so you can design and decorate with confidence.  It works for both homeowners and real estate investors.  And I'm in the process of revamping this to give you even faster and better results.  
To be the FIRST to know and get on the waitlist go to: https://nestorations.com/waitlist/
Please follow and like us: