Have you ever bought something you loved for your house and brought it home only to realize that it just didn't work?  Maybe it was the wrong size, or the color was way off.  Maybe it just didn't match the style of anything else in the room and you immediately regretted your purchase.  If you're lucky you can return it. But if you can't, then not only did you waste time, but you also wasted hard-earned money. Ugh…that's the worst.  
But, if you hire an interior designer before you start any home decorating project you can actually avoid a lot of expensive mistakes and save time and money in the process.  Let's talk about why and when you should hire an interior designer.
Hire an Interior Designer
to Save You Money
You might be thinking…"How can spending money by hiring an interior designer save me money?"  I totally get it because last time I checked, designers don't work for free.  BUT, an interior designer can actually save you money and help you avoid a lot of expensive mistakes like I mentioned above.  
I can't tell you how many times I've gone to a new client's home and heard something like:
Sometimes you might be afraid to hire an interior designer because of the added costs and I totally get that. But, if she picked out everything you loved and saved you from making expensive mistakes that could cost you literally hundreds or even thousands of dollars, wouldn't it be worth it?
It's even more important to hire an interior designer when it comes to more expensive or difficult to change purchases.  I'm thinking about things like flooring, tile work, countertops or cabinets. You definitely don't want to make mistakes on things like this.  Having a trained eye guide you with your decisions is a game changer. 
"Spinach in Your Teeth" Design Mistakes
I always joke with my husband, Brad, that he's what I call "my last line of defense."  Basically, I like to check with him and make sure I'm not doing anything that I'll regret or that I'll walk out of the house with spinach in my teeth or something embarrassing.  I think of designers the same way. We are there to have your back and be your last line of defense to make sure you avoid those "spinach in your teeth" design mistakes.
An Interior Designer
Can Save You Time
All those trips to Homegoods, furniture stores, Home Depot, and hours scrolling Pinterest and Wayfair take time.  In fact A LOT of time. Why not hire an interior designer to pick everything out for you and save yourself the hours of browsing?  Any experienced designer can find things rather quickly. I've been in this business for several years and have tons of resources to choose from.  Over time, you become really fast at finding things.  
For example-just yesterday my girlfriend called me up from the east coast.  She's been searching for a TV/media console for her family room for a while now (a couple of years here and there) but hasn't found something she really likes.  While on the phone, I checked online quickly and texted her a few pieces-one which she absolutely loved (see below). It literally took me 5 minutes to find something that she has been looking on and off for for YEARS.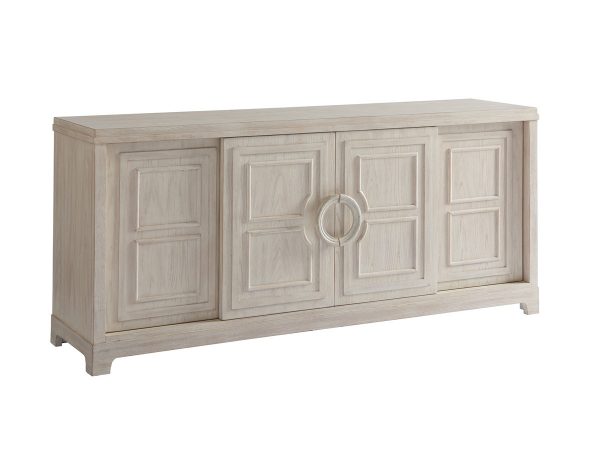 BTW-how gorgeous is this Lexington Furniture media console???  Love the sliding doors-beauty and function…be still my heart!
Hire an Interior Designer to
Get Access to Their Resources
Interior designers have a ton of trade resources at their fingertips and by hiring them you get access to all of them.  It's my job to be knowledgeable about new products, companies and resources so I spend a lot of time at interior design markets and design showrooms.  Most of my clients want statement pieces and don't want their home to look like it came from a Pottery Barn catalog. You want your home to be personalized, custom and most importantly-to your style.  You don't want it to look like the latest catalog in the mail or a cookie cutter copy of something else. Hiring a designer will expose you to a world of resources you didn't know were out there and make your home really stand out.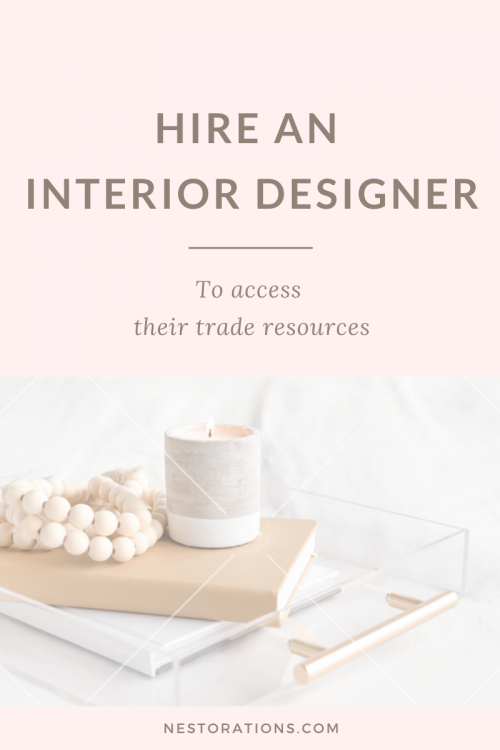 When to Hire an Interior Designer?
There are many times you should hire an interior designer but some common ones are:
Before starting a major home remodel with a general contractor

When you want to update any room in your house 

If you want your home to feel "put-together" and flow with other rooms

When you need a space to function better

To create a family friendly space with some grown-up style

When moving into a new home

To prep your home to sell (stay tuned for an upcoming post about this)
If you don't have the budget to work with an interior designer for a whole room design, you can hire a designer for a consultation to get valuable feedback and still save you money.   During my consultations, I encourage homeowners to ask as many questions as possible and I try to share as many ideas and solutions as I can.  Note: designers who offer free design consultations may not share all their ideas since they aren't getting "paid" for them.  But with paid interior design consultations, like I offer, I never find that to be the case.  As a designer I truly want to help you solve your problems so I'm happy to share all my best stuff.
Sooo...Are you Done
Wasting Time and Money?
If you're anything like me, the thought of wasting time and money is a major downer.
So if you're ready to finally fall in love with your home and are tired of wasting precious time and money, then it's time to call in the pros.  Please check out how my Full-Service or Online Design Service (E-Design) can help you. And if you're still not sure exactly what you want, you can start with an in-home or virtual interior design consultation.  
Be sure to check out and follow my Pinterest page for amazing products and styles that I love to help inspire you.  And don't forget to share it with a friend! 
Please follow and like us: