Is it possible to update your home on a budget?  Does every design project cost a small fortune?  Well, the good news is you can design and decorate your home on a budget and in this episode I'll let you know how.  Keep reading, or listen to the podcast episode above, to find out how to save money updating your home or investment property.
Listen to the Design Your Home Podcast
The Biggest Expenses in Your Design Project
When it comes to any home design project the biggest costs are for materials and labor.  Materials include things like furniture, flooring, cabinetry, fixtures (like lighting and faucets) decor and accessories.  
While labor costs might include demo, carpentry, painting, electrical work, plumbing and interior design services for your project. 
If you want to save money on your upcoming project then you need to cut costs in one of these areas. 
There is no such thing as "Good, Fast, and Cheap" in Design Projects
One of the most true (and one of my most favorite) quotes about design and remodeling is that "Good, fast, and cheap is the mythical unicorn of any design project." 
You can get two, but not three, of them at the same time. I agree with this 100%.  You can get something good and fast, but it won't be cheap.  Or you can get something good and cheap, but it won't be fast.  Last, you can get something fast and cheap…but the quality won't be good.  So, take this into account when you're trying to save money and cut costs in your design buget.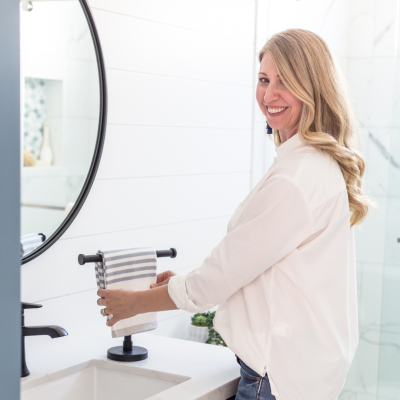 How to Minimize Labor Costs in Your Design Budget
Let's start with what's a big part of any design project budget…labor.  Labor can include things like carpentry, demo, construction, painting, electrical, plumbing, and interior design for your project. Some of these things you can DIY.  But, there is a skill set involved depending on the task.
I've got you covered on DIYing your interior design with my signature program-Room Design Essentials (RDE-which will be open in just a couple of weeks).
But, what about other labor for your project?  Well, I consider myself a DIYer who is willing to hire.  And we've saved a lot of money over the years tackling some projects on our own.  It helps that we're handy and we know when we need to ask for help and hire someone.  
Would you be willing to learn something and do the work yourself if it saved you $5000?
Even $500 would be worth it when you're designing on a budget
You need to know your skill level BUT there are definitely tasks you can handle (even if you aren't handy) that'll help reduce your design budget.  
But, sometimes tackling things ourselves looks worse and ends up costing more than if we hired from the start.  So, know your skill level and what you're confident you can do yourself and what you should hire for.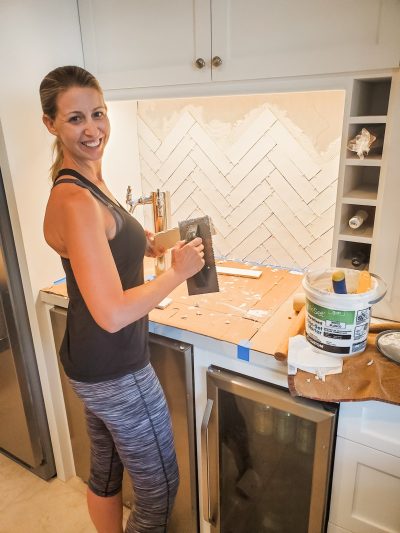 What Labor Can You DIY to Design on a Budget?
What can you DIY to design on a budget?
Painting your walls is something you can easily DIY.  

Demo. A demo company will likely do it faster and dispose of things for you which saves you time.  but you could do some of this and save some money.

Installing moldings or finish carpentry.  If you have a few tools and watch a few YouTube videos you can learn to install your own baseboards, crown moldings, and create wood focal walls.  This will save you quite a bit of money.
Tile backsplashes.  If you have the right tools you can save a chunk of money.  Tiling a floor is much harder because things have to be leveled perfectly, but a small backsplash is more forgiving.
Interior design services.  Yes, you can absolutely hire designers like me for your project, but it'll cost thousands of dollars.  OR, you can learn how to design your home in my Room Design Essentials program.  
A final way to save on labor is to do your project in off times of the year. I'm talking about doing work around the holidays because many contactors are slower around December and early January so they might offer better pricing.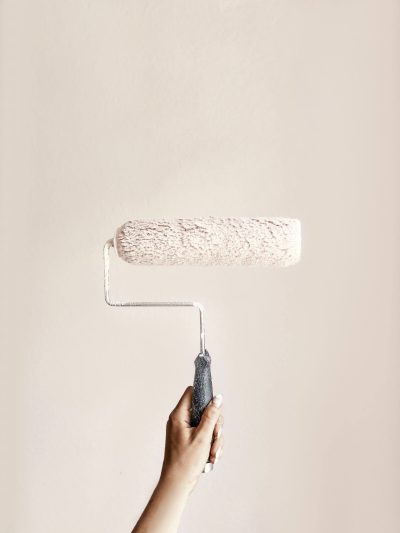 Save Money on Materials to Design on a Budget
The cost of materials can quickly add up in your design project.  So, how can you save money on materials to keep your costs down?
One way to save money on materials is to time your purchases around store sales.  Holiday sales, Amazon Prime sales, Black Friday sales, etc. are all great times to make your purchases.  It requires a little time and planning but you can save a lot of money this way.
Also, furniture stores buy new inventory at design markets.  And the biggest design market is in October and April. What does that mean for you?  Well, many stores have big sales around those times to clear their showrooms for all the new things they're buying at the market show.  That makes September/October and March/April good times to buy furniture and decor.  
Other ways to save money on materials and design on a budget:
Search Facebook Marketplace for deals
Go to yard or tag sales for quality used pieces
Check out furniture consignment stores
Look at furniture liquidator stores
Shop at furniture outlets or discount stores like Ross, HomeGoods, or Marshalls
Check out Spoken.io to find the best prices online for items
Discover How to DIY Your Design and Save Thousands of Dollars
Room Design Essentials gives you everything you need to know to design and decorate your room and home from start to finish.
Unlock your unique design style

Get the step-by-step process to

transform your home or investment property

Discover how to put together a well-designed home so each space flows to the next space

Learn which materials to spend money on and which to save on

Where to shop and what to buy for your home
You'll get all the design tips and guidance to help you get the results that you want in your home or investment property. 
Head over to nestorations.com/waitlist to get first access when the doors to Room Design Essentials are open.  The results other students are getting speak for themselves and I want those same results for you.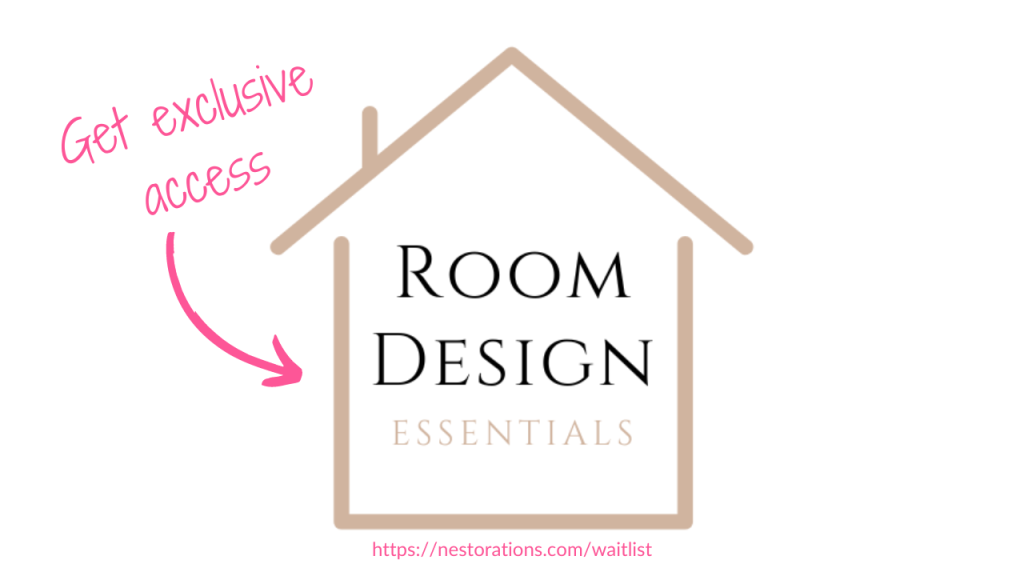 Please follow and like us: