Warm and cozy spaces are like comfort foods for our homes. They're like the mac and cheese of interior design. Comfort foods make us feel good, and a warm and cozy home helps make us feel good, too, (without all the calories;).  So, keep reading to see how you can create a cozy home for your home or investment property.  
Listen to the Design Your Home Podcast
6 Simple Ways to Create a Cozy Home
It's fall here in the US, and with that comes apple picking trips to the pumpkin patch, hay rides, fall festivals,  and of course…fall leaves.  I grew up in New England, which has some of the most beautiful fall leaves you could see.  Now that I live in Southern California, it's a little different here since it's actually our warmer time of the year. It's like shorts season since it's 80 degrees this week, but I still love to create a cozy and warm home for the fall. 
So how can you easily, and affordably, add that cozy feel to your home? Well, I've got six simple ways to do it. And let's start with the first one which is to add texture.
Add Texture to Create a Cozy Home
The first way to create a cozy home for fall is to add texture. Texture is the surface or feel of an object. And it's so important in our designs of our spaces to have varying textures in our home. Different textures add layers to your room, and it makes your space more interesting. If you don't have a lot of texture in your room, it'll feel flat.
So how do you bring texture into your home?  You bring texture into your home with fabrics, textiles, and accessories.  With fabrics and textiles a really easy option to get that cozy feel is with throws and pillows. What's great about throws and pillows is you can change them up seasonally and it really will transform your space for a very small amount of energy and investment. Included a lot of interesting textures with your throws and pillows. Think about including chunky nubby fabrics. 
In addition, consider embracing cozy colors of the fall like your earth tones, your rusts, your greens, your golds, your browns. You may not want to include all the colors depending on the color palette of your home. But having some of those warmer colors will definitely add coziness to your space. And, I actually found some interesting throw pillows and throws on Amazon that were super inexpensive and will add great texture to your home. 
Other Ways to Bring Texture into Your Home or Investment Property
Furniture and draperies aren't as easy to change up as frequently as your throws and your pillows, but you can definitely add some really interesting fabrics like velvet, boucle, faux fur, textured linen, warm rustic leather (or faux leathers if you're vegan). Ottomans and poufs are another great place to bring in those chunky knobby kind of fabrics. 
Poufs are those fun, decorative spheres or cubes that you can put around your room on the floor. You can cluster them up in pairs or just have a couple scattered throughout your home and they just have some interesting fabrics and textures. They're a cute little accessory to add. 
In addition to pillows, throws furniture, drapery panels and ottomans, consider adding some rugs to your space.  And rugs aren't just for living rooms.  I see them a lot in kitchens because kitchens are stark spaces. Rugs add a layer of softness and warmth and coziness to your kitchen. So, right now vintage rugs are huge and I'm seeing them everywhere. You don't have to get real vintage as they have vintage look alikes which are much more affordable.
And then the last place to add this texture is with your accessories. Have fun with your accessories and add different touches like wood, woven rattan, woven cane, etc..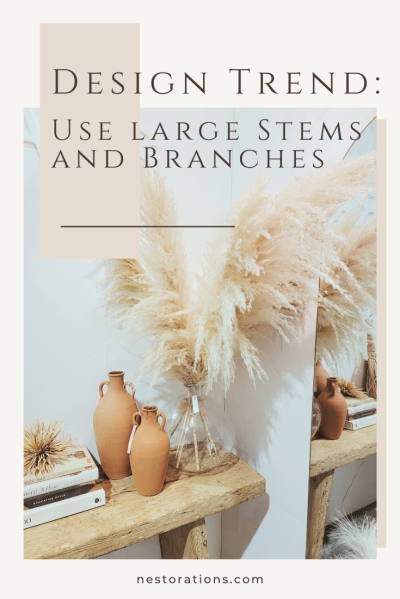 Bring Nature Inside to Create a Cozy Home
The next way to add coziness to your home is to bring nature inside. And you can do that with arrangements of natural stems or branches. Consider putting an arrangement on your kitchen island, or your dining room table, or your foyer table.  Or put them on your coffee table in a unique decorative vase. Afloral is an online store that sells beautiful branches, stems, and decorative vases.  They have a big Instagram following and a beautiful website. I plan to buy some this month. Shop Afloral here.
Floral stems are a simple accessory that you can change up seasonally to create a cozy home. The trend right now is to be pretty big with your branches. You can get floral stems at Afloral or check out target, Michaels, and other craft stores like JoAnn Fabrics.  Be sure to use coupons at crafts stores for good deals. And then put your stems in some sort of textured base that will really cozy up your space versus putting it in like a glass vase that's really smooth. 
DIY design tip…depending on where you live, you could cut real branches and add them to your decor.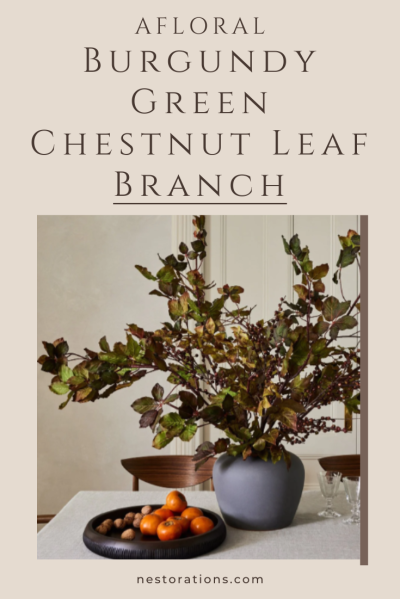 Use Vintage Pieces to Create a Cozy Home
Now vintage is having a huge moment right now and it has been for the past year or so. When designing our homes, we want them to feel like they were built over time and that they tell a story of our lives and our travel. We don't want it to look like we just bought the showroom display of all matching furniture. A way to do that is to mix older and newer items like older vintage rugs, and antique pieces mixed with newer furniture. It's that combination of new and old that really makes our spaces more interesting. 
Now even if vintage isn't your style (and to be honest, it isn't fully mine) you can add small touches.  Small hints of vintage touches will feel soft and muted. And as a result they soften our spaces and make them feel cozy and warm.
You can search antique stores for vintage pieces, but your items don't actually have to be real vintage. They can be vintage look alikes, and you'll still get the same look. I was just on Etsy last night, which I have to admit can be a dangerous rabbit hole for me sometimes because there are so many talented artisans. I bought several digital downloads of small vintage art pieces from a small business called InVeritasVintage. 
What did I buy?  Well, I bought these really pretty vintage coastal landscapes.  I also bought these cute vintage landscapes for Halloween with little white ghosts in them.  They're just adorable and you can see them below. If you want subtle Halloween decor this is a fun way to do it. 
What was great about this site, is that it was an instant download, which is eco-friendly AND faster than Amazon Prime!  They were inexpensive and I downloaded them immediately.  Now I just need to grab a few small wooden distressed frames and I'm good to go with my new art.  
To add a touch of vintage to your home add a small vintage piece of art on a foyer table or on a shelf next to your natural branches to instantly bring that cozy vibe to your space. 
Create a Cozy Home with Lighting
Add warm lighting to your space to create a cozy home. Good lighting is key to creating cozy and inviting spaces. And bad lighting…well, that can kill a mood in no time. 
In your space it's good to have lighting at different layers, lights above since they're functional and task oriented (although not too flattering), and light to eye level (which is much more flattering). And you can even go lights from below with some up lighting although I don't see it much indoors these days.  When choosing light bulbs for these light fixtures, choose either warm 2700 Kelvin or max 3000K when you're trying to be cozy and warm. 2700K is warmer and can sometimes be a little bit too yellow in a space so just watch the lighting in your room.  Anything that's 4000 Kelvin or higher will be really bright and can take a blue tinge.  
Use Warm Metal Tones to Cozy Up Your Home
Warm metals like antique gold, antique brass, bronze, copper, and polished nickel will soften your space which creates a cozy home feel.   Use metals on cabinet hardware door hardware, light fixtures, and accessories.  Anytime you incorporate the golds, the antique brasses, the bronzes, the coppers, and polish nickels you're getting a warmer vibe in your space. 
Create a warm display on your coffee table or foyer table with a vase and branches and a set of candlesticks in one of thoe warm metals would be a nice touch for fall and Thanksgiving time. Super cozy, right?
Add Wood Accents to Create a Cozy Home
Finally, the last tip to cozy up your home for fall is to add wood accents. Now wood tones are everywhere in the design world right now and I'm seeing a lot of images of entire kitchens that are brown wood kitchens. You don't have to go that far with woods to make an impact because you can bring in wood accents on a much smaller scale with different accessories, like trays, wood links, and sculptural objects. 
There's a tray right now at Costco, that well…isn't technically a tray-it's a grazing, charcuterie board. But it is just beautiful and I see it perfectly for a kitchen island or a dining room table. It's just $20 and I bought one myself.  Run to Costco right now to get one of these gorgeous grazing boards.
Wood accessories, like the wood links above from Amazon (for about $30) are another great option to create a cozy home. Dough bowls, picture frames, and wood beads are all great options to include. Dough bowls are those rustic bowls that you can put on your kitchen table, your kitchen island, and simply add some fruit, pinecones or acorns to get that cozy look.  
Or, if you want something a little more permanent, you could add floating wood shelves. Ultra Shelf is a company that I like and you can custom make some beautiful wood shells for your home.  Kitchens are a great space for floating shelves since they are more sterile spaces because with a lot of hard surfaces.  And as long as you don't lose any function you might consider having some wood floating shelves in your kitchen. Is there one cabinet that could go away and you could put a pair of floating shelves to soften the space? It's something to think about.   
Which ideas do you want to try out to create a cozy home for fall?  Let me know in the comments.  
And if you're struggling designing and decorating your home or investment property, be sure to check out Room Design Essentials.  
Discover How to DIY Your Design and Save Thousands of Dollars
Room Design Essentials gives you everything you need to know to design and decorate your room and home from start to finish.
Unlock your unique design style

Get the step-by-step process to

transform your home or investment property

Discover how to put together a well-designed home so each space flows to the next space

Learn which materials to spend money on and which to save on

Where to shop and what to buy for your home
You'll get all the design tips and guidance to help you get the results that you want in your home or investment property. 
Head over to nestorations.com/waitlist to get first access when the doors to Room Design Essentials are open.  The results other students are getting speak for themselves and I want those same results for you. 
Please follow and like us: