Is FEAR stopping you from designing and decorating your home?   If you feel overwhelmed updating your space and find yourself stuck and not making progress, then fear might be to blame.  But the good news is, you're not alone.  And even better news, you can do something about it to help you get the results that you want in your home or investment property.  Keep reading, or listen above, to find out.    
Listen to the Design Your Home Podcast
FODD-The Fear of Designing and Decorating
Have you ever been afraid?  I imagine that all of us can say yes to that one.  But my next question for you is this: have you ever been afraid to make a change and update your home?  Be honest here.  We're amongst friends after all.
And if you have ever have been afraid in the past or currently have some fears around updating your home, then know that you're not alone. In fact, it's so common that I call it FODD:  The fear of designing and decorating your home.  
What Are We Afraid of When Designing and Decorating Our Homes?
The first step to removing our design and decorating fears is to identify what they actually are.  
And in my experience working with clients, students in my DIY design trainings, and updating my own home, the most common fears come down to a few things.  Let me know in the comments which fears you connect with the most.
Do you have…
A fear of making a mistake or making the wrong decision in your home

Fear of wasting money 

A fear of regretting your decisions later on (like a trend you'll get tired of, or worried that your home will date itself quickly)

Fear of judgment (worried that other people won't like what you did)
So, which ones have you felt?  Any, or maybe all, of them? Well, all of these fears are real and can lead to analysis paralysis and overwhelm.  Both analysis paralysis and overwhelm keeps us feeling stuck.  Then, as a result,  we don't make any progress in our homes.
What Does Fear Look Like in Home Design and Home Decorating?
Fear in updating our homes can take shape in a few different ways.  First, it might look like an empty space, or holes in our homes because we can't make a decision. Maybe you have one of those empty spaces in your home…that empty space in the corner, that blank space on your wall, or that unfinished bathroom or basement.
Second, it can look like partial construction and unfinished projects because we got overwhelmed with the DIY process.  When our fears kick in we go into fight or flight mode.  But, with our homes it feels easier to go into flight mode so we just stop.  
Another way that fear looks in home design and decorating is with a home that's filled with dated furnishings.  When you can't make decisions about what to do, you go into flight mode and just leave it as it was.  And no…waiting 20 years for the style to come back isn't the best option here my friends (as tempting as it may be;).
Last, fear can look like buying cheaper or less expensive versions of things.  And not because you can't afford them (there is NO shame in buying within our means or making decisions within our budget).  But, I mean buying cheaper versions because you're scared to commit to the higher quality, more expensive option.  Maybe you're worried that you won't like it later, or that you'll change your mind, or that other people will think it's ugly?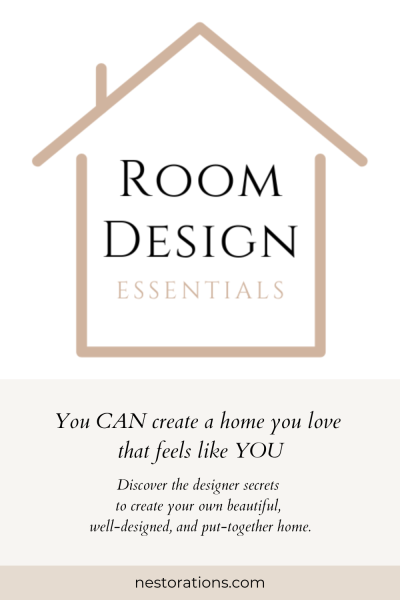 What To Do About Our Fears Around Designing and Decorating?
The good news is that you don't have to stay in your fear and overwhelm.  Fear is just a feeling.  And you can change that feeling. 
First, accept that you WILL make a mistake or that things might not turn out 100% perfect. Yep…it's the truth and the sooner you accept that, the sooner you can get your butt in gear and transform your home or investment property. Mistakes are part of learning.  In fact, we usually learn more from our mistakes and our "failures" than we do from our successes. As a recovering perfectionist, that was a big truth for me especially with my own home remodel.  I spent months analyzing and looking at different things and debating every minor decision. But you know what.  In the end when it's all together, it will look amazing.  It already does.
Have you every heard the saying that you can't see the forest for (or through) the trees?  When we fixate and obsess over every detail we miss the big picture.  I guarantee that every beautifully designed room has some small details that might not be perfect.  But, as observers looking at that space we don't see those minor mistakes.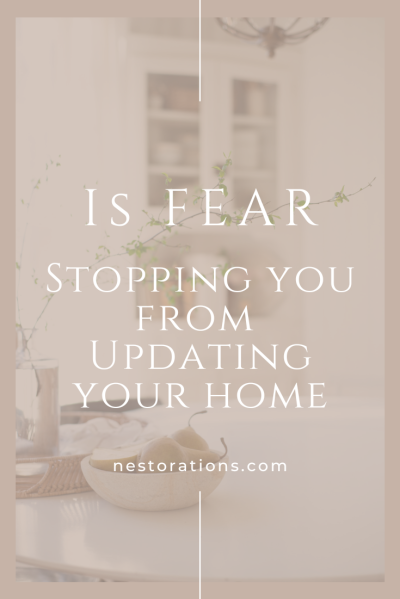 Other Ways to Move Past Your Design Fears
Also remember that every problem, or mistake, has a solution.  And yes, we may not always like the solution, but the point is that there IS a solution. We have options.  
Next, start small with your home design updates.  Maybe don't dive into a big kitchen or bathroom remodel. Both of those spaces have many, many decisions, and are harder to change.  So start with something smaller like an entryway, or a blank wall you've wanted to add art to for years.  A guest room is also a good place to start with.  The stakes aren't as high so these spaces feel safer to update. 
Last, I want you to gather info and make a plan. Look at what you like and dislike.  What design styles do you like?  Unlocking your own unique design style is the most effective way to create a room you love.  A  great first step, if you don't have one already, is to make a Pinterest board with ideas.  These are all things I do with my 1:1 design clients and my course students to help them create their dream spaces.  You don't go on a roadtrip without a plan, so why would you start updating your home without a plan? 
You Can Have a Home Your Love
I truly believe that everyone deserves a home they love. And I believe that everyone can learn how to design and decorate their spaces. 
You can reduce those design fears and get rid of any FODD (fear of designing and decorating) that you have and you can start living in a home that makes you happy each day. 
Room Design Essentials Can Help You Move Past Your Fear of Design and Decorating
This is the first time this year that I'm opening up the new, updated version of Room Design Essentials.  My signature DIY program that helps you no matter what phase you're in in the design process.
Whether you're starting from scratch with a new, blank space

Or you've already started and are feeling stuck having a hard time putting everything together

Or you're near the end and want to make sure you get the styling and details right. 

Room Design Essentials will get you from point A to point B without the stress and overwhelm.  

And I'd love to see you inside to work with you there. 
You can go at your own pace, or new this time (which I'm SO excited about I could burst) is a special, limited VIP option where we have several 1:1 sessions to really dive into your home and help you get the results you need with my close guidance.   I worked with a small test group of students earlier this year with the VIP option and not only did it give them amazing results, but I LOVED the sessions and personal connection.  It was amazing!
Go to nestorations.com/waitlist to get first access.  The doors are almost open.
Discover How to DIY Your Design and Save Thousands of Dollars
Please follow and like us: