Today we're talking all about bathrooms and more specifically, the latest trends and features in bathroom design.  I just got back from the National Kitchen and Bath Industry Show and I'm sharing the direction of bathroom design and what you can do to create a show-stopping, or scroll stopping, bathroom.  Are you ready?
Links mentioned in this episode: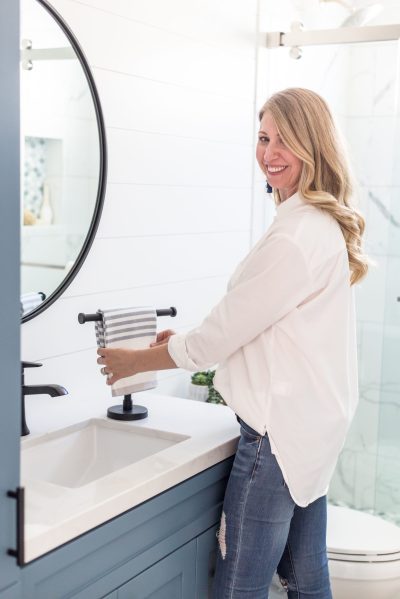 I was recently at the KBIS show, which is the Kitchen and Bath Industry show to see the latest kitchen and bathroom trends. It's a national show that happens once a year and it's just people who are in the design and kitchen and bath industry. So homeowners, and the general public cannot attend this, but it is for designers, fabricators, architects, cabinet makers, electricians, anything related to construction, and general contractors.
We all attend this show so we can get inspired, discover new products, and see the latest kitchen trends. There are so many decisions that go into a kitchen remodel and instead of you getting exhausted and into decision fatigue from seeing ALL the options, we get the knowledge and do the leg work for you. You can struggle finding out everything on your own in kitchen trends and design or work with a designer and we can figure out your needs and help you.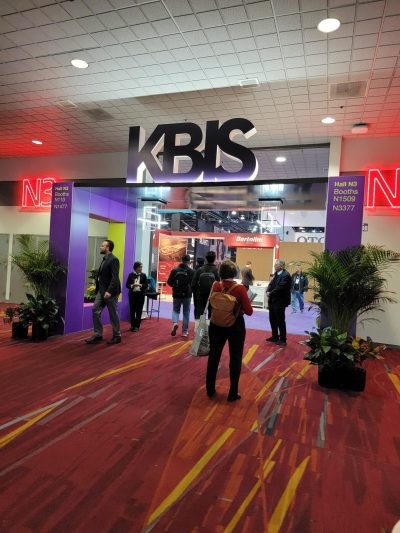 Bathroom Trend #1:
Create a Spa-Like Retreat
The biggest bathroom trend I'm seeing in the design world is creating a relaxing wellness retreat in our bathrooms. It's like having your own personal getaway or escape from the stress of the world. Oh, how amazing would that feel?  And I get it.  Ever since the pandemic, our lives felt really stressful. And so we want to create a soothing, relaxing vibe that feels like you're away on a vacation.
It's really about creating that high end spa look.  I'm seeing things like steam showers, programmable showers, things you find in really high end hotels.  I'm also seeing larger scaled materials like full slabs of porcelain or oversized tiles because they really give a high end look.  In spas, we often see some natural materials or organic elements which look great so you might include a little bit of wood like a small wood tray, or a small wood seating bench in your shower. Bathrooms can be cold, sterile spaces due to the harder materials that are used so try adding some texture or another natural material to soften the space.  Consider adding a window covering, a soft runner or small rug, or some art to complete that space and add a little softness.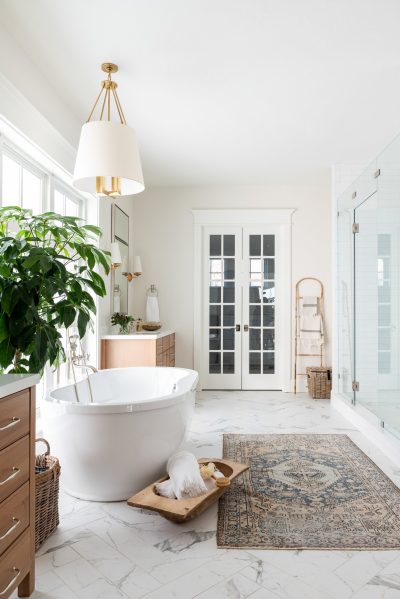 Create the Spa Feel on a Budget
If you're not doing a bathroom remodel or are on a budget and you can still create that spa look.  Maybe you're the host of an Airbnb or a medium term rental that isn't a luxury property, you can still include some small touches to create that spa feeling. Keep it simple with having rolled up towels on your countertop or on the side of the tub. You can tie a fabric ribbon around them for a little extra touch, and also adding fresh candles or jars of Epsom salts or bath bombs and decorative glass canisters to invite a relaxing bath experience. Also keep accessories like your towels or other decorative items in a similar color palette to create a soothing feel. If you've been around me for a while, then you know I love a defined color palette to give your space a nice cohesive, flowing feel.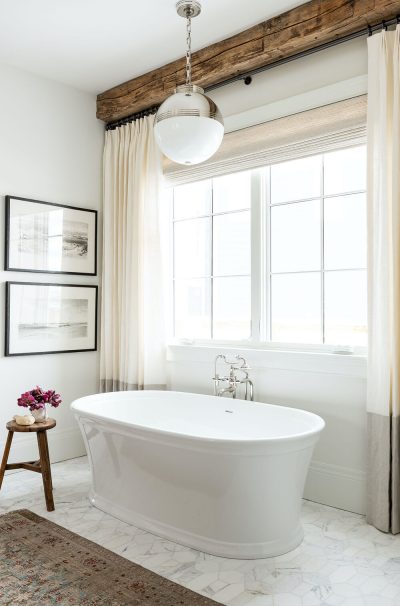 Bathroom Trends #2: Tile Trends
What am I seeing with tiles in bathrooms? Well, tile walls are big, and not just in your showers but you could also do them behind your vanity. Really it's about making a statement.  A beautiful tile wall ,that goes all the way to the ceiling, will make your space feel larger is a great way to have a high end look in your bathroom.
I've seen this with really large scale tiles that are 12×24, 24×48, 36×36, and even 48×48.  Or you can go even larger with a whole porcelain slab.  With any large porcelain make sure your installer is very skilled because those are much more difficult to work with. But a good tile installer can also do these other larger sizes I just mentioned.
Natural stone is big in bathrooms as well, especially marble. But you can get the look of marble with porcelain and have literally zero maintenance. It is just incredible how much it can look like a real natural marble, but you don't have the worries or the maintenance associated with marble or necessarily all of the costs.
Add dimension with Zillige Tiles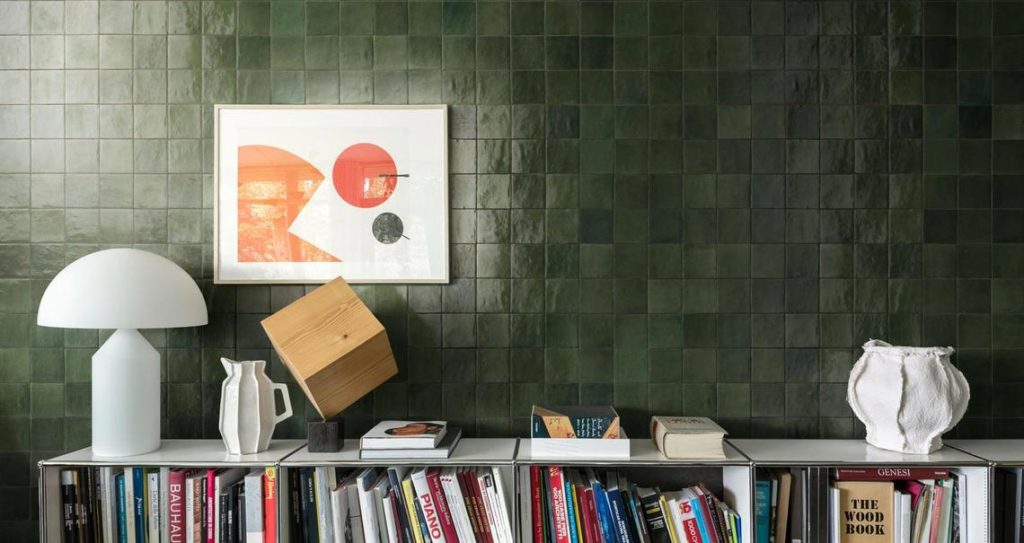 Now another tile trend I'm seeing is the zillige tiles. Those are those really organic, textured color variated tiles.  They don't look perfect and aren't meant to.  Since the pandemic we're embracing flaws and shunning perfection since we want things to feel real. And tile that has a handmade feel, has really been surging. You might see them when you're looking around in different kitchens, or bathrooms that you're seeing on Instagram or on Pinterest. And it looks like every tile is just ever so slightly a different color.  If you were to go to Home Depot and just get a standard white inch square tile, it's all going to look very flat with no real dimension or visual interest.
Get a Retro Feel with Terrazzo Tile
Terrazzo tiles is the final tile trend I'm seeing. They're those speckled tiles with the retro fee. They can be used on floors, walls, in shower niches and I'm seeing a lot more of it over the past two years.  It's fun, and more whimsical with that 1970s vibe although it has a modern take these days.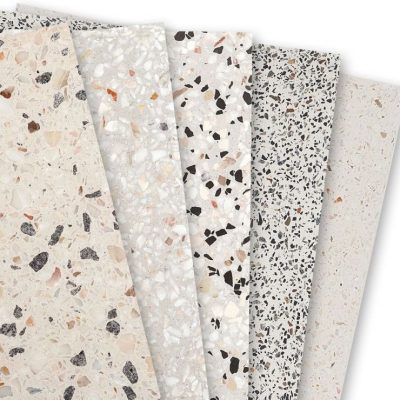 Bathroom Trends #3: Cabinetry
Shaker style will always be popular but I'm also seeing more unique cabinet fronts with reeding or tambour.  I don't like to overdo it with your cabinets, maybe make one special area feel a little unique, but go classic for the rest. There's a lot of flat front drawer doors that I'm seeing a lot and that just keeps a really clean, simple, contemporary look. 
Also, I do see a lot of with cabinetry with a furniture feel to them. By adding feet to the your cabinets it looks like a piece of furniture with legs. I think it's a great look in a bathroom, although it can collect dust bunnies underneath if you don't have a toe kick.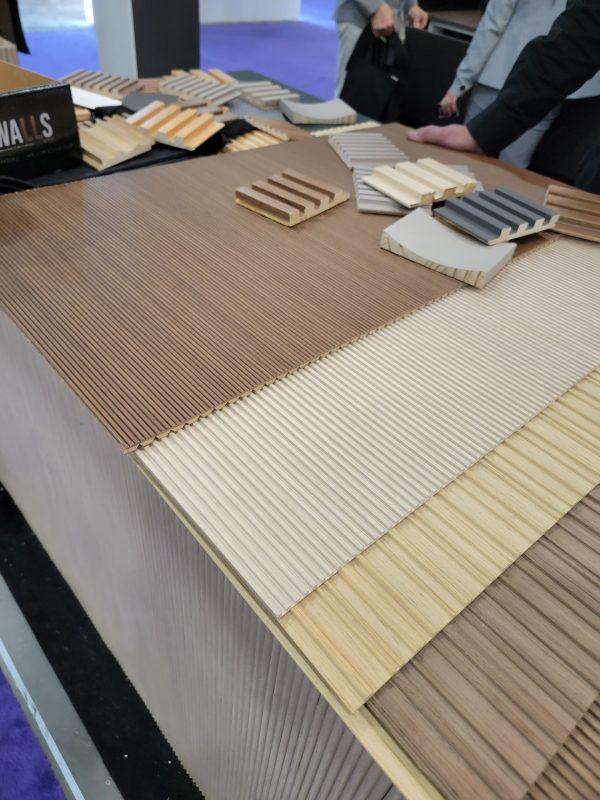 Bathroom Trend #4:
Removing Bathtubs
Alright, moving on to trend number four is removing the bathtubs and I see this going both ways. Some people love bathtubs, and other people can't stand them. My professional and personal opinion is that you need at least one bathtub in your home for resale value, preferably in your primary bathroom. If you were to ever sell your home, and I know we are not planning our homes for the next people, we plan our homes for us when we're living in them.  But you always want to think long term. And if you do sell one day, and somebody does want a bathtub and you don't have it, they won't buy your house because it will seem like a bigger project for them. People want simplicity when they're buying a property, they don't always want to think of work and projects. Also, if it's a kids' bathroom you may also want to keep a bathtub in there as well. 
But, removing a bathtub does allow for more interesting design and tile work.  It also visually makes your space feel bigger. It all comes down to how many bathrooms you have in your home or property. 
Bathroom Trend #5:
Statement Lighting
Alright, moving on to trend number five is statement lighting and I'm seeing so much of it. In bathrooms, you don't just have settle for your Home Depot, two or three light vanity fixture over your mirror. You can change things up a bit, make it feel more high end, make it feel more special. You could have a mirror with back lighting which would look great with a focal tile wall behind it.  You could also have lights on the side. Just make sure your wattage is strong enough. If it is for function if you're putting makeup on or other things and you need good lighting, you do want to make sure you're not doing some very low light fixture because that won't be functional. Bathrooms are important to be functional.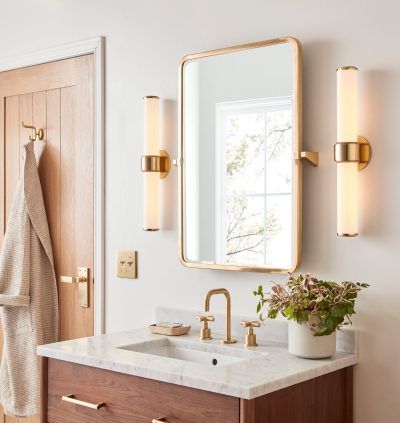 Adding a special chandelier is something else to consider for your bathroom. Make sure it's allowed by building codes, but a chandelier over a tub would look amazing. 
Bathroom Trend #6: Colors
Moving on to our final bathroom trend: colors. What colors am I seeing? Well it actually does go all across the board. But I am seeing a lot of soft, neutral color palettes like I am in kitchens. Think creams, taupes, and pale shades that give the relaxing spa like vibe.
In bathrooms, I think blues and greens are always going to be popular because blues and greens remind us of the ocean or lakes–just that water feel. And that works so well in a bathroom. Now, on the other end of the spectrum, you do have the option to do something bold and mixing blacks and whites which is a fun option. And especially if it's a property that you're not living in all the time, your investment property or your vacation property, it can be really fun to go in those bold colors, because you don't see them all the time. So they always stay kind of fresh and interesting. If you do go with something bolder than you can always add some wood tones to soften the space. Whether that's your vanity, or some decorative accents or wood shelving, those can kind of soften some of those bolder spaces.
How to work with me or learn from me
If you're feeling overwhelmed by all the bathroom choices then reach out work with me either 1:1 or through my design programs and trainings. 
Room Design Essentials teaches you the A-Z of designing a space quickly so you can design and decorate with confidence.  It works for both homeowners and real estate investors.  And I'm in the process of revamping this and making it more awesome than ever so it gives you even faster and better results.
To be the FIRST to know and get on the waitlist go to: https://nestorations.com/waitlist/
Please follow and like us: