Is your home on trend? And what are the latest home design trends that you could be using to uplevel your home or rental property in 2023? I just returned home from the winter design market in Las Vegas, and I'm ready to fill you in on all the latest and greatest in design. Find out what colors are popular. What are the latest must haves in home design and furniture? AND how to effectively use them in your home.
I'll also share my answer to the big question…should you follow the latest design trends or not? Ready? Let's dive in.
Links mentioned in this episode: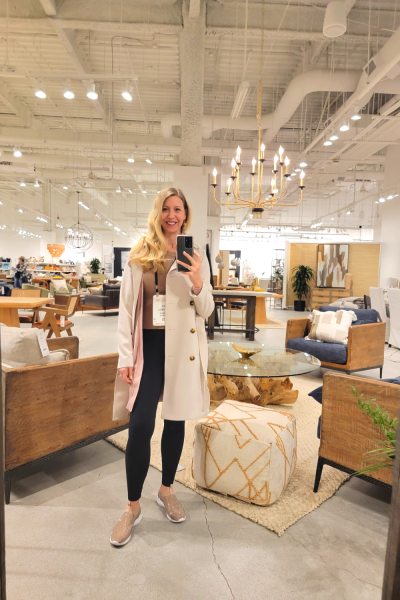 Today I'm talking all about the latest trends here in 2023. And in the design and furniture world there are different what they're called Market shows where people in the trade like myself, shop for furniture, our rugs, décor, accessories, gadgets, cookware, gifts, I mean, you name it, it's there in Vegas, everything basically you're shopping for online or in stores, you can find at these market shows and your favorite furniture stores shop at these markets, as do designers like myself.
The biggest market in the US is in High Point in North Carolina. It has over10 million square feet of showrooms. Yeah, it's big. I've been to that one many times.
But since I'm on the West Coast, and Vegas is so close, I'll hit the Las Vegas market. And while it is smaller, it's still a great market to shop.  And in this post I'm sharing what I found at market and what things you might be finding in your furniture stores in the next few months.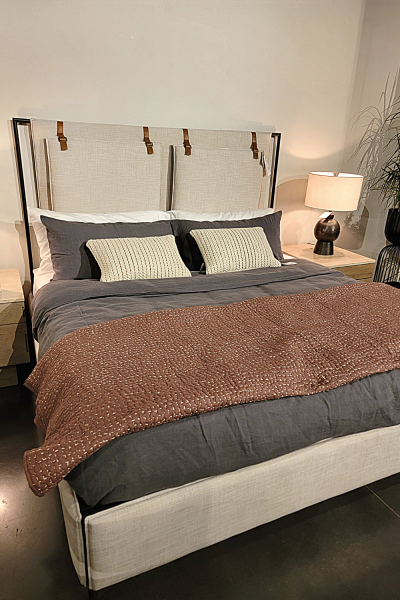 2023 Design Trend: Colors
This year warm tones like browns and taupes are all the rage. There were also a lot of rust colors, some pinks, and then also a lot of greens. I think with the pandemic, we had such a disruption in our lives and we were spending so much time at home that we're looking for that coziness, that warmth. And it was just so apparent throughout all the vendors at market that they have embraced this warmth as well. 
Like I said, most of the design trend is your browns, your taupes, your off whites, your creams, your rusts, your pinks, but again, I did see a lot of green and that started the last market. But now I'm seeing more larger scale with green. It might have just been some artwork at past markets, but now I'm seeing larger furniture pieces that are in that bluish green range and it's just really so stunning. And greens will work with both your grays or your browns.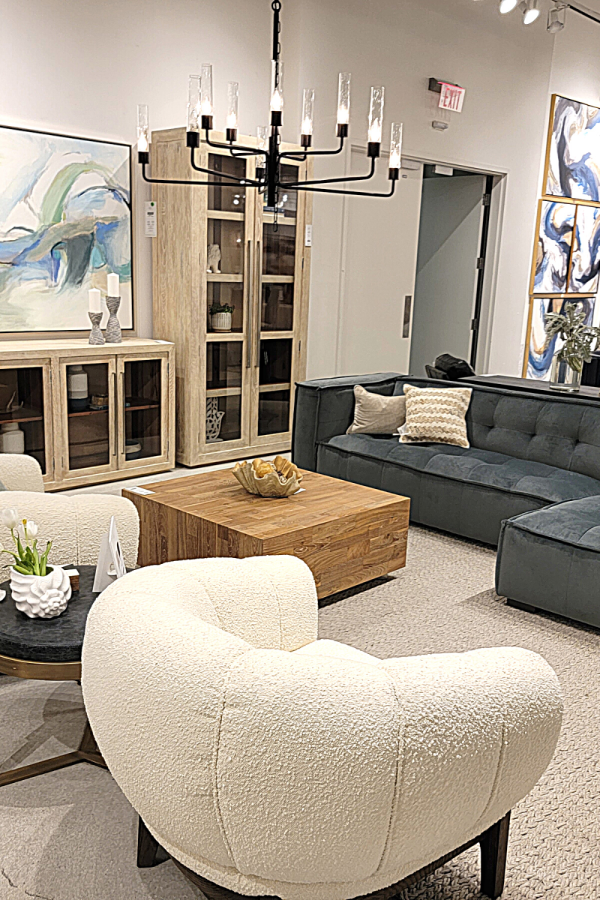 Now as for finishes, I'm still seeing a lot of golds. They're really holding tight in that top spot, although they have transformed a little, they're much more softer and muted.
Antique brass has that worn, weathered, softer feel. Now, to get a really good idea of who makes a great gold or antique brass finish look to a lighting company called Visual Comfort. They're high end and I've used them in projects before and will use them in my own home.  And they just do such a great job with their antique brass, it is just a beautiful finish.
One thing I am seeing a little more of is oil rubbed bronze.  It was popular years ago but it's starting to have a resurgence.  And I do love that because I think every room and design needs a little contrast and something that's darker. You don't always want black. So the oil rubbed bronze is a softer version of black.
How to use the color trend in your home?
How can you use the color trends in your home? Well, if you're buying a new piece of furniture, installing new carpet, choosing some new paint colors, you might want to embrace some of these neutral earth tones. A safe choice is just using different accent pillows. You don't have to get a whole rust sofa or sectional as that will be a large investment. Again, you want to hold true to what feels right to you, and what colors you like. 
If you're designing an Airbnb property, investment property or a second home, you might be more willing to be a little bolder in your color choices since you don't sit with them day in and day out. But if this is your everyday home, I like to recommend going a little neutral. And then having your accents embrace some of these color trends that you can change as needed.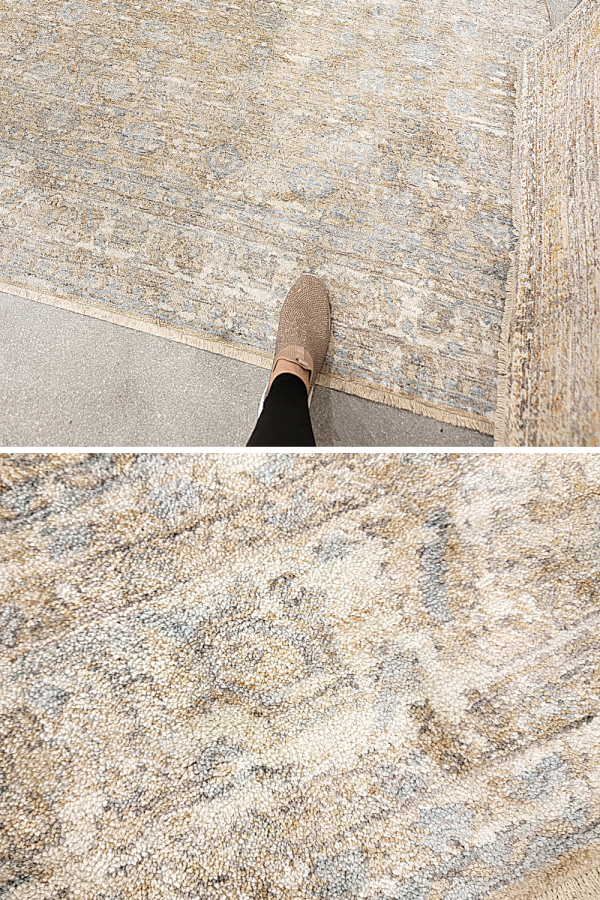 2023 Design Trend: Muted Calm Luxury
The next trend I want to talk about is the trend of spaces with a muted, calm luxury vibe. It wasn't showy. It wasn't flashy. It wasn't glitzy with bedazzled crystals.  But it still gave off a very warm, calm and luxurious feel. So what I saw in showroom after showroom was a lot of neutrals. You can never go wrong with a neutral sofa that's off white or beige. Anything in that color palette you're going to have for years and years. But the important thing here when you're trying to create a muted calm luxury is you do need to have different layers, things that make the room fill feel like it's been built over time.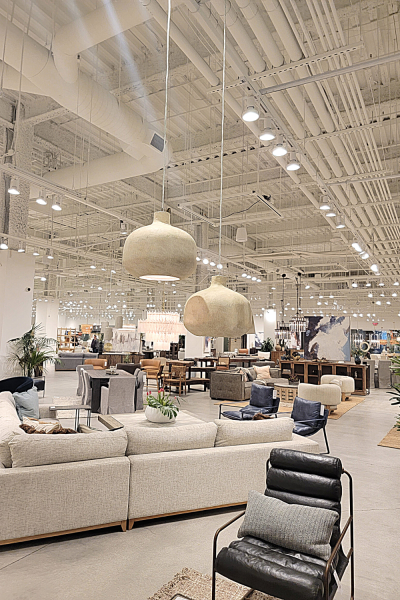 Include layered  and interesting lights to create that muted luxury design trend. Instead of having one single light fixture over your dining table, you could have three light fixtures. In your foyer you could have a cluster of a few light fixtures to give that high end layered look.
To create the warm and calm luxury that I saw at Market, you want to have a large neutral piece of furniture, like your sofa, and your accent chairs, which can have some contrast because you don't want everything to be in the off white beige world, right? But you still can have a neutral contrast. It doesn't have to be dark, dark brown, it could be a taupe contrast.  And I think this trend is popular because after the pandemic, our lives felt so chaotic and crazy, that we were looking for just the sense of serene and peace. And I think that's why we saw so many muted, calm, luxurious spaces.
Then, add a few of those nostalgic details, some vintage pieces in there like an interesting wallpaper, or some vintage art or frames, something that brings a little subtle softness, a little old world feel, without feeling dated, it just adds again, that soft layer, like your room was built over time.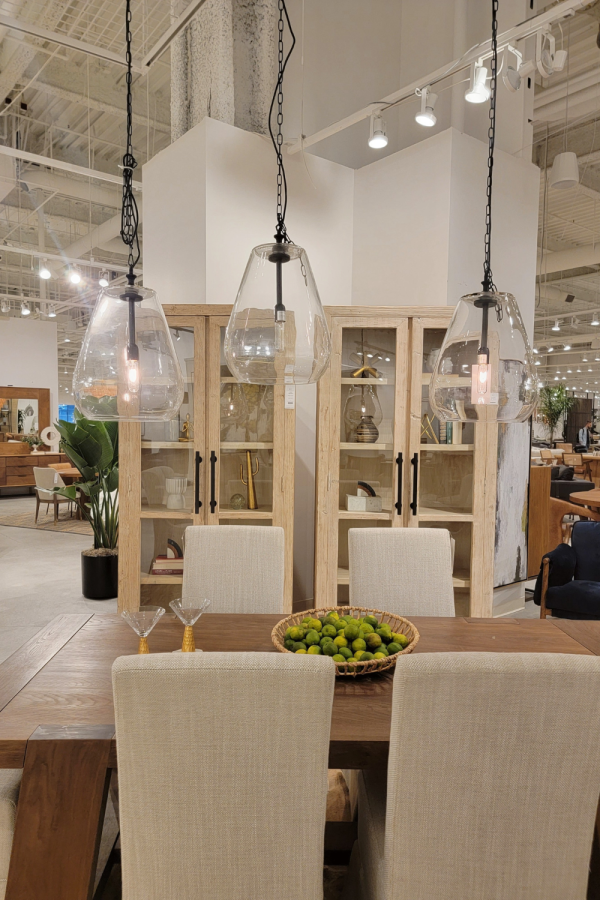 2023 Design Trends: Curved Furniture
Alright, moving on to some furniture trends that I started seeing at past markets but I saw even more of is curves.  Curves EVERYWHERE. Everything is very curvy and rounded. And I think this also stems from the pandemic, because we got so comfortable in our pajamas and loungewear that we want our homes to have that same comfortable, cozy feel. And so there's been so much curves and roundness and I think it comes down to the fact that our brain loves circular forms and curved lines, because they make us feel safe and calm. Compare that to sharp pointy objects on the other hand that don't feel safe and calm.  They can actually be a little stressful.
Imagine you had two chairs side by side, one is super squared sharp edges and then the next chair was a big, oversized, rounded, chair.  Which one would you choose to sit in?  It's no surprise that most of us would pick the rounded, softer, curved chair just because it feels cozy or calmer and safer.
If you want to embrace some of these curved furniture trends in your home, you could go real simple and just get a curved, rounded pillow. Or you could have sphere pillow that looks like a ball.  Or a flat circular disc pillow. All of these bring those curves into your home. You could also really embrace this with accent chairs. Again, if you have a more squared off sofa or sectional, it's nice to have some contrast with another piece.
Having some of those rounded edges just adds some visual interest and breaks up the squared lines. You also could embrace a circular rug if your room is big enough or a round coffee table or a round ottoman or coffee table instead of a square or rectangle to add some of those softer lines.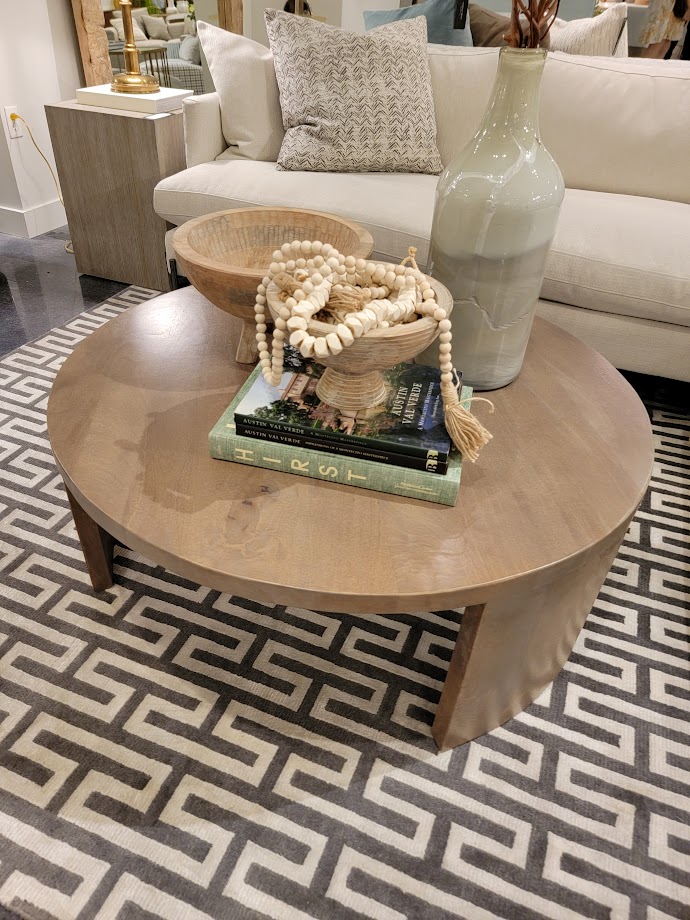 Alright, moving on to the next trend that I saw a lot and it's really statement walls so many furniture vendors were embracing some interesting statement walls. Yes, it is a store display of course where they're trying to attract us but exactly the point is it does an interesting statement wall whether that is with wallpaper, or a wood focal wall. Something so popular I saw quite a bit was tambor or fluted walls and that's where it's that ribbed Ridge look. That little bumpy. You see that a lot in furniture details. But I saw entire walls of that. And actually when I went to the kitchen and bath show, I found companies that do that, but I'll talk about that in a future episode. The next one or two where I do talk about Kitchen and Bath trends. But again, statement walls I've always been a big fan of them. I have a couple in my own home, I'm adding more and that is where I have a wood focal wall. And it's can be painted in in white it can be painted in a different contrasting color. I think a statement wall levels up your home or property and makes it stand out.
If you're scrolling images online or looking to rent a vacation getaway for the weekend and you saw something really interesting and could be a whole wallpaper wall, an interesting focal wall and a bold color. I mean, it just stops you, because it looks different than everything else. So I don't think you can go wrong with a great statement wall.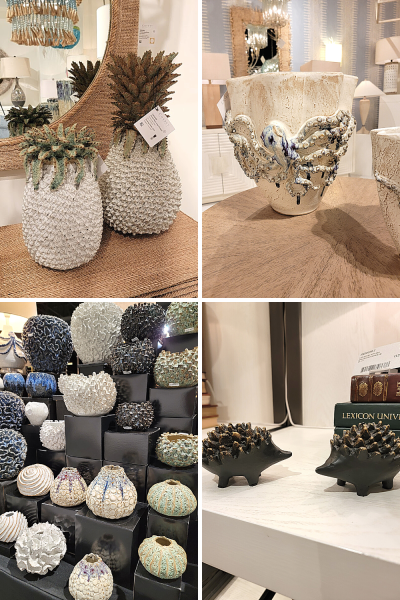 Texture You Want to Touch
The amount of texture that I saw at the Las Vegas market was impressive.  This could be the texture within fabrics like boucle, which is that chunky nubby fun, natural fabric. Or you have leathers, velvets, anything like that just gives such an interesting feel like you want to touch it. I saw so many things at Vegas that I just wanted to touch it to see what it felt like. That's what we're seeing as a home design trend this year is bringing those textures into our homes.
I can't tell you how many vases I saw that I just wanted to touch and see what they felt like.  Everything was just so tactile. And I say this with my clients and within my programs that whenever you're trying to create a really well designed room, you need to have different textures within that room. If everything feels flat and smooth, the rooms going to feel flat and boring. And we don't want that.
Having interesting textures, wood finishes, fabrics, accessory nubby things, anything like that just gives a texture, which creates a different type of visual interest and layer in your room. I also saw lots of natural elements such as marbles, rattans, wicker, and cane. They're still having a strong presence. Everything doesn't have to be some smooth wood, or smooth glass or smooth ceramic. It's having that variety and texture that really creates a very interesting room.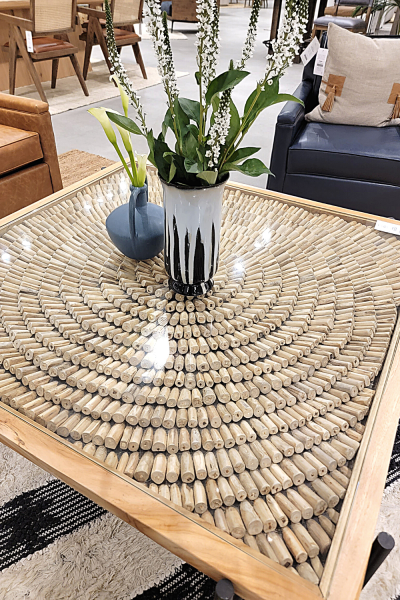 And now it's time to talk about what things are out. And this can always ruffle a little feathers. But again, I'm here to tell you the truth and give you some straight talk of what I saw. What you choose to do with it is for you to decide. 
One thing that I saw that is definitely out and I might hear heartbreaking all over the world is farmhouse.  Farmhouse has definitely run its course. But it really wasn't anywhere at market. And from the designers I've spoken to they're not designing much of that anymore. It just got so overdone when you're finding rustic farmhouse signs all over Amazon and Walmart, and black and white check. It's oversaturated and not feeling special anymore.
And so if you currently have farmhouse and you're like "oh no, what do I do?" Well, you can change that out by changing up some light fixtures, changing up some of the paint colors, taking down those farmhouse signs about family and gathering. If you love the plaid look of pillows, go with some different plaids. It doesn't have to be that black and white check, just mix it up a bit and you can modify your farmhouse to be a little more current and modern.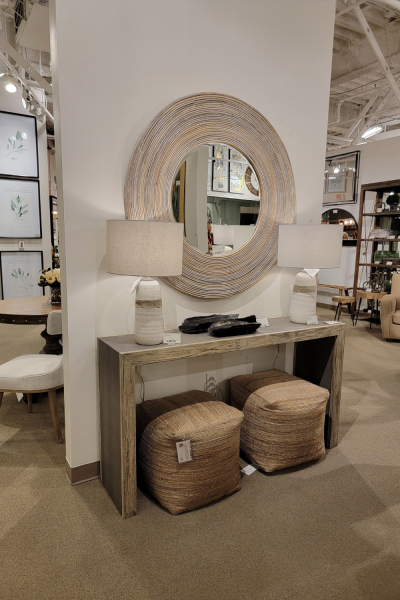 What do I mean by fast furniture?  That is your cheap throwaway furniture. It's not sustainable. The trend is now really to embrace the earth embrace sustainability, and that cheap fast furniture that you know is going to be broken in a year. It's really out of favor. Fast furniture has been replaced by good quality furniture.  I do want you to invest, especially if you have kids or if this is your rental property and you have Airbnb people in there fast furniture is going to break down and get ruined much faster than higher quality furniture. So again, fast furniture not in favor now. 
And then the last thing which I've already mentioned, is gray. Gray is the third trend that I see that is really out. It's a lot harder for me to find furniture vendors with a lot of Gray's since I'm seeing those warm tones. So if you have a big gray sofa or sectional your choices are to either re upholster it which cost the same as a new one, or you can change up your throw pillows and put a little more neutral in there with an off white or cream. If you have gray flooring throughout, that's going to be a little more of a challenge. You can put an area rug on that. But again, all gray interiors it gives that cool sterile vibe that people really aren't gravitating towards right now.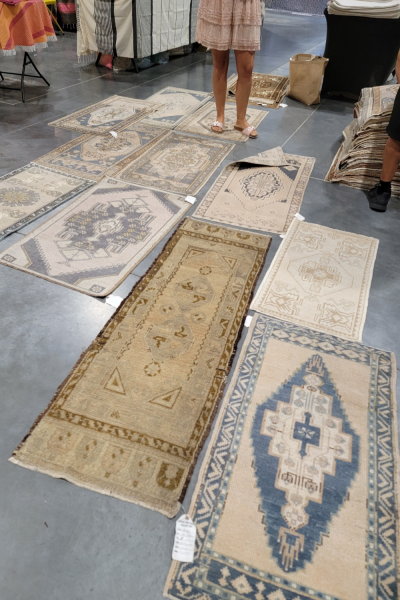 How to work with me or learn from me
I do limited work with 1:1 clients and projects have to meet certain requirement for me to add them to my calendar.  But, you can work with me through my programs and trainings. 
Room Design Essentials teaches you the A-Z of designing a space quickly so you can design and decorate with confidence.  It works for both homeowners and real estate investors.  And I'm in the process of revamping this and making it more awesome than ever so it gives you even faster and better results.
Kitchen Refresh 101 teaches you how to update and refresh your kitchen yourself.  You'll walk away with the processes, order of operations, ideas and inspiration to make your kitchen stand out.
And I'll be launching something new called Accelerated this year to work and train with me 1:1.
To be the FIRST to know and get on the waitlist go to: https://nestorations.com/waitlist/
Please follow and like us: