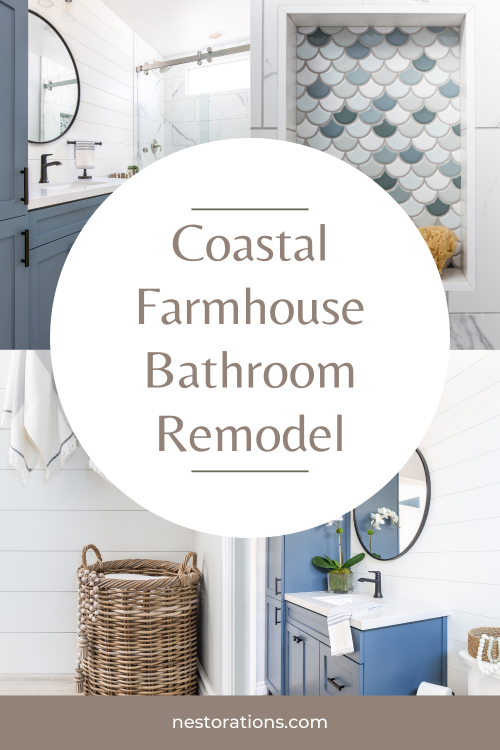 I've been eagerly waiting to share this gorgeous coastal farmhouse bathroom renovation with you and I'm thrilled that the professional photos are finally ready!  This bathroom is the perfect blend of modern farmhouse meets coastal style.  
What is coastal farmhouse style?
Coastal farmhouse style is the blending of two very popular and current trends: farmhouse and coastal.  Farmhouse style, which has been trending for several years, is known for its cozy, relaxing vibe, muted color palette with whites and of course-shiplap.  Coastal style is light, beachy style that includes the colors of the sea.  And no–I'm not talking nautical here with anchors and sea shells everywhere;)  
So when you combine those soothing ocean colors with the cozy elements of farmhouse style, you my friend have coastal farmhouse style.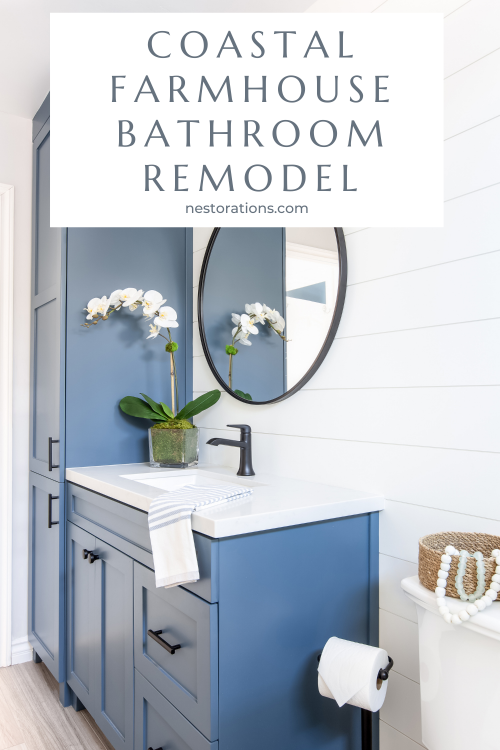 The inspiration for this coastal farmhouse bathroom renovation
After talking with my clients and discussing their wants and needs I usually have a general direction where to go.  Are they glam and refined?  Casual and kid-friendly?  What colors are they drawn to? What is their current house style?  
In this case, I knew their current bathroom was dark and we wanted to create a much lighter, casual space that was family-friendly and functioned better.  Other than that, we were pretty open. 
Next, I began my search for the starting point or inspiration for their design.  As a designer creating a new design I always try to give myself the gift of patience.  Sometimes I see something immediately that sparks creativity.  Other times, it takes a while. For this particular bathroom remodel, I started at a few local tile showrooms. In the first showroom, I walked around for an hour and while I found a good neutral floor tile, nothing else stood out.  Again.  I was patient with myself.  Designs can, and often do, take time.
A few days later I went to another tile showroom and saw this beautiful scallop tile in beachy colors.  I found myself looking at it several times (a good sign) so I picked it up and played around with other tiles that could work with it.  In the end, we settled on the combination you see below: the greige "wood" tile for the floor and the matte white Carrara porcelain tile for the shower.  It all worked so well together.  It also looked amazing with the blue cabinet color we were considering.  I love that it's a rich, soft, blue without being too dark since we didn't want to go with navy.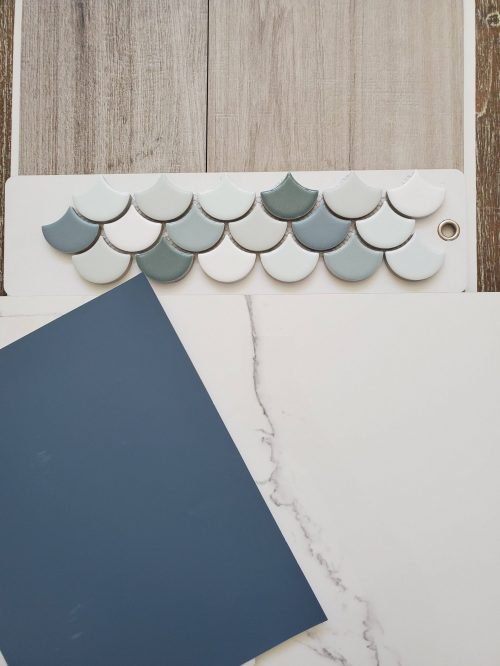 A little bathroom styling to complete the room.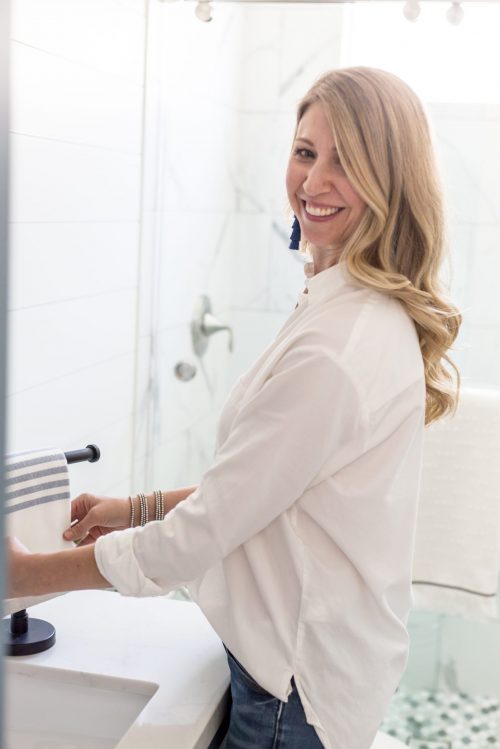 As you can see, the bathroom was really dark with only one small, east-facing window and the wall took up much needed space.  By removing it, we opened up the room and made it function better.  
We removed the builder shower enclosure and added floor to ceiling cabinetry by the vanity for additional storage. 
Before I share the coastal farmhouse after photos let's talk a little more about the space.  In addition to this bathroom remodel, they also needed to refresh the small area right outside the bathroom.  This small area was just a plain wall but is visible from the front door.  So it not only needed to function for them, but it also had to look good.  It's right by the front foyer after all.  I decided to tie the two spaces together–the bathroom and the space outside the bathroom with shiplap. By having the same shiplap wall in both spaces it unified them for a cohesive look.  Simple wood hooks for towels and a tall basket made the space functional and pretty.
Alright…I won't make you wait any longer to see the pics.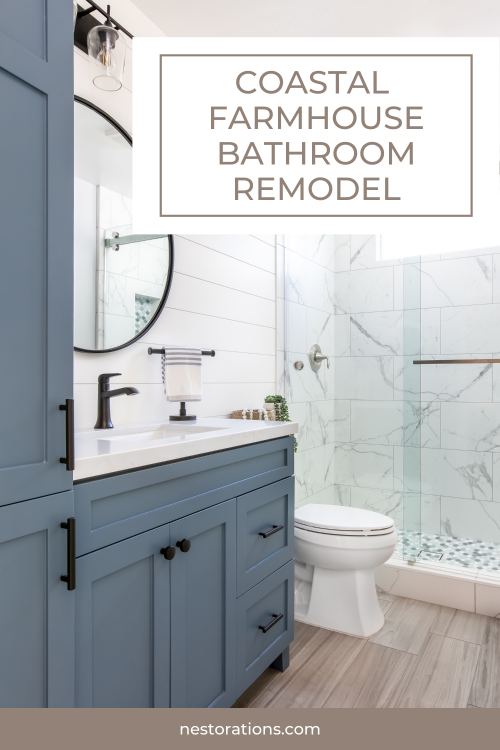 Here are both spaces in one shot.  What a transformation!  I just love the way the shiplap ties the two spaces together.  
We added lots of storage with painted floor to ceiling cabinetry.  We went with simple, black hardware for the vanity, while we used brushed stainless finishes in the shower.  Mixing two different metal finishes keeps it interesting, yet still creates a cohesive look.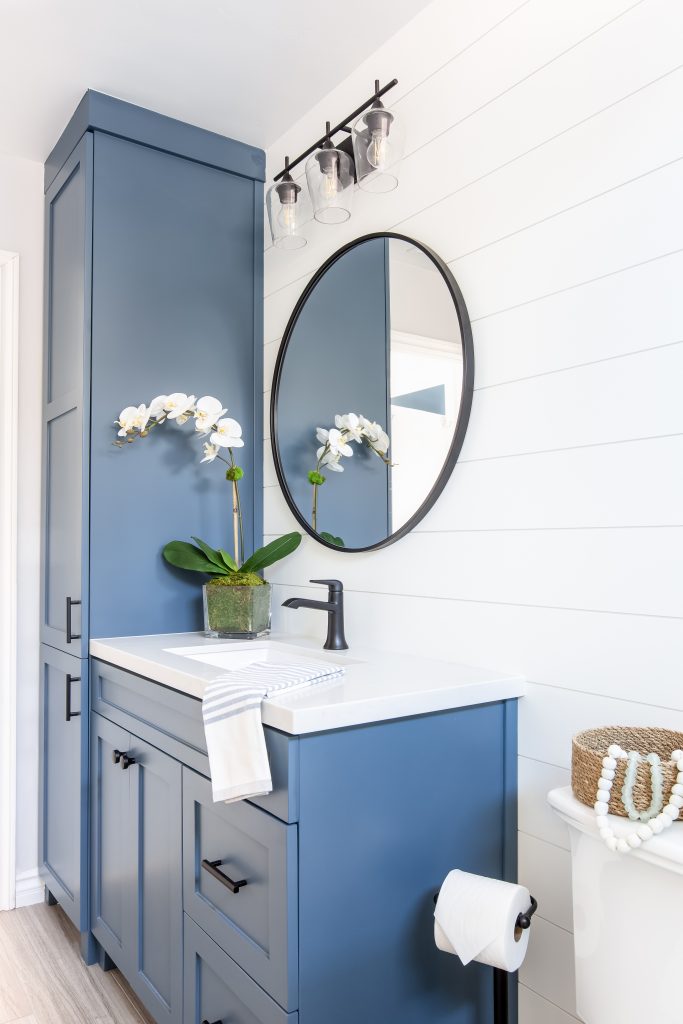 What a difference!  This bathroom went from dark and dull to light and bright!  I just love how the scallop tile on the shower floor adds to the whole look.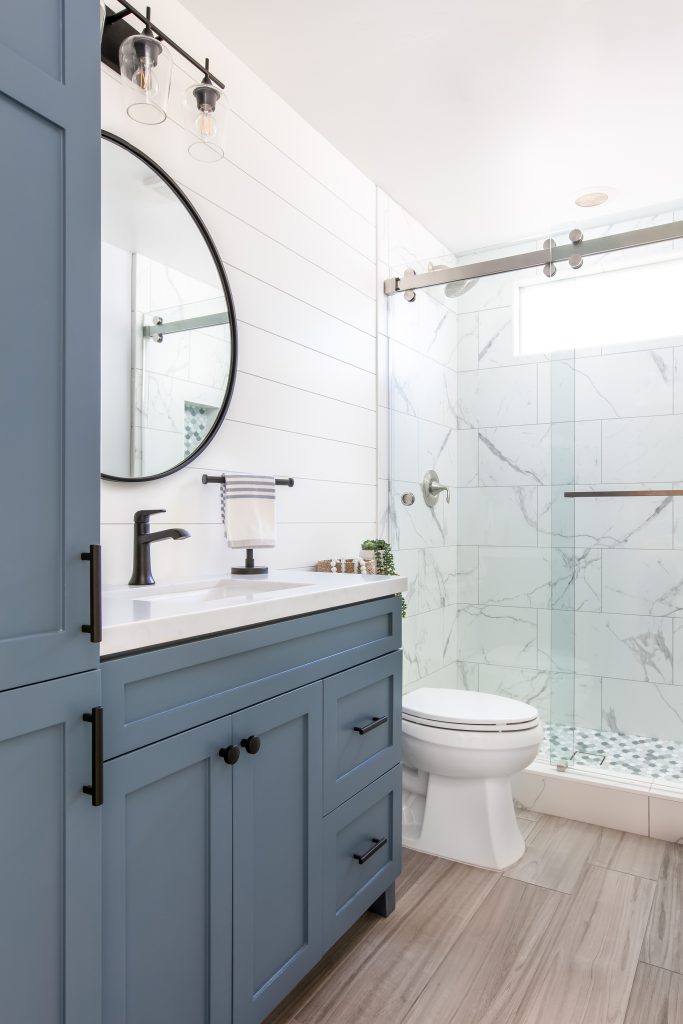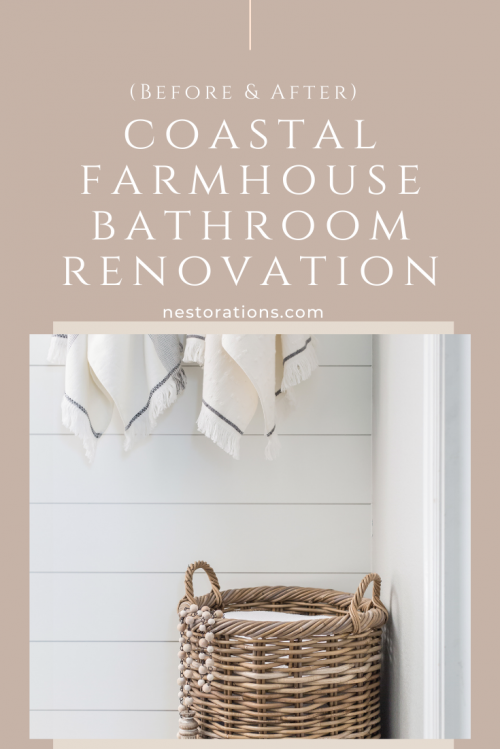 We used 12 x 24 Carrara marble porcelain tiles in a matte finish in the shower with a soft gray grout. The same scallop tiles in the shower pan were used in the shampoo niche.  How fun is that???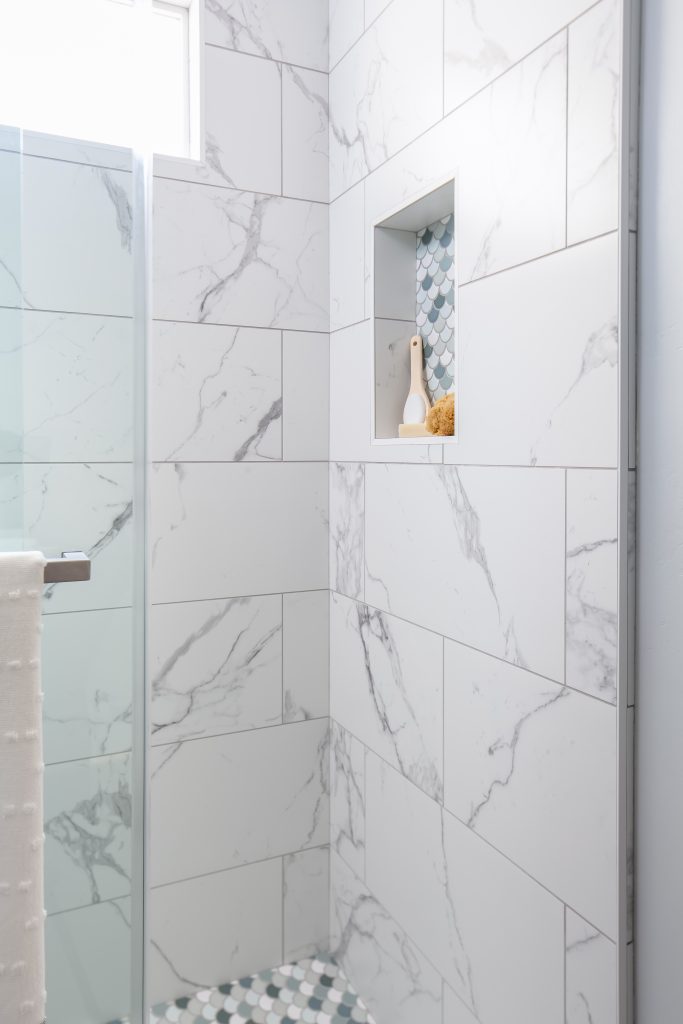 The details make the design
Crisp white shiplap walls, black matte hardware, and colors of the sea finish off this design. We used a white quartz with subtle veining for the countertops.  And the simplicity of the single handle faucet works so well in the space.  All colors used (shiplap, cabinetry, and walls) were from Sherwin Williams.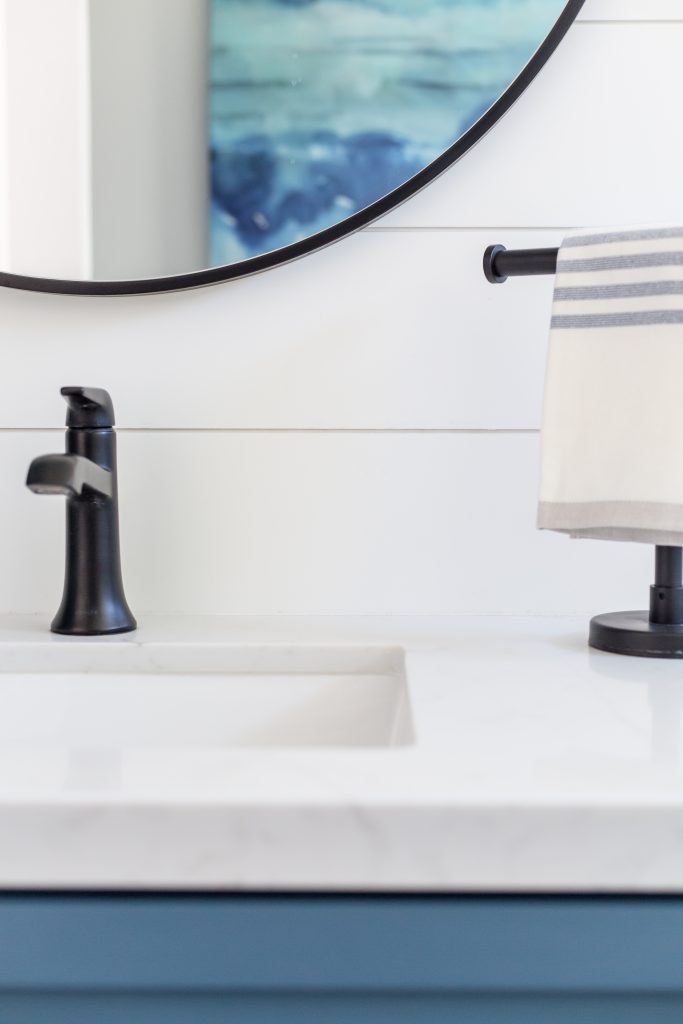 I adore this scallop tile that we used in the shower pan and the niche.  It reminds me of mermaid scales which works perfectly with the coastal style.  The extra cool detail with this tile is the combination of glossy and matte tiles in the pattern.  It adds lots of visual interest!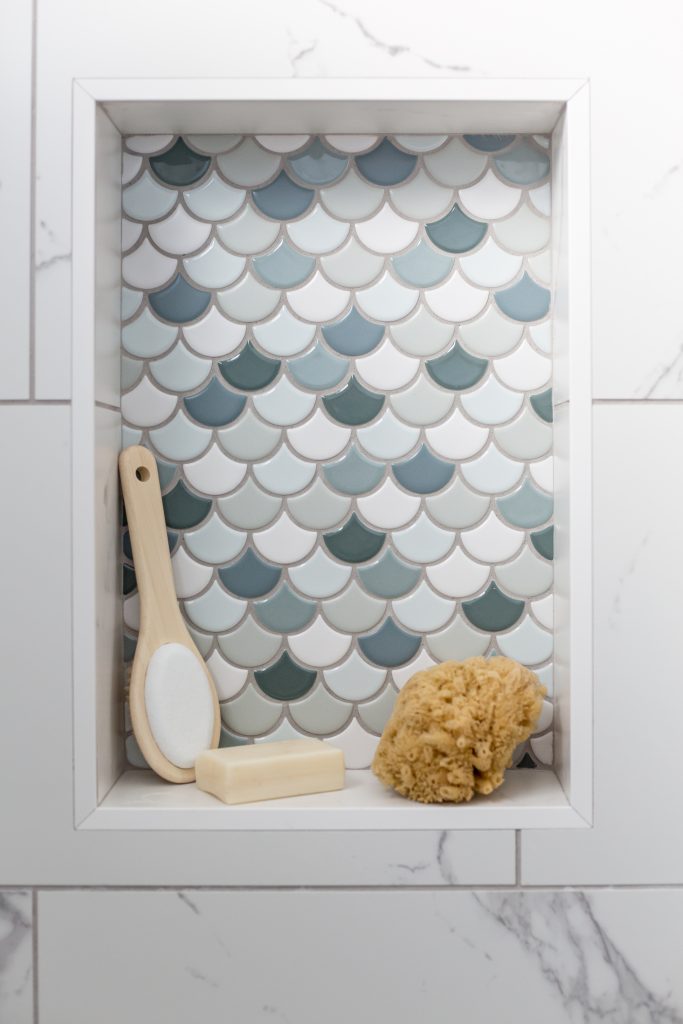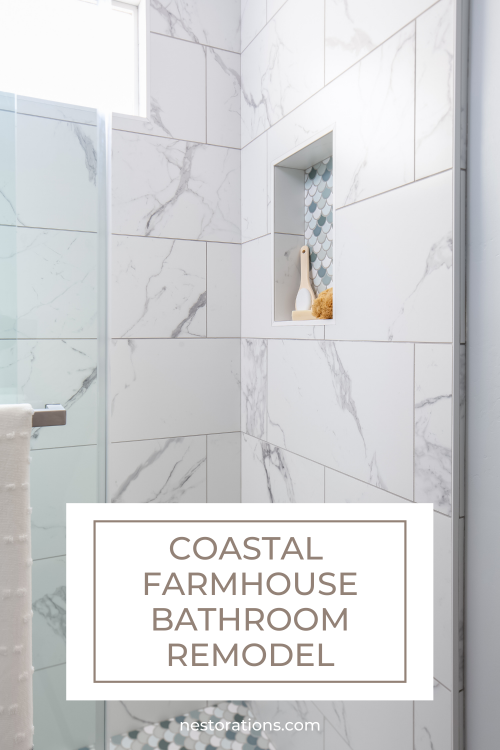 We used an invisible square drain for a clean, updated look.  I love how the scallop tiles lay inside the drain inset.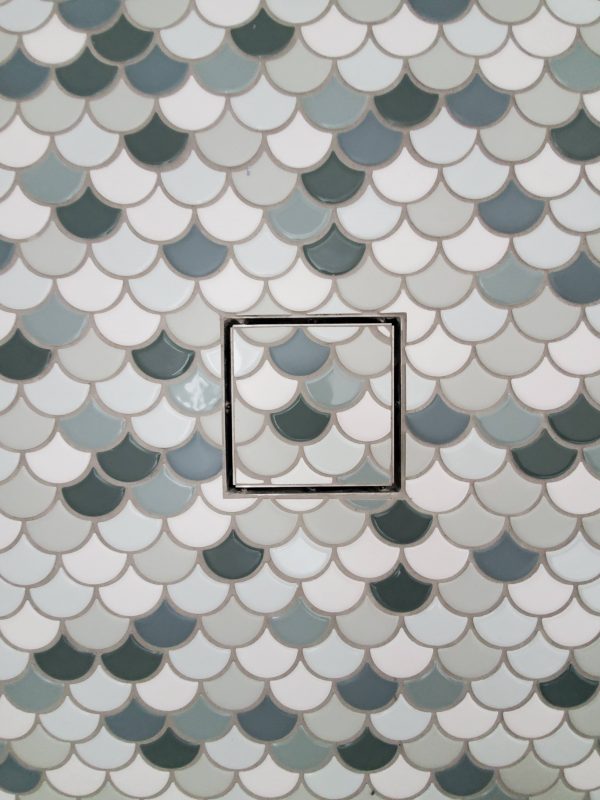 Adding shiplap on the focal wall outside the bathroom really ties the two spaces together. The texture of the basket and wood beads soften the space.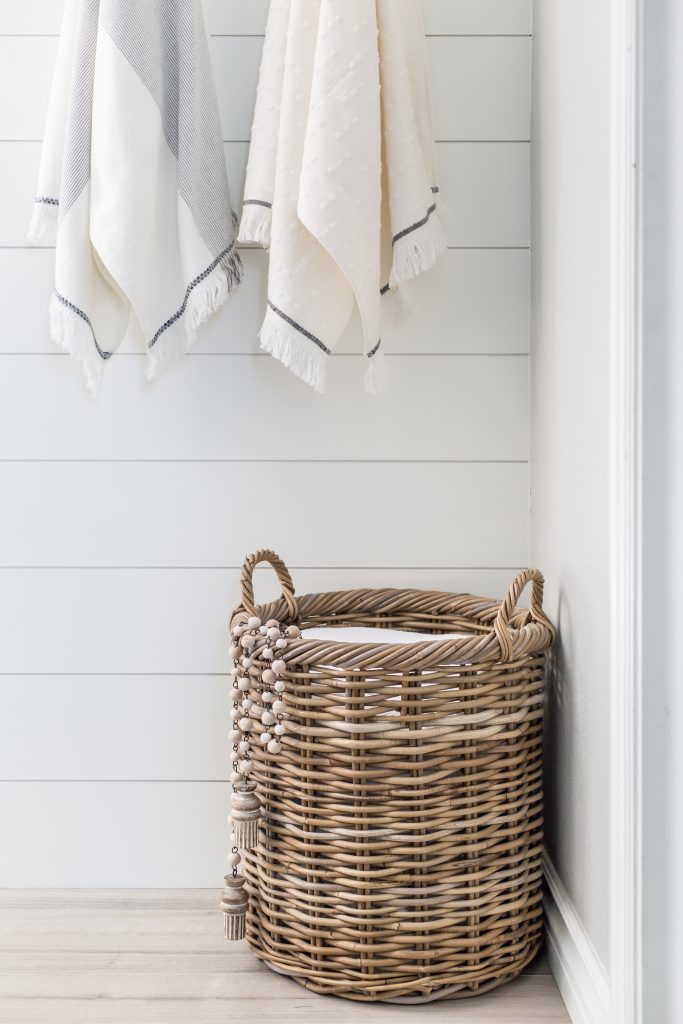 Putting the finishing touches on this gorgeous bathroom remodel.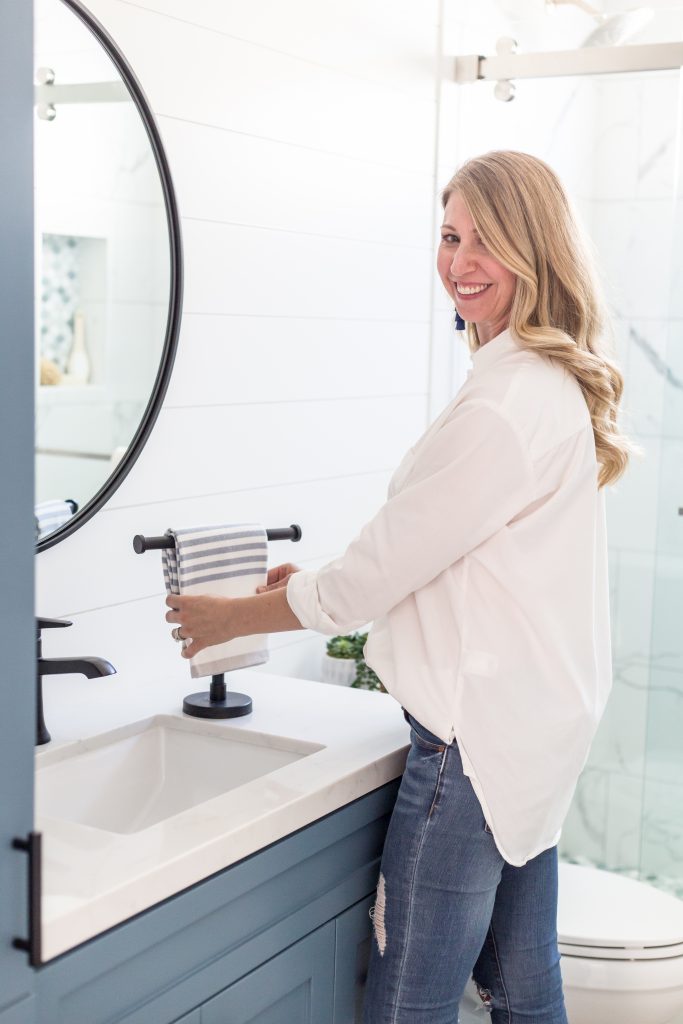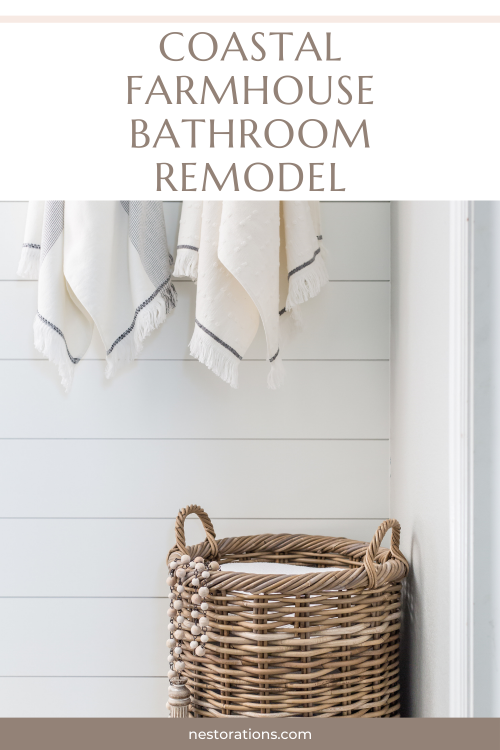 Designing this bathroom was such a fun process and I love how it turned out.  Seeing the professional photos makes my heart super happy.  If you love this project as much as I do (what's not to love???;) then be sure to pin these images to save for later.  Go to my Pinterest page for more inspiration.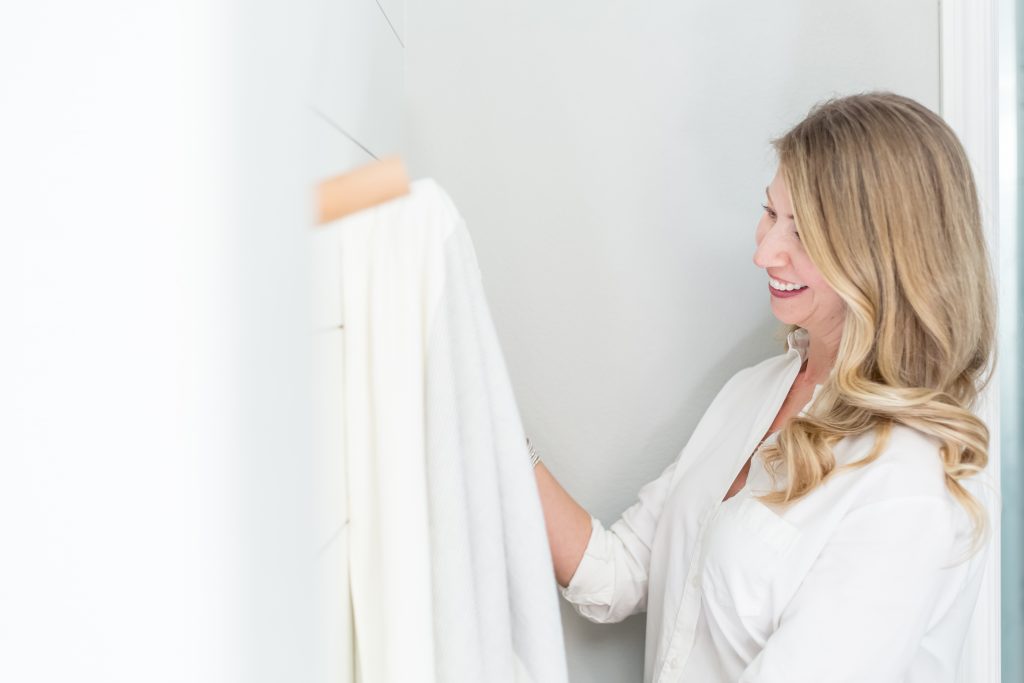 Conclusion-Final thoughts...
Okay…so how gorgeous is this coastal farmhouse bathroom remodel?  It makes me so happy to see how light and bright it is now and that it fits my clients' style perfectly. They were so amazing to work with and it was truly an honor to work on their design.  Leave a comment below and tell me your favorite part.  And if you love what you see in this post–share it with a friend!  
If you're ready to update your bathroom or home, go to my contact page to schedule your free discovery call.  I can't wait to talk with you!
Please follow and like us: