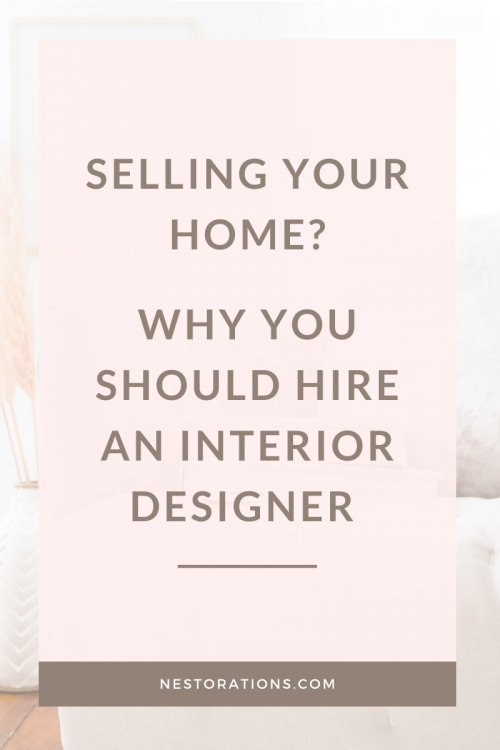 Wait…why would I hire an interior designer to sell my house?  Why would I spend the money if I won't even be living there much longer?  Does that sound like something you'd say?  Well, I'm here to tell you that you definitely should hire an interior designer to help sell your home.  It's a small investment that is totally worth it. Here's why…
An interior designer will see your home (and potential problems)
with fresh eyes
As much as we might love our homes and think they are worth a ton of money, that is often not actually the case.  A designer or home stager can help point out possible eye sores that could turn off potential buyers.  The solution could be an easy quick fix like adding some accessories and decor.  Or it could be something more extensive like updating the paint or carpeting.  Therefore, by making some small, effective changes you can increase the value or perceived value of your home.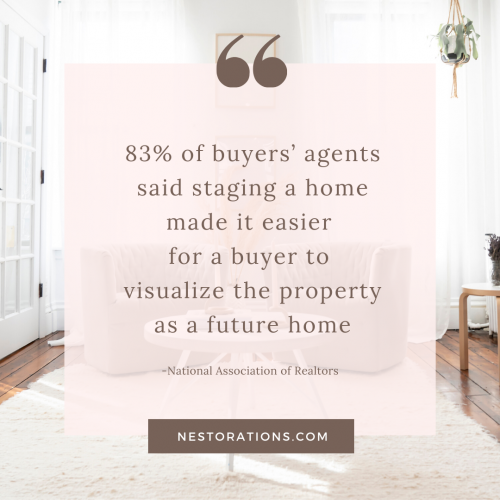 Get more potential buyers
for your home
According to the National Association of Realtors, 40% of buyers' agents said staging a home had an effect on their buyers perceptions of a home.  And a whopping 83% of buyers' agents said staging a home made it easier for a buyer to visualize the property as a future home. I don't know about you, but those are some pretty impressive and telling numbers that show the power of a well-staged home.  
First impressions make a big difference.  Buyers first look at pictures of your home online so you want to make an amazing first impression.  If your home doesn't show well, then buyers might not even walk through your doors.  As a result, your home might not sell.  And not even great photography will do much for an outdated, cluttered or uninviting home.
Hire an interior designer to
beat the competition
Selling a home is not easy and there is a lot of competition on the market.  If you're a buyer comparing two similar homes, think about what you'd choose.  Would you choose a home that is stylish, updated and inviting or would you choose one that's run-down and slightly outdated?  The majority of people would choose the updated home.  So if you want your home to beat out the competition and sell faster, then you definitely want to hire an interior designer or home stager to spruce it up and make it more inviting before you list.
Are you selling your home?
Are you thinking of listing your home and want to bring in a pro to help?  Your realtor might have an interior designer that they recommend and work with frequently or you can reach out to me for help.  My interior design consultation is a great starting point to help you sell your home.  We can even do the consultation online if you don't live in the San Diego area.  
If you know someone who's selling their home-please share this post with them  And don't forget to subscribe below to get all my latest posts sent right to you each Thursday morning. 
Talk soon…
Please follow and like us: