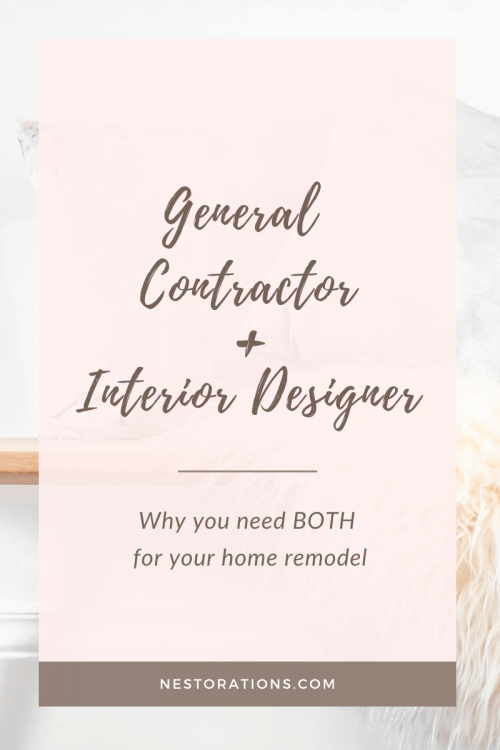 I have the utmost respect for good general contractors.  They know the building codes, they have excellent technical knowledge, and they manage and handle renovation stress LIKE A BOSS. 
But you should still hire both a general contractor and an interior designer for your next home remodel.  Unless of course you like stress and wasting extra time and money.  If that's the case then feel free to scroll IG or Facebook instead of reading. 
Still here???  Smart choice my friend.   I like your style already,
General contractors
don't do the pretty stuff
All that amazing stuff I said about GCs is true.  But, there is one thing that isn't so great about general contractors–they don't do the pretty stuff. 
And what do I mean by pretty stuff?  Well, they aren't too keen about picking out the stuff that actually makes your home stand out. You know…the actual design. Of course they'll know what types of materials will work for a space (like if a natural quartzite or manufactured quartz is best) but when it comes to creating the design and making that Insta-worthy image well–that isn't their bag.  
So, if you're going to do a larger remodel with a general contractor, then it makes a whole lot of sense to bring in an interior designer to really create a show-stopping design.  You're already investing the money anyway.  You might as well make sure it really stands out and that the best materials are selected for the job.  An interior designer can help you get that dream result you want. 
An interior designer makes
the process a lot LESS overwhelming
I can't tell you how many times I've been in a tile showroom and overheard a scene play out like this:
Couple (telling the showroom employee): "Our contractor told us to pick out materials for our kitchen remodel."
Tile showroom employee: "Great-what do you need?"
Couple:  "flooring, countertops and tile"
Tile showroom employee: "What do you like?"
Couple: (glossy-eyed staring at all the selection) "I thought I wanted___, but now I really don't know.  There's a lot to choose from.  I'm not sure what I like anymore."
Now, the tile showroom employees will do their best to coordinate materials but almost every time the couple leaves, unsure of what to do next and has to return later after thinking about it more and let's be honest–mentally preparing for the decisions.
Trust me when I say that a remodel involves A LOT of details and all those details need to be picked out.  In just one room you could have: flooring, tiles, accent tiles, lighting, moldings, focal walls, colors, appliances, moldings, window coverings, built-ins, electrical outlets, fixtures (like faucets and sinks), hardware (there are millions of options) furniture layouts, fabrics, window coverings.  Are you getting my point?  
There's a lot to pick out and I wouldn't expect a GC to hold your hand through the whole process.  That's not what you hired them to do.  But a designer on the other hand will figure out your needs, style and preferences and present options to you.  These options will all coordinate perfectly and give you that Insta or Pinterest-worthy design. 
A designer will handle
communication and decision making
Your designer will handle all the communication and decision making with your general contractor.  As you can imagine there are lots of decisions to make in a remodal.  Avoid overwhelm by having a designer handle those decisions for you.   Maybe you like the idea of a GC calling you mid-day asking you if you want your outlet 5" from the wall edge or 2", or if your tile should wrap around the window sill or if you want the wood trim instead.  But, I can bet that those decisions will get overwhelming–fast.  How great would it be to have your designer make those decisions for you and you don't have to stress about any of it? 
General contractor costs
go UP without a designer
Time is money, right?  An interior designer makes a renovation go smoother and good general contractors know this.  A project that goes smoother takes less time.  And a project that takes less time costs less money.  If a GC has to hold your hand and spend a ton of extra time helping you, it'll add to your costs.  Yikes.
Of course a designer has their own costs to factor in, but we carefully choose and coordinate materials all the time so we're very efficient and skilled at it. It's what we do.  
We'll select all the materials, and share every detail and specification with the general contractor.  All you'll have to do is click "approve" and work is set in motion.  No need to stress and figure out the details.  As a designer, I'll work with the contractor to do that for you.  It's part of my job.  
You hire a general contractor to handle the construction details.  You hire a designer for our creative vision.  By hiring both you get the best of both worlds AND the best outcome for your remodel.  
There is a great podcast about the benefits of hiring an interior designer from Brad Leavitt of AFT Construction in Arizona.  His custom home and remodeling business actually won't take a job unless the clients have an interior designer.  It's worth a listen for sure.
Final thoughts-Why you need a general contractor and an interior designer
So if you're considering a larger project then please consider hiring both a general contractor and an interior designer.  It's money well spent to create a truly timeless, statement design.  My full-service design works best with your home remodel projects.  
I know how overwhelming the design process can feel so I offer free 20 minute discovery calls to talk about projects with prospective clients. You simply fill out a form on my contact page and you'll get a link to my calendar to schedule our call.  Click the link now to schedule a call with me this week.  
Please follow and like us: