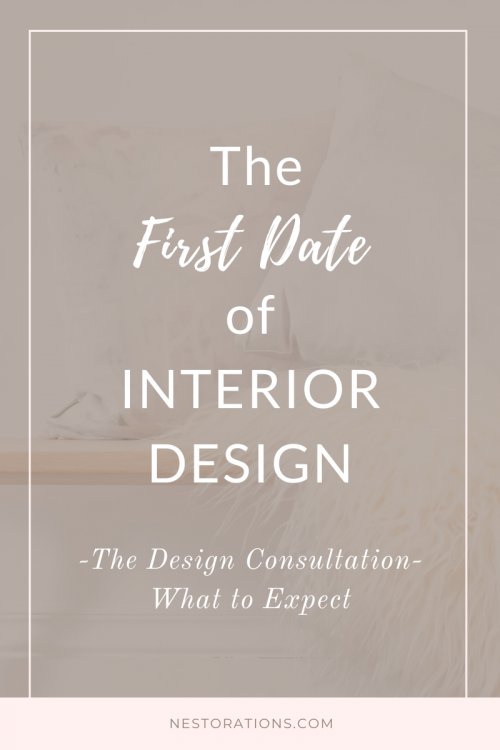 Picture a first date you've gone on. You get all gussied up, primp and prune-you wanna make a good impression, right? You meet at a restaurant, have a little awkward small talk while you figure out what you think about the other person. If you're a good fit.
Although I haven't had a real first date from a romantic sense in 24 years (#marriedforever;) I have had a bunch of first dates with potential clients. I like to call it the first date of interior design-the Design Consultation.
The first step to work with me is to schedule a free 20 minute discovery call on my website.  Once we're sure a design consultation is the next step for you, I'll send you a design questionnaire that you'll fill out to help me prepare for our meeting.  
What to expect during an
interior design consultation
Now the moment is here.  We're going to meet in person–how exciting!!  No need for sweaty palms.  I'm not here to judge your home.  I'm here to help you. 
For those list lovers like me…here's a rundown of my interior design consultation. 
Hellos and introductions

We'll go over your design questionnaire and discuss the reasons you contacted me.

I'll share ways I can help you and what services I can provide for you.

If needed, we can figure out your estimated design budget on the spot.  I have a super easy tool to help us.

We'll walk around your home and look at areas you'd like to work on.  We'll discuss solutions and suggestions.  You're welcome to take as many notes as your heart desires.

I'll leave with you with a few quick notes from our meeting and next steps to working with me.
How to prepare for an
interior design consultation
You might get a little nervous or even feel embarrassed of your home like I'm going to judge it.  I get it and it's TOTALLY normal.  But I tell my clients that it's a NO embarrassment zone. First of all, I wouldn't be there if your space was magazine ready. When I think of interior design, I think of the story of the ugly duckling turning into a beautiful swan. I LOVE the transformation that happens.  That's my jam. (Not that your home is ugly of course…just keeping it relatable;)
You may see a mess, but I see potential.
So don't tidy up too much. I actually want to see how you live your life as it helps me know what things to pick or suggest for you. If you've got finger paints on the walls, I know you need washable wall paint. If you have magazines all over the living room I might suggest a way to organize them. Life is messy. Don't hide the messes from me. (Unless your home is like a crazy hoarders episode–then hide that junk.)
Do designers charge for
interior design consultations?
I do.  And while I can't speak for all designers–the majority that I know do.  I make it a point to give a lot of value during my consultations.  It's important to serve and help you during our time together so I'll make recommendations, offer creative ideas, share design advice and suggest solutions.   I share my knowledge and expertise that's a result of years of experience.  When clients hire me they are hiring me for my creative ideas and design skills.  So I charge a fee because I share some of those creative ideas during a consultation.
Some designers may not charge for consultations but when it comes to sharing ideas their lips are sealed until after you've hired them.  I respect their decision, but it's not how I choose to do things.  
And if you hire me for Full-Service Design service I will actually apply your consultation fee toward your investment.   So in that sense it's like a free consult.  I basically credit you the fee on your service invoices.  How great is that?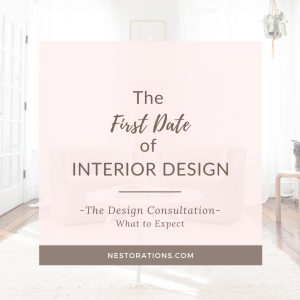 To sum it up, a design consultation is such a great first step in the design process.  They are a really inexpensive way to get some guidance and design help.  So, are you ready to book your design consultation?  Take the first step toward home happiness and get on my calendar today.  You can easily start the process by going to my contact page and filling out a simple form.   I can't wait to hear from you! 
Please follow and like us: