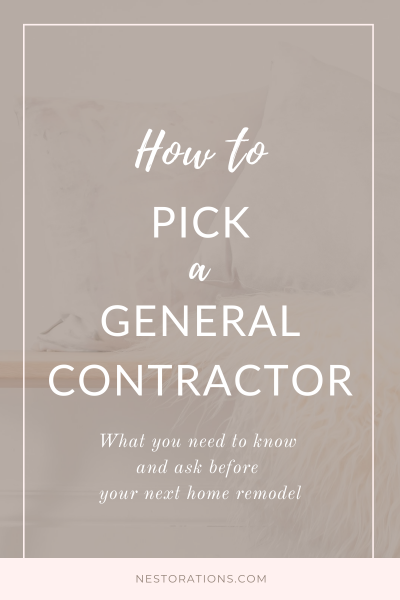 Picture this:  you spend weeks  or even months planning your home remodel.  You've waited patiently through the whole process.  But when the job is done–you're not happy.  The work is sloppy, the crew always ran late, your house is trashed or wasn't respected.  And those are the things you actually can see.   What about things you can't see like the wiring behind the walls (#firehazard), shoddy plumbing (hello leaks).  You get what I'm talking about here? Maybe even you feel like you overpaid.  Ugh…that's the worst.  
Like I said in my post about why you need both an interior designer and a general contractor, I have the utmost respect for GOOD general contractors.  They know the building codes, they have excellent technical knowledge, and they manage and handle renovation stress LIKE A BOSS.  
But not all general contractors (GCs) are the same. Not even close.
I want to make sure your remodel goes as smoothly as possible so you don't end up with your own nightmare Reddit story.
So what do you need to know so you pick the best contractor for the job?  Read on my friend.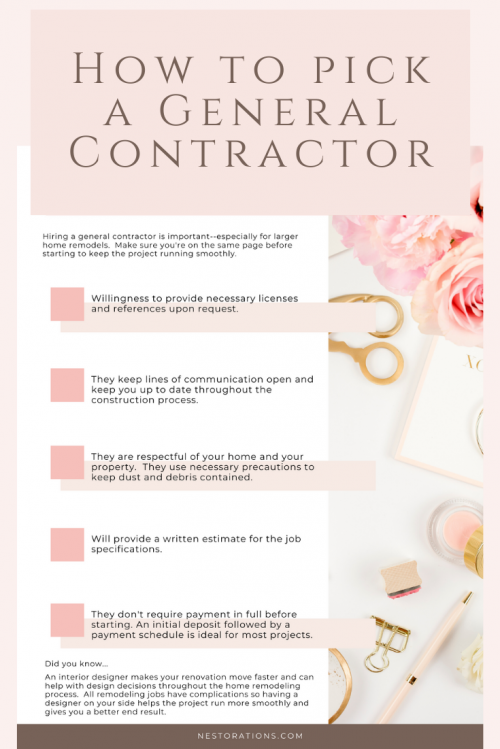 Pick a general contractor
who is licensed
I think this goes without saying but I see folks go with unlicensed contractors ALL. THE. TIME.  
You may want to save a bit of money by going with an unlicensed general contractor but I don't recommend it.  In fact, I'll advise against it.  You'll often end up paying more to fix the mistakes that are made.   A good contractor won't be shy about sharing any licenses or references upon request.  If you ask and they aren't willing to share–move on.  
Ask how your general contractor communicates throughout the project
There are A LOT of moving parts that go on during a renovation and it's important to have a contractor who communicates with you.  Even if you may prefer to move out of your home during a renovation and be hands off your contractor should still fill you in on project timelines and update you with any delays.  
In addition, you also want to know a few other things that are important to your project.  Such as what time works starts and ends each day, what steps they will take to protect your property from damage, how changes are handled, do they use subcontractors or their own team, etc..  When you pick a good general contractor they will tell you those things. 
Pick a general contractor
who provides a written estimate
Please make sure to get things in writing.  It's really important.  A good contractor will be able to give realistic estimates for your project AND stick to them.  You don't want to work with someone who says it's going to cost "ABC" and then keeps changing the costs as the project moves on.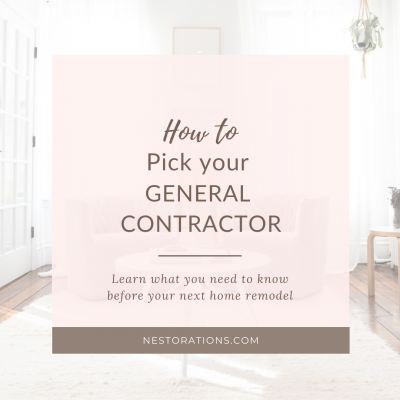 Pick a general contractor whole doesn't require payment in full BEFORE starting
It's common practice for GCs to require an initial deposit before working but definitely not the whole amount.  They might need to cover some materials costs or accept a deposit for good faith.  If someone asks for the whole amount, find another general contractor.  
I hope you got my point that hiring a good general contractor is super important.  Also, if you're considering a larger project that needs a general contractor, then please consider adding on interior design services to your budget.  It's money well spent that makes your project move quicker and smoother. 
I know how overwhelming the design process can feel, so I offer free 20 minute discovery calls to talk about projects with prospective clients. You simply fill out a form on my contact page and you'll get a link to my calendar to schedule our call.  
Please follow and like us: