Two story walls look so impressive, but they aren't without challenges.  If you've ever had a room or home with tall ceilings you likely can relate. 
You might be wondering how to decorate a 2 story room and make it feel cozy while still having that grand look.  
So if you're feeling stumped by your tall space, then I invite you to listen to this episode above, or keep reading to learn more.  
What to listen for in this episode:
Six ways to accentuate and highlight your two-story space
How to minimize and distract from your two-story space
When to close off a two-story space
Two-story fireplace options
Links mentioned in this episode:
With two-story rooms you can either highlight the two-story space, minimize the two-story wall, or in more rare cases you can close it off.  First, we'll start with ways to highlight your two-story wall or room.
Two-Story Room Option 1:
Add Millwork and Moldings
Adding millwork and wall moldings and paneling is a really effective way to accentuate your two-story space. Examples you can add are picture frame molding, board and batten molding, square grid molding, rectangle molding, and shiplap molding. Wall moldings work really well in two-story foyer spaces.  
Here's a before and after of the square grid wood paneling wall I put in my foyer.  It's a two-story room, but the actual wall is about 10 feet tall.  It creates a defined space that made my foyer feel like it's own unique space rather than just an open area in the front of my home.  
And this only cost us about $100 since we did the work ourselves.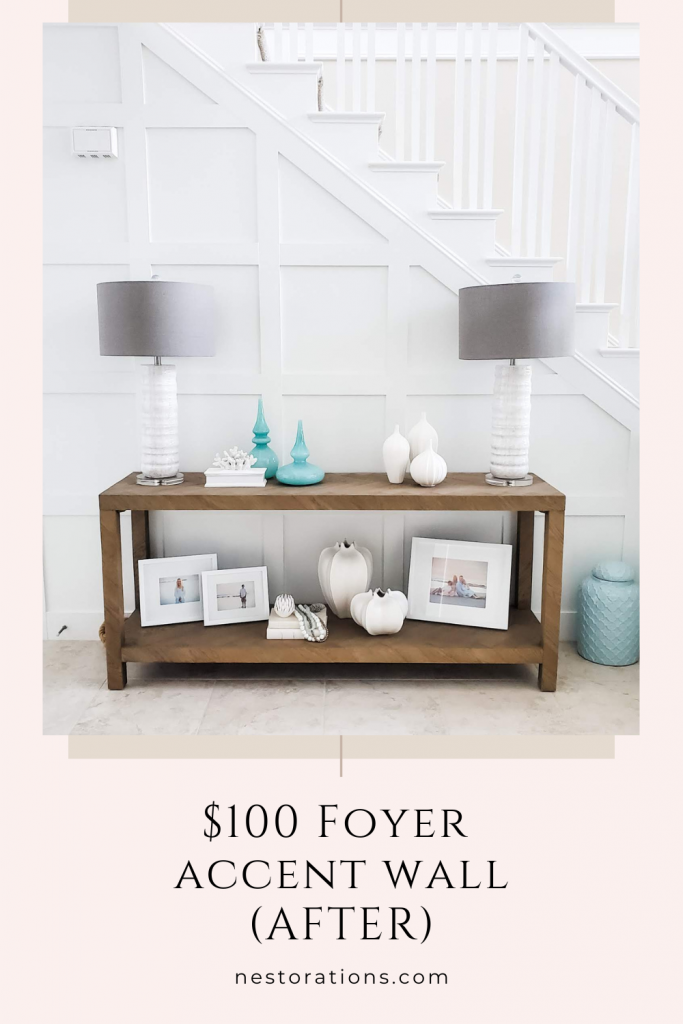 An example of picture frame (aka panel molding) below.  It's as if you have a blank picture frame on the wall.  In this example, the moldings are white while the walls are light beige, but this also looks really great when the walls and the moldings are the same color. This is a two-story foyer and we minimized the two-story space by only putting picture frame moldings on the 1st floor of the space. 
You can DIY these different moldings but they do take time and some level of skill.  Use your judgment if this is a project you're ready to take on or not.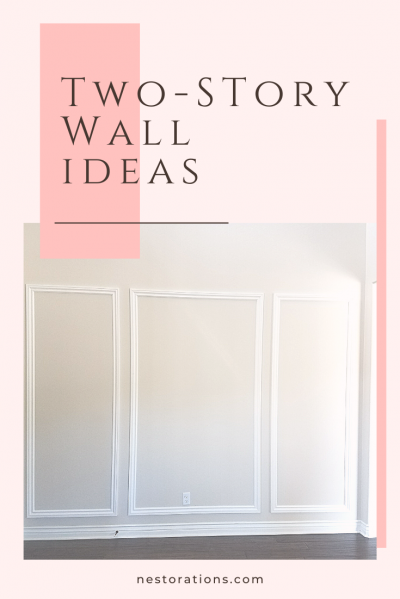 Below is a chevron wood wall in a home office.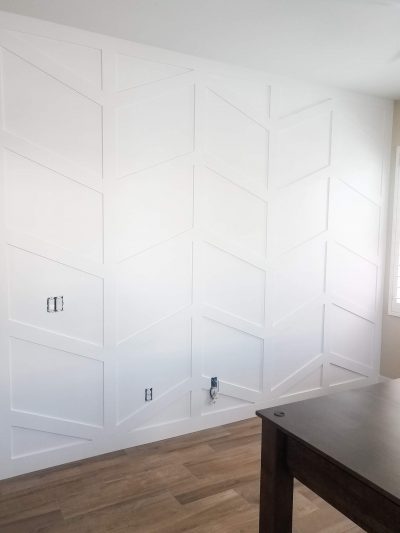 A simple way to break up a two-story room is to use simple molding to visually break up the space.  In my foyer, I have railings around two lengths of my home, so I carried the molding line around the room to define the dining room, which is right behind the stairs across from the kitchen.  Stay tuned for new updates and flooring which are in the works.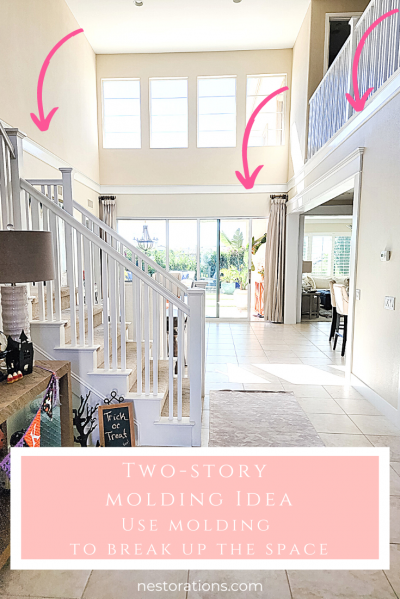 Option 2: Create a Gallery Wall of Art
I love this option if you're looking for something that doesn't involve construction since you're just hanging art on the wall. You'll want some large pieces of art to fill the vertical space of the wall. 
Mix in some smaller sizes to fill the space, but make sure to have enough large art pieces so the wall doesn't feel cluttered.
See examples of gallery walls on my Pinterest Board. 
Other Options for Two-Story Walls
If you want to try something other than custom millwork or a wall gallery you can try:
Book shelves or a library wall

Wallpaper for a dramatic focal wall (wallpaper is very personal and difficult to replace so keep that in mind as you decorate)

You could paint horizontal stripes up the wall to accentuate the tall space.  

Wide stripes are better so the wall doesn't look too busy. 

Add drapery panels-to showcase those tall walls and add softness to your room
To minimize your two-story wall, decorate at eye level to keep the attention on the first story part of your room. Draw an imaginary line at ceiling height and place art and objects below as if the room wasn't two stories. Focal art and large scale art that is visually interesting can distract from your tall two-story wall.
It's simple, yes, but you might be missing out on showcasing and highlighting this beautiful space.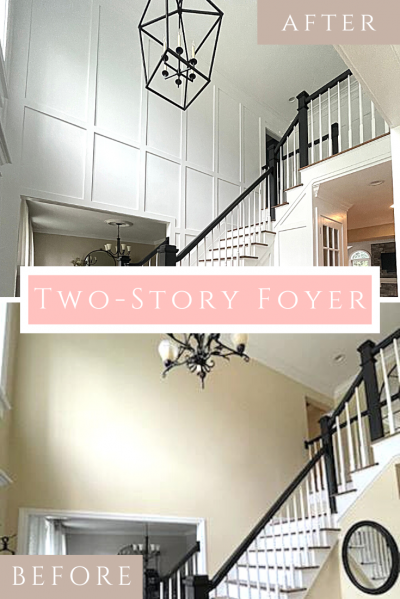 Please follow and like us: