Is your home dated?  Often we get so comfortable living in our homes that we don't even realize they're in need of an update. 
But, living in spaces that look good make us feel better.  Which is exactly why keeping our homes updated and current is so important.  Some of these dated features are easy to update, while others might take a little more effort.  So, listen in (or read on) to see if your home is dated and ready for a new look and what you can do to bring it up to date.
Quick note: If you have any of these dated features, don't worry…you're not alone. This post isn't meant to make you feel bad, but you're here to update your home and I woudn't be doing you any favors by keeping your home in the past. 
Dated Home Item 1: Tiled Countertops
Tiled countertops used to be very popular in the 70s and 80s but now that solid surfaces are an option (and IMHO a much better one) tiled countertops aren't in style anymore.  They might seem like a durable option, but there are some reasons why they aren't great.
They aren't easy to clean because of all the grout lines.  
The grout lines can hold bacteria since it's porous (think raw chicken and eggs getting in the grout) 
You don't have a smooth, seamless surface because of the grout lines and those grout lines can be distracting.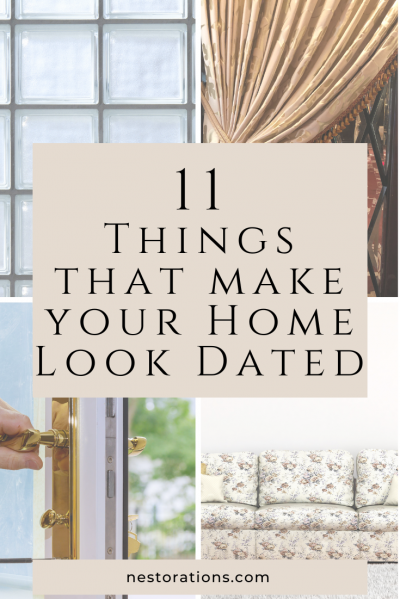 Dated Home Item 2: Shiny Brass Doorknobs
Small details can make or break your home and dated shiny brass doorknobs are an easy change to make to update your space.  Shiny brass doorknobs were popular in the 90s but now aren't in favor anymore. If you have those shiny, polished brass doorknobs you can do a few things:
Switch out the brass knobs for brushed stainless
Switch out the brass knobs matte black
If you still want a warm gold tone you can opt for an antique brass or a satin gold door knob 
For a more current update, go with a lever instead of a doorknob.  They're easier to use and look more current.  If you have a historical home and want to keep that period look, then stick with knobs, but in all other cases, I prefer levers.  
And quick note:  If you do want a warm gold tone, it's better to spend a little more as higher end products will have better finish options.  
Wallpaper borders were super popular 25-30 years ago but their time has come and gone.  These borders were often placed along the ceiling or across the middle of the wall as a chair rail.  
If you have these just remove them to instantly update your space.  It may take a little work but it's totally worth it.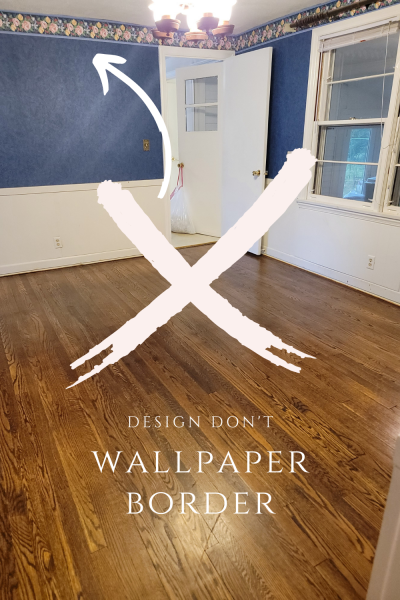 Dated Feature: Old Wood Paneling
I'm not talking about fresh and new white wood paneled walls but I'm talking about the old, wood colored panels that were used in the 1970s.  These panels date your home and your options are to either remove them, paint them white, or replace with a current wall treatment.  
Dated Home: Heavy Drapery and Window Coverings
I'm a huge fan of drapery panels and window treatments since they add softness, texture, and layers…BUT…I'm not a fan of heavy, dated, and over-the-top frilly and swag window coverings.  If you're in formal space like the White House or a castle, great…keep them.  But, in the majority of our homes, they just don't look as current.  Keep your drapery panel lines simple for a timeless look.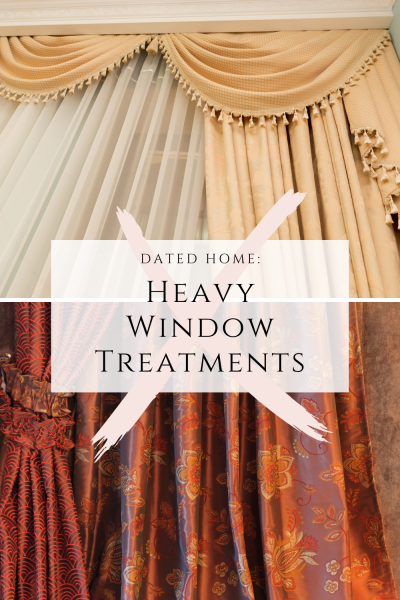 Dated Home Feature: Glass Blocking
Glass blocking was a big feature of the 70s and 80s that I still see in homes from time to time. Now, I get why they were used since they allow light to come into the space while still providing privacy but, there are better options for you to use.
If you need privacy you can use a simple Roman shade on your bathroom, or if it's a part of your shower wall or bathroom wall you can remove it and replace it with a simple, clean glass panel. 
For the last 5 dated home features, listen to the rest of the podcast episode at the top of this post. 
Did your home have any of these dated features?  If yes, let me know so I can help you bring your space up to date. 
If you're ready to take action to update your home then schedule a design consultation to get the process started.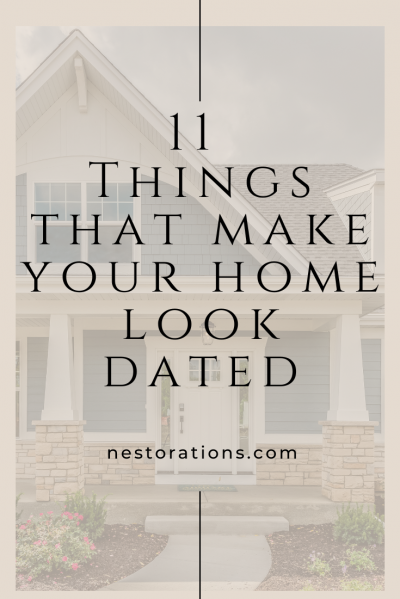 Please follow and like us: