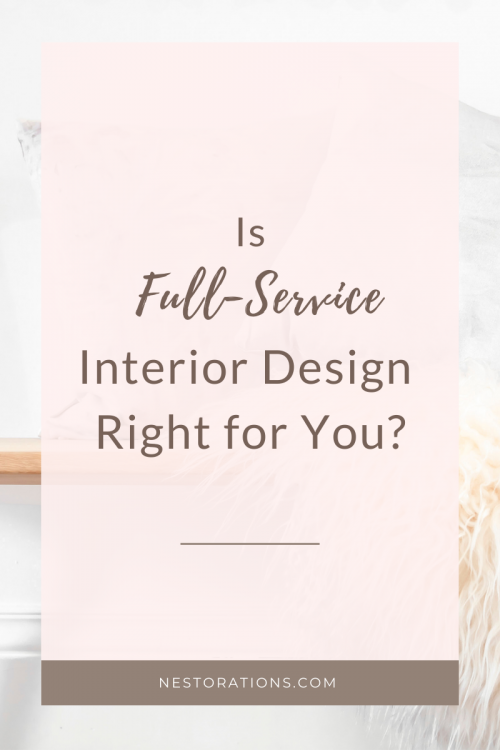 Full-service interior design and fancy restaurants have a lot in common.  
Think about a time you've dined at an upscale restaurant…what was that like? Every detail is taken care of from the valet, to the coat check, to the crumb sweeper.  The food tastes amazing and to cap it off there's likely a personalized dessert at the end of the meal.  With fancy restaurants you feel like a VIP.
Now compare that to a fast food or super casual restaurant.  You likely have to fight for a parking space, wait in line at the counter, hope they get your order right, get your own utensils and then try to find a seat in a crowded restaurant.  After you eat you need to clean up your own meal and throw away your trash.  You feel full and satisfied but that VIP feeling.  Nope. Didn't happen.  Not even close.
Like I said, Full-Service design is like dining at that fancy restaurant. But how do you know if Full-Service interior design is right for you?
What is Full-Service Interior Design?
Full-service interior design is when an interior designer takes your home project from start to finish.  This includes assessing your needs, choosing the materials, creating the actual design, and bringing in trades and contractors to complete the work.  
Full-service interior design is a good fit for you if:
You're busy and don't have extra time

You want big results

You're ready to make an investment in your home

You're willing to wait to get it done right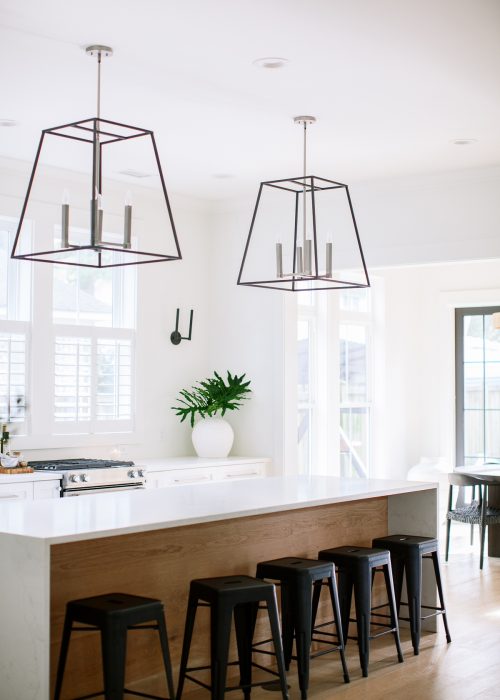 You're busy and want to delegate
Home design projects take time and a lot of work.  A single room design from start to finish can take 3-5 months.  Yes, you read that right. 
There are hours of design work that include creating the design, sourcing materials, obtaining samples and quotes, and placing orders.  A single room can easily be 25-30+ hours of work.  The process just takes time (even for skilled designers). 
If you add construction then the time to manage the construction must be considered.  It's common for contractors to get delayed and have to cancel at the last minute.  If you're updating a bathroom and the countertop fabricator cancels, then the plumber can't come the next day to install the faucet.  So, you'll have to coordinate and rearrange both schedules.  If you don't have time for that, then Full-Service design is the way to go.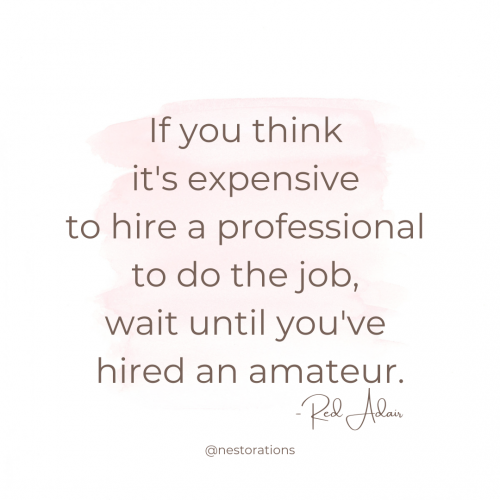 If you want to make a statement in your home and get big results for your project then full-service interior design might be right for you.  Interior designers are skilled at creating as well as finding innovative solutions. Designers have an ability to think of ideas that you may never have thought of.  We LOVE to stretch our creative minds to elevate your home's design.  Hire an interior designer to get custom rather than cookie cutter.  
You're ready to make an investment
in your home
Hiring an interior designer is definitely an investment.  But smart upgrades to your home almost always pay off.  The key phrase here is "smart upgrades."  Your designer will help figure out what upgrades actually add value to your home and which ones won't.  Whether you're updating your full-time home, a vacation home, or an investment property it's good to hire an interior designer to add to your home's value.  
You're patient and willing to wait
to get it right
There is no such thing as good, fast and cheap–especially when it comes to interior design.  The truth is you can only have two at a time.
You can have good and fast (but expect to pay more)

You can have good and cheap (but it'll take longer)

You can have fast and cheap (but the quality will stink)
No matter how quickly I try to get things done for my clients, the truth is that interior design takes time.  Let's take furniture orders as an example.  It takes an average of 3 months to make furniture, ship from the warehouse, and deliver to my client's home. With the current pandemic it might take even longer.  I wish it was fast like Ikea, but that's not reality.    
Conclusion-Final thoughts
Like I mentioned in the beginning–interior design is like eating at a fancy restaurant.  It's an investment that I think is definitely worthwhile (obviously as I do this for a living).  Saying that, I don't think you can't have a little fast food now and again.  Not every space in your home needs to be professionally designed and there are times when the investment might not make the most sense for you.  When it comes to important spaces like kitchens, bathrooms, and living rooms, it's pretty important since messing up those spaces hurt the value of your home.  
So, if you're ready to ditch the stress of home design and bring in the pros I'd love to help.  You can book a free discovery call so we can talk about your home project and get the process started.  I can't wait to talk with you!
Please follow and like us: