When I was a child growing up we always drove from our home Connecticut to my grandmother's house on Cape Cod, MA for Thanksgiving.  I always found it oddly peaceful being on the Cape during the quiet off-season.  Instead of bustling tourist spots, crowded beaches, and seasonal mini golf we were instead greeted by quiet stillness, Canada geese, and cold, empty beaches.   
We'd arrive and you could instantly smell my grandmother's tireless efforts.  More than a dozen freshly baked pies were stored on the counter in the enclosed breezeway leading to the garage.  She made pies for everyone's different tastes and preferences.  All from scratch.  Apple, pumpkin, mince meat (I'm still weirded out by that name but my mother loved it), lemon meringue, blueberry, chocolate pie–you name it and my grandma made it. 
The emphasis wasn't on the décor but instead on the food.  Maybe that's why to this day I like to keep it simple when it comes to Thanksgiving table décor. With Thanksgiving only a week away now is the perfect time to showcase simple ways to create a beautiful table for your Thanksgiving dinner at home.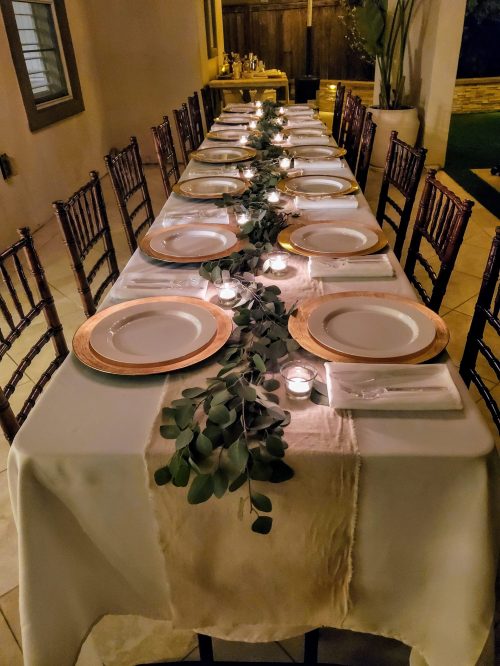 Keep your Thanksgiving
table decor simple
Let's be honest here about your Thanksgiving dinner. The focus is on the food and you'll need lots of room on your table for side dishes and turkey.  So, the more Thanksgiving table décor you have on your table, the less room you'll have.  You may want to keep the center simple and instead focus on adding a charger under a simple, white plate with a cloth napkin.  Add a leaf or pumpkin, like you see below, as a name card for a special touch.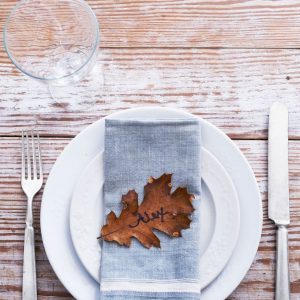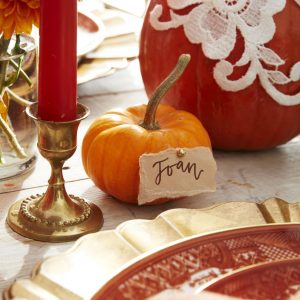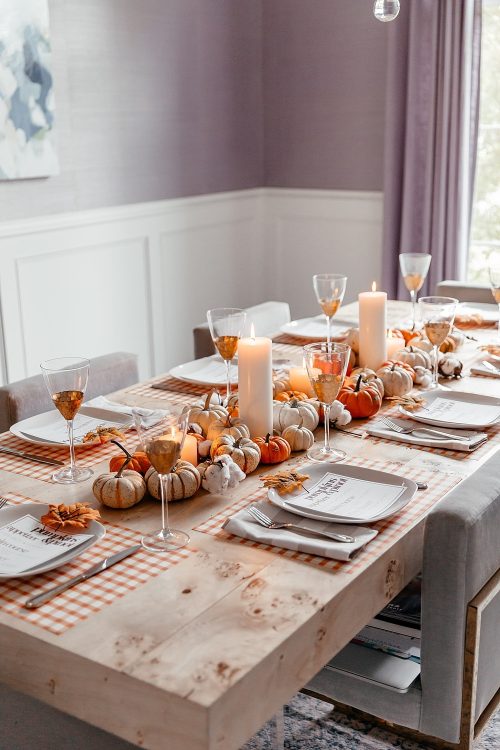 Stick with low decor on your Thanksgiving table
Choose the height of your Thanksgiving table décor carefully.  If you use tall vases it will be hard to see your family across the table.  I prefer to stick with low arrangements, simple greenery, or baby pumpkins as a centerpiece.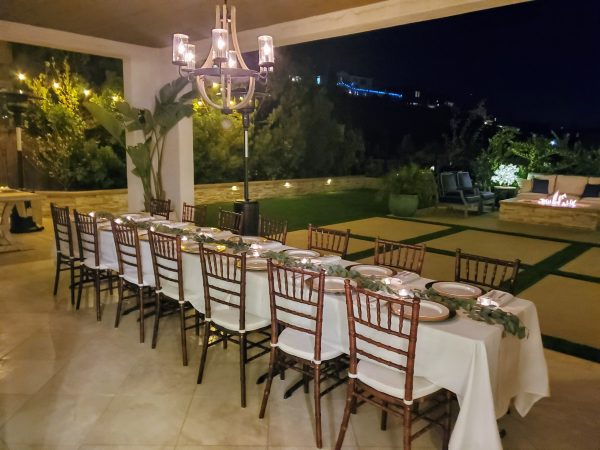 This table is from a dinner I had last year in my backyard.  I chose to keep it really simple with white linens, a natural runner, flat eucalyptus stems spread along the center, and white plates on gold chargers.   Votive candles finished the look.  You can buy the chargers inexpensively online or at the craft store.  And the bundle of fresh eucalyptus stems cost less than $7 from the local florist.  Be sure to go with the "silver dollar" variety of eucalyptus since they lay flat.  
Be careful of fragrant table decor
As much as cinnamon sticks are gorgeous and smell AMAZING, they may not be the best choice for your Thanksgiving table décor.  The smell can overpower the food which is definitely not ideal. Simple greenery, like you see below, won't be too fragrant.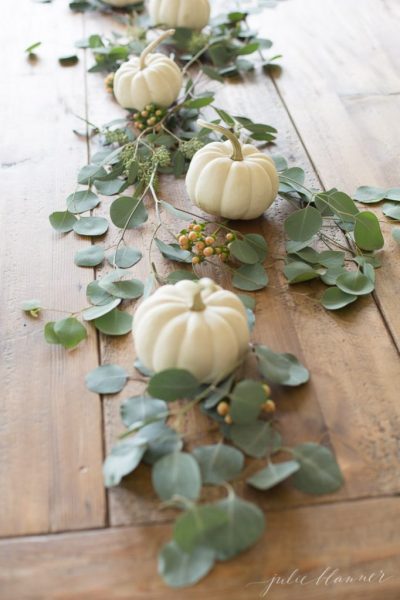 Conclusion-Final thoughts...
This year's Thanksgiving will likely look very different for many of us.  Due to Covid-19 many of us have scaled back our guest lists to keep people safe and socially distant.  This year it will just be our family of four and of course our two retired racing furbabies, Dexter and Floyd.  It's important to me to create a special tablescape so it feels like an event instead of another day at home during the pandemic.  We'll dress up, toast with some sparkling apple cider, and celebrate being together.  That's definitely something I'm very thankful for this year.   
If you have questions about your Thanksgiving table décor reach out to me on my contact page.  For more Thanksgiving décor inspiration check out my fall Pinterest board. Happy decorating!
Please follow and like us: