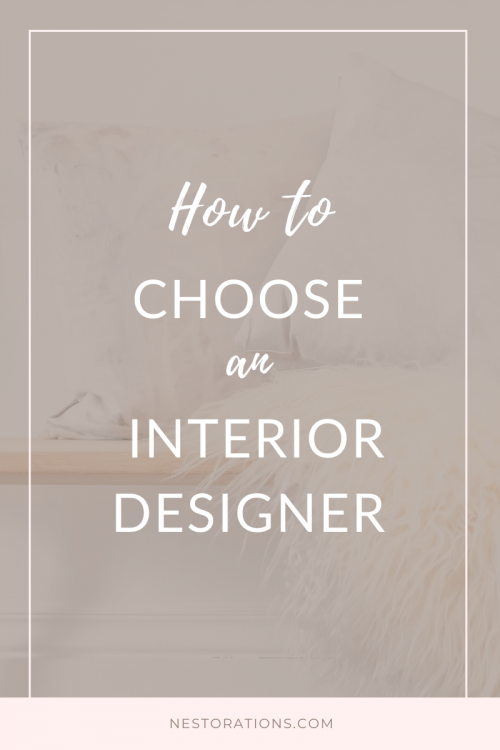 Choosing an interior designer is like going on a blind date.  A friend or coworker says you'll hit it off, but how do you know for sure?  
Now I'm pretty sure you wouldn't go on that date without any info about the other person.  You'd likely ask around or go online to snoop gather some intel from social media.  But, even if your friend thinks you'll be a match and things check out online you won't know for sure if it's right.  
The same goes for choosing an interior designer or decorator for your project.  Choosing a designer is more than just looking at reviews, awards, certifications, publications, and portfolios.  You need to form a connection.  It needs to feel right and when it does you've likely picked the right designer.
Meet with several interior designers
So going back to our blind date scenario–you know when you start chatting and instantly feel a connection with someone?  Like you could talk for hours.  It's amazing right?  It's like that when you choose an interior designer.  You have to meet in person (or at least on the phone) and see if you're the right fit. That you have chemistry.  
You don't just buy the first pair of paints you see.  You want to try on a few different pairs and make sure they fit before you commit.  Different designers have different styles and processes.  So you need to make sure you're comfortable with her.  The best way to do that is to talk to several designers.  Two or three is good so you can compare.  Any more than three and it can get overwhelming.
Interior design is a personal business.  Like really personal.  I form relationships with my clients because I spend a lot of time with them.  I also have to learn a lot about them to make sure I design a space that's right for them.   I listen, I take notes, I observe. And I use that information to solve my client's problems and create the best design for them.
Look at testimonials or speak with current or previous clients
A lot of design business is through word of mouth.  You might feel better knowing someone else has tested the waters first.  I think that's the case with every modern business today.  We go with what we know.  Ask around, go on a designer's website and read testimonials.  You could even ask to speak with former clients to help you choose an interior designer.
See what systems are in place
Interior design involves a lot of details.  Juggling details, and managing tasks is a huge part of design.  There are a lot of moving parts and you want to know how your designer handles it all.  If you're a super organized and task related person and you hire a designer who's loosey goosey it might not be the best match.  This touches on the whole chemistry thing above. If you're detail oriented and like structure then be sure to ask what systems your designer has in place to keep your project on task and moving forward.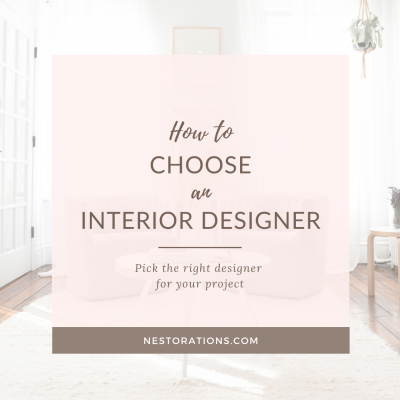 Look at her previous work
We are visual people and portfolio pictures help showcase what a designer has done.  You can also check a designer's social media pages-especially Instagram and Pinterest.  You can really get a feel for their work, style and personality.   One thing to note is that professional photos take time and of course money.   So, some designers may not have professional photos published on their website.  Professional photos are ideal for sure since the lighting and editing makes rooms look ridiculously good although any photo is helpful.  
When you meet with a designer in person during a conversation or on a discovery call be sure to ask questions.  Both you and the designer need to connect and be on the same page.  Questions you might ask are:
How would you handle problems?  Ask for examples.

Will you it be in your style or mine?  (It should be yours)

How do you communicate and how often?

What's your process?

Do you prefer your clients to be hands-off or involved in the process?

How do you decide what projects to take?  (FYI…we don't take them all)
Final thoughts on
how to choose an interior designer
Choosing an interior designer is an important decision and you'll feel so much better feeling like you picked the right one.  And if you're ready to update your home I'd love to help and chat with you about your project.  I offer a free discovery call to talk about your project and then we can book a design consultation at your home. 
Oh and don't forget to subscribe below to get helpful info like this delivered to your inbox each week.  And if you're already a subscriber (thank you kindly) then I'd love for you to hit the follow button on Instagram.  See you there!
Please follow and like us: