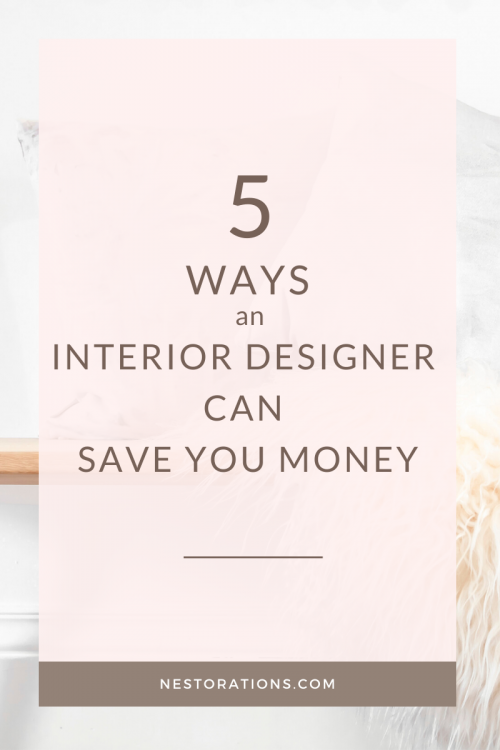 Hire an interior designer to save money...
say what???
How'd you like to throw out two new sofas?  That's what one of my clients did a few years ago.  Well, I think she sold them or gave them to a family member or something but the point is she got rid of two new(ish) sofas.  It actually breaks my heart because I know if she'd hired me sooner I would've saved her a few thousand dollars on those sofas.  She bought them before I came into the picture and we could've worked with them but the truth is she didn't really like them.  They just weren't the right choice for the room based on how she wanted that space to function. Sigh…
I don't want you to suffer the same fate.  Do you?  Then keep reading my friend.
I hinted to this in the story above and this reason is HUGE.  I cannot begin to tell you how many times I've gone to a client's home and heard:
I brought this home but it doesn't work and I can't return it

I bought this but it's the wrong size

I thought it was good quality but it didn't last 

This doesn't match anything in my house

I hate what I bought
Have you ever said those things?  I get how really frustrating that can be.  I mean, c'mon…who likes to waste money?
What's even worse is when clients tell me that even though they don't like it they want to keep it in the room so they didn't waste their money.  I understand their frustration that they wasted money, but keeping something in a room that you don't like is just not the way to go.  It's a constant reminder of your mistake AND it changes the entire design.  
But, if you hire an interior designer first you can avoid all of these problems.  Designers are skilled at finding things that are right for each project.  I shop at design vendors and go to design markets so I can touch and see furniture pieces in person.  I go to trainings to learn about products so I know how things are made. I know what's good quality or what is frankly cheap furniture that you shouldn't waste your money on.  I carefully select and pick pieces that are the right size for the space.  And most importantly, I work extremely hard with each client to understand their style and tastes so I can pick everything for them and get it right the first time. 
Designer discounts-HELLO!  The money you can save is another reason you should hire an interior designer for your next home project.  So, let's break this down and explain how these discounts work.  As a designer, I can shop at what's called "trade-only" vendors.  Trade-only means that a manufacturer will only sell to professionals in the design and furniture industry.  As the consumer, you can't get it directly from the manufacturer.  
As a trade professional with relationships with manufacturers, I can buy items for you at a discounted rate and save you money. The range of discounts vary anywhere from 10%-50%.  But even if that discount is on the lower end-10% imagine what that looks like in a $20,000 room.  That's $2000.  No small change.  
#3-Get the most bang for your buck
(A designer knows the best way to use your money)
I don't know about you, but I don't have an unlimited budget.  And if you do then more power to you!  But for the rest of us, we have to figure out the best use of our money for a project.  A designer can easily tell you where to spend your money to get the most bang for your buck.  For example, if you're redoing a master bathroom and love the look for Carrara marble but you only have a budget of 15-20K, then Carrara marble isn't the right choice.  Instead you could go with a quartz that has the look of Carrara and is a lot more budget friendly.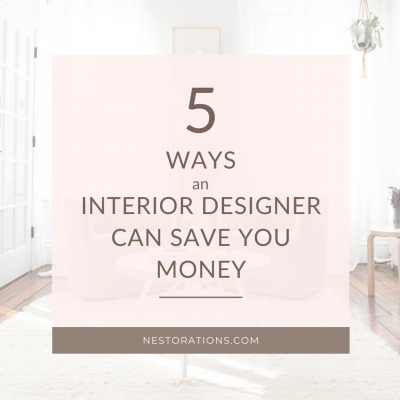 How much time do you really have to spend on your home?  If I had to guess I'd say you're super busy and don't have hours to spare on room design.  You might be crazy busy with work, or up to your elbows in kid carpools and laundry.  Or, you're living the retirement life and just want to enjoy your days.   Time is money and when you don't have the time it just makes good sense to let someone else do the work.  Room design takes a TON of time.  And I've been at it for years.  There are so many factors to consider and so many decisions to make.  It's likely just a better use of your time to focus on the things you want to focus on and let a designer take this off your plate.  
#5-Increase the value of your home
Do you think it's easier to sell a beautiful, updated home or one that's dated?  Even if you love your home, there may come a time that you decide to sell in the future.  I see it all the time.  Kitchens and baths boost your home value the most, but any updates to your home will increase the perceived value.  And you want more money in the bank after selling your home.
First impressions make a big difference.  Buyers first look at pictures of your home online so you want to make an amazing first impression.  If your home doesn't show well, then buyers might not even walk through your doors.  As a result, your home might not sell.  And not even great photography will do much for an outdated, cluttered or uninviting home.  So make a good impression by having an updated home that shows well. 
Final thoughts...how you save money by hiring an interior designer...
I could go on and on but I'll stick with these 5 ways you can save money when you hire an interior designer.  If you're ready to update your home and increase your home's value then reach out for a design consultation today.  What are you waiting for?  
Oh and don't forget to subscribe below to get helpful info like this delivered to your inbox each week.  And if you're already a subscriber (thank you kindly) then I'd love for you to hit the follow button on Instagram.  See you there!
Please follow and like us: