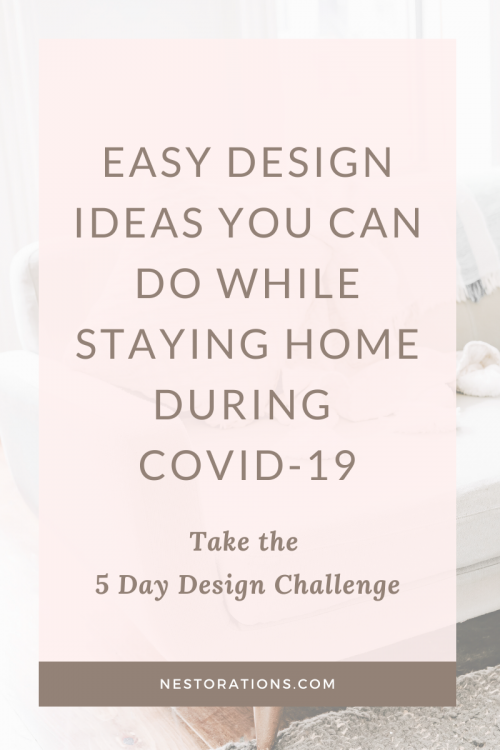 Coronavirus and Interior Design
An Unlikely Match
First, I just want to say that my thoughts and wishes for good health are with everyone during this pandemic.  These are uneasy and uncertain times unlike anything we've ever seen.  And like so many of you, we are doing our part to stay home for the greater good. 
Since so many of us need to stay home during this outbreak, I created a 5 Day Design Challenge to help take your mind off things and to help you get your home in shape for the days ahead.  It's filled with simple and FREE interior design ideas that you can start today.  And it's one way to take advantage of the extra time many of us have at home.  
First, download your 5 Day Design Challenge.  Then have fun with it and know that I'm here to support you as needed.  Are you ready?  Let's get to it!
The 5 Day Design Challenge
Interior Design Idea #1-Declutter
One of the biggest issues my clients have is having too much stuff.  I'll be the first to say that having a lot of clutter around can be really stressful-I know it is for me.  And it's hard to ignore the clutter when you're home all day looking at it.  As I like to say "a cluttered home is not a happy home".  So, take this extra time at home to tackle the clutter and get your Marie Kondo on.  STAT.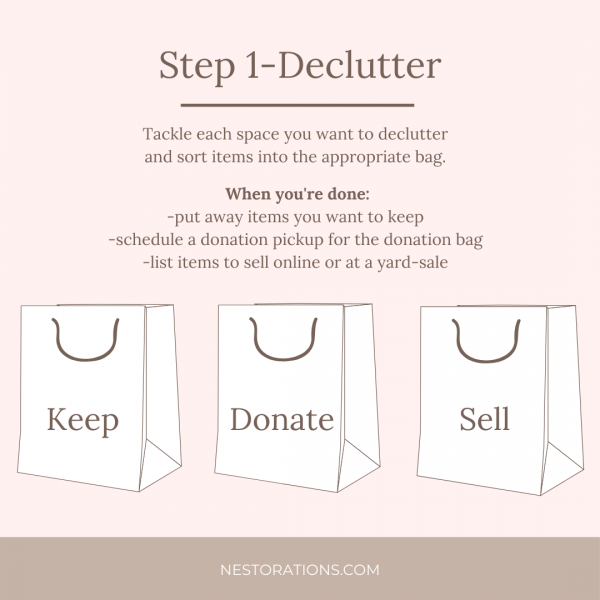 First, get 3 boxes or bags.  Label one bag "keep", one bag "donate" and label the last bag "sell".  Tackle each space you want to declutter by sorting things into the appropriate bag.  Be ruthless.  Remember…if it doesn't bring you joy-it goes bye-bye. I use this process every time I clean and organize spaces in my own home and it works really well.  
As soon as you're done, schedule a pickup for everything in your donation pile.  Get it on the calendar.  Next, make a plan to sell things you think you could make a little money on.  You could schedule a consignment store trip, list it on Craigslist or Facebook, or plan for a future yard sale.  Although, hold off on actually selling anything during the coronavirus outbreak.  Also, check with your local charity because donation pickups might also be delayed at this time.  Now that you know what items you want to keep-it's time to organize them.
Interior Design Idea #2-Organize Your Space
It makes zero sense to organize things that you don't like or want to keep so please do step 1 first.  Declutter, declutter, declutter.  Once you've done that-it's time to organize what you have left.  If you already have a system that works-great!  If you don't have a system yet, you can browse online at the Container Store, Target, Home Depot or Amazon and order any supplies you'll need. 
Interior Design Idea #3-Refresh and Repurpose
Look around and see what you currently have in your own home that you could repurpose.  For instance, you could move a piece of art or furniture from one room to another to give it a fresh look.  Home decor and accessories are the easiest to shift around since they are smaller and we likely have a lot of them lying around.  If you have a bookcase, rearrange the decor to switch things up.  Move a vase from the bedroom and put it on your entry console table.  See what you currently have and move things around to refresh your room and give it a new look.  It's eco-friendly and free!
Interior Design Idea #4-Get Inspired
Now, it's time to look for some design inspiration. What do you love? What inspires you? There are lots of places you can look for home decor ideas and inspiration but I like Pinterest, Instagram, or magazines and catalogs.   
If you work better online, start a new Pinterest board for each room you want to work on.  For example, you might pin pictures of chandeliers, tables or chairs that you love for your dining room.  Or you might pin examples of rugs, art or lamps that you love for your foyer entry.  You can also follow my Pinterest or Instagram page for more design inspiration.  I post or pin products and designs that I love almost every single day.  Maybe you'll find something you love for your home.
Even if you're holding off on purchases for a while, it is still worth doing this step so you can figure out what you like.  It's good progress and an important part of the design process.  Then, when you're ready to shop you'll know what you really like and avoid expensive design mistakes. 
Interior Design Idea #5-Get Design Direction for Your Home
Finally, I want you to answer some pointed questions to help give you clarity and direction for your home's design.  It's really important that you do this last step before you even think about making any new purchases.  You could waste time and money buying things that might not work in your home and aren't what you actually want.  Be specific with your answers and really give this some time and thought.  
Ask These Design Questions
What room or space do you want to work on? 

What do you love about this space? What is currently working?

What's your main frustration about this space?  What isn't working for you?

What colors do you love and want to include in the design?

What mood or feeling do you want to evoke in the space (ex. cozy and relaxed, formal, elegant, calm, bright and cheery)?
I also have a free download of 15 questions that can help you get even more clarity and direction with your home design.  You can also click on the image below to get them.  I ask my interior design clients these questions plus many more to help guide us during the design process.  These questions are just as helpful for DIYers as they are for me and my clients.  You can also read more about them and download the questions from my questionnaire blog post.   
Final Thoughts...Time to Take Action
Now it's your turn.  As a review, over the next several days you're going to declutter, organize, repurpose, get inspired, and get design direction.  I know it will make a huge difference in your home's design. Being stuck at home is honestly a great time to tackle these interior design ideas.  Use this rare time at home for good and take advantage of these extra moments while you can.  Eventually Netflix will get old, right??? (Well, maybe;)).  You can even make it a family project and spend time together going room by room. 
I know these times are filled with uncertainty, but please know that I'm here and that I truly want to help.  If you think this post might help someone, maybe a friend or family member, please share this with them.  And I'd love to hear what interior design idea you tried below in the comments!
Stay safe and healthy out there!!
Talk soon,
Please follow and like us: