Now, that you're spending a LOT of time at home due to COVID-19, are you noticing that your home's decor could use some updates?  I get it. When we spend a lot of time at home, we start to notice things about it that are frustrating, feel outdated, and maybe even ugly. 
Luckily, there is something you can do about it without ever leaving your house or having someone come over to help you.  It's online interior design-also called e-design or virtual interior design. 
What is Online Interior Design
(E-Design)?
When you think of hiring an interior designer or interior decorator you likely imagine a designer coming to your home, discussing your project, and then creating the final design for you.  With online interior design, the entire design process is done online or virtually between you and the designer. You, the client will have to do a little more work, but I promise-it's nothing you can't handle.  In simplest terms-you take the measurements, I find the stuff, and then you make all the purchases. Your dream room is really just a click away. Easy peasy!
How Does Online Interior Design Work? What's the Process?
Virtual design (e-design) is really an easy way to work with an interior designer or decorator and still save money in the process.  The best part is that you can work from the comfort of your home (hello jammies and comfy clothes) and with a few simple steps get the perfect design delivered right to your inbox.
Here is the process for my online interior design (e-design) service:
First, fill out the contact form on my website.

 

Next, I'll send you an online design questionnaire to complete.

You'll need to send back the questionnaire as well as photos and measurements of your room.

Then, we'll "meet online" for our consultation.  We can use Zoom, Hangouts, or a phone call to discuss your home and project–whatever is easiest for you.

After the consultation, I'll send you a moodboard to make sure we're on the same page with your design. 

Read my post about moodboards

if you want to learn more about them and why they are an important part of the design process.

Finally, I'll send you the full-design with a floorplan, a shopping list of everything you'll need to purchase, plus instructions for installation so you can install your room like a pro.

I want you to be totally happy and satisfied, so if there is something you want to change, I can make revisions as needed.

Once you've installed everything in your room, send me pics.  I'd LOVE to see and help you celebrate your new space.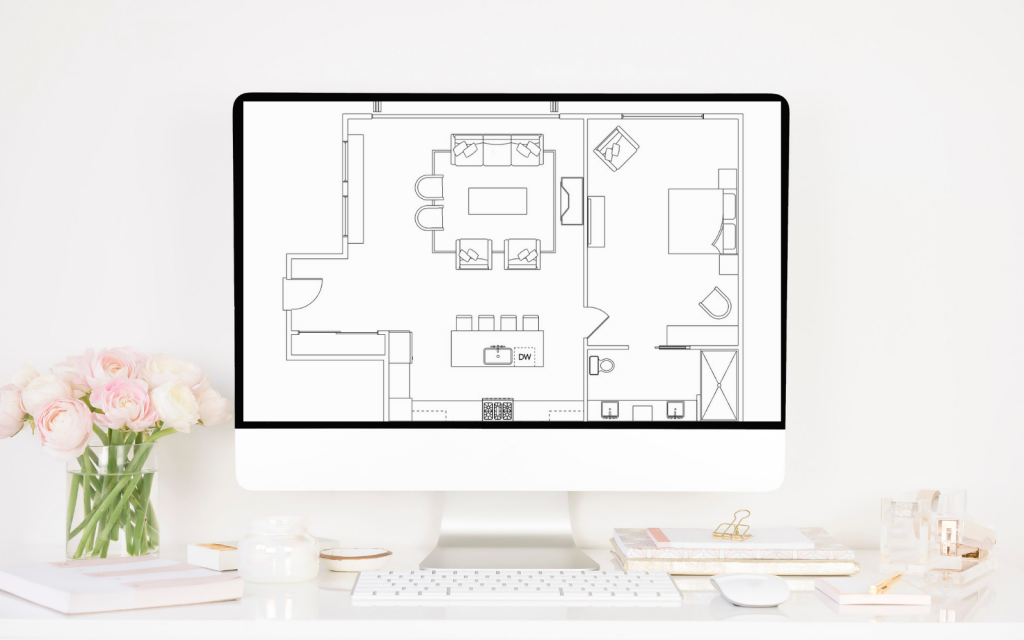 Common Questions About Working Virtually With an Interior Designer
How much work do I need to do for online interior design?
Not much-pinky swear!  It's really easy and shouldn't take you much time at all.  You'll answer some questions, take some basic measurements and send me pics from your phone.  When it comes time to purchase you'll get links to everything we've selected.  Just add them to your shopping cart and hit the purchase button.
Can you really know what works best for my home without seeing it in person?
Absolutely!  Remember we'll have time to talk one-on-one about your room AND you'll also answer questions and send me measurements and photos of your space. That gives me plenty of information to work with.
Can I use e-design if I live close by in San Diego?
Of course!  As a San Diego interior designer, I can work with you locally or long-distance with my virtual design service.  
How long does virtual design take?
The process usually takes about 3-4 weeks.  Plus delivery times for anything you purchase online.  Please note that due to COVID-19 there may be some shipping delays.  
Where do you shop for home decor, furniture and accessories?
I really like to mix things up so I'll select pieces from a variety of online shops to give you a custom, curated look.  You'll be able to purchase everything online yourself.
What if I don't need a whole room and just need some design help?
That's no problem at all.  Just reach out to me and we'll go from there.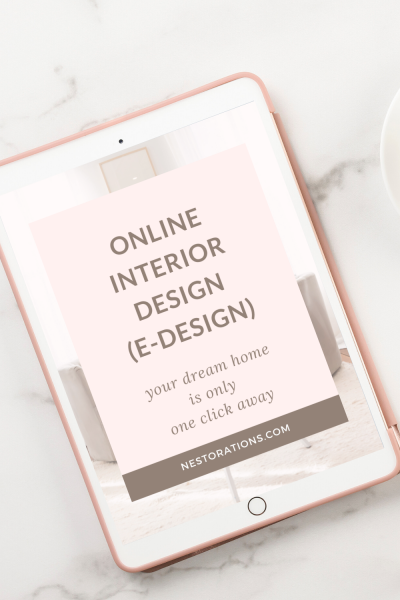 Is Online Interior Design (E-Design) Right For You?
If you like shopping online and want a professionally designed room at a great price-then online interior design is definitely an option you should consider.  You can work at your own pace and purchase things as you're ready. E-design can give you a beautiful design that works in your budget.
Obviously, due to safety reasons with the recent coronavirus outbreak, virtual design is really the best and only option to currently work with a designer or interior decorator.  And when we're back to living in more typical times, e-design is still a really smart choice, and something you may still want to consider when choosing to work with an interior designer or interior decorator.
If you or someone you know is interested in online interior design (e-design) please reach out or share this post with them.  Thanks so much!
Please follow and like us: