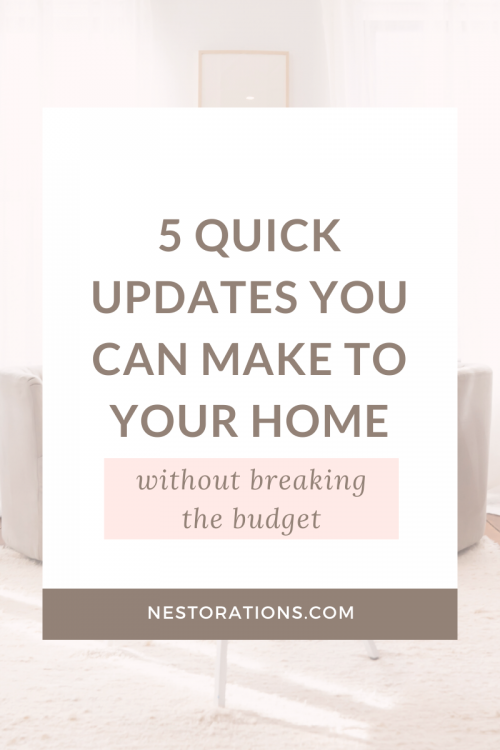 Raise your hand if you've ever felt frustrated with how your home looks?  You come home from someone else's house and you think, "Ugh..my house doesn't look like that. Why can't my house feel more put together?  My home has no style." Well, the good news is that updating your home doesn't have to be overwhelming. You can do some quick, easy and inexpensive things to update your home and give it some of that much-needed style.  You can even start today without spending any money at all.  
Think it can't be done? 
5 Quick DIY Updates You Can Try
You don't need an entire room redesign to update your space.  There are some simple things you can do that are not only easy,  but also don't take a lot of time OR money. It's a total win-win and I know you can do it.  
Update 1-Clear the Clutter
I can't tell you how many client homes I've walked in that are just filled with clutter.  As a bit of a neat-freak, I think that clutter is just overwhelming and can throw off the whole vibe of the room.  And no, I'm not really talking about your kid's toys. I'm talking about having too many knick knacks or tchotchkes and just general stuff in our rooms.  So Marie Kondo that room and spark the joy your room needs. If you don't know who Marie Kondo is then check out this clip on YouTube about her show on Netflix.  Get ready to binge on the magic of Marie Kondo.  You won't regret it. If every client did this before I came on the scene…what a dream that would be!  
Update 2: Change or Refresh Your Paint Color
I know what you're thinking…that's not easy.  But, I promise you it is, you can do it AND it will make a big change.  I've been painting my own rooms for 30+ years.  I've never hired a painter to paint my walls in my entire life.  I've even climbed up a 20 foot ladder to paint a stairwell once-to my husband's frustration.  I saved a ton of money over the years and I actually like doing it.  So go to your local home improvement store, grab a few free swatches and bring them home.  Look at the swatches in both the day and night and see what you like. If you're happy with the color, then you just need some simple supplies and a little bit of elbow grease and before you know it you'll have your own room refresh.  
You can get paint for about $20, and buy this painting kit for all the other supplies you need for about $30 from Amazon.  The only thing I would add to this list if you don't have a steady hand is blue painter's tape.  You can get it at your local hardware store or Home Depot sells it for about $8.
If you aren't on board with doing the work yourself, then you can of course hire a pro for the job.  It will cost more, but that might work better for you.  Whichever path you choose-putting new paint on the walls will make a huge difference!
Update 3: Add Some New Throw Pillows
I LOVE pillows…ummm…you know I'm a designer so it kinda comes with the territory.  But in all seriousness, throw pillows are a super easy way to update your space. They come in all different shapes, sizes and prices so figure out your budget and shop away.  If you want more custom you might shop at specialty stores or with a designer.  Or, maybe your budget is tighter so you might stick with Target (Tar jay), Pier 1, or HomeGoods.  Other places to check are local furniture stores, Etsy, Pottery Barn, Crate and Barrel, or West Elm.  Mix up the sizes and if you have to choose between bigger or smaller pillows always go bigger.  Also, mix up your patterns a bit.  You can read more about mixing patterns up here. 
Update 4: Add an Area Rug
Area rugs are a great way to step up your room's style.  You can bring in a fresh color to personalize the space, or keep it neutral and focus on adding some texture. Maybe you are thinking, "I have carpet in my room.  Can I still use a rug?" YES!! You absolutely can and should!  Put it right on top of your wall-to-wall carpet.  A rug will add another layer that gives it a more curated look. Rugs costs can vary based on material with wool or silk rugs costing more than polypropylene.  My quick rug design tip-go bigger rather than smaller. A small rug in a room can look out of proportion.
Update 5: Dress Up Those Windows
I fully admit-I'm a drapery junkie.  I would put drapes in almost every room I design.  Why? While I do love me some fabrics, it's really because drapes and soft window coverings really add that finishing touch to a room. They add softness, and a little color, texture and pattern.  They are like the cherry on a sundae. You can do without them, but they finish the look. I mean…c'mon. How much better does a sundae look with a cherry on the top?  You can go super fancy here with custom draperies like I put in my client's homes, or shop at places like World Market, HomeGoods, or Pottery Barn to find some good options.  So, hang up some simple drapery panels to update your look. And no, get that picture of your Grandmother's drapes out of your head. We're going for current and timeless.  
What Design Updates Will You Try?
So, now that you've read my Top 5 Quick Updates-what do you think you might try first?  Or maybe you'll try them all. Be sure to tell and share pics of what you do on social @nestorations. I'd love to see what you do!
Please follow and like us: