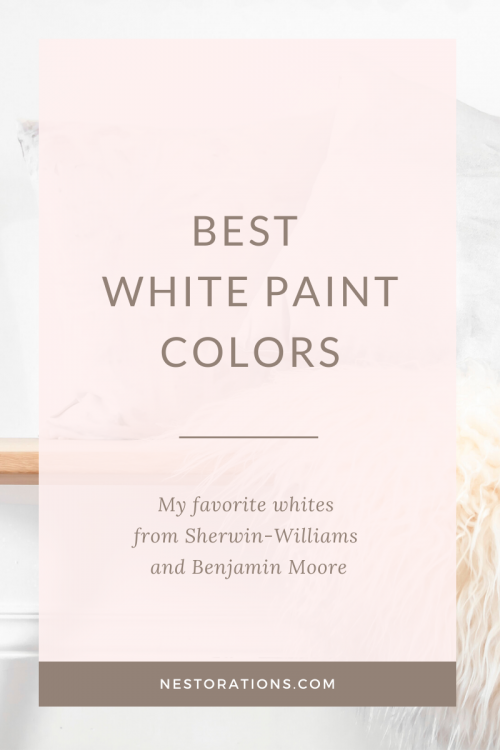 If you want a light, bright and airy home then white paint should definitely be on your "to do" list.  White paints are super popular, but I'm here to tell you that not just any white paint will do.  With so many white paint choices out there we can't just think that every white paint is the same.  Luckily I'm sharing what white paints top my list to help you narrow down your choices. 
What's so hard about picking
white paint?
Finding the perfect white paint for your home can actually be pretty tricky.  Almost all paints have undertones that influence how a color looks.   If you get the undertone of your white paint wrong you very well could end up having to repaint your room or even worse-your whole house.  For example, some whites have more yellow undertones while others might pull more blue, etc..  If that's the case, then you might feel like you painted your whole room yellow instead of white.  And that's not good if you wanted white walls.  You also want to see how each color looks in your own home with your exact lighting.  You can read more about undertones and lighting here.
How to tone down your white paint
So, what if you love a white paint sample but then you paint a section of your wall and realize it's just not working out?  Maybe it's pulling too gray or too yellow for you.  First of all, smart move painting a sample section first because seeing your paint on a larger scale is definitely helpful.  Are you worried you got the color totally wrong?  Do you have to start all over with a new color?  Not so fast my friend.
One trick I like to do if I think a color is almost right is to tone it down by a percentage so it's less intense.  Basically, each paint color is made with pigments from other colors.  Even whites.  So, I could ask my local paint store to cut the color (the pigments used) by 25%, or maybe 50% so the color isn't as intense.  By doing this you'll see less of the undertone and the color likely won't pull in that direction anymore.  It's an easy designer trick that gives you a custom color.  Even with this trick I do recommend painting a small sample section first to make sure the color is just what you wanted.
Best White Paint Colors 2020
There are truly so many white and off-white paints for you to choose from so I broke this down into two groups: Sherwin-Williams and Benjamin Moore.  Both paints are excellent quality and have low or no VOCs.  
Are you ready to see my top whites from each company?  Here you go!  If you want larger images I included them below. 
Quick note–some of these colors are better suited for molding, trims and built-ins rather than walls.  I like Pure White, Extra White and Highly Reflective White from Sherwin-Williams for molding colors.  Decorators White is a good option for trim from Benjamin Moore.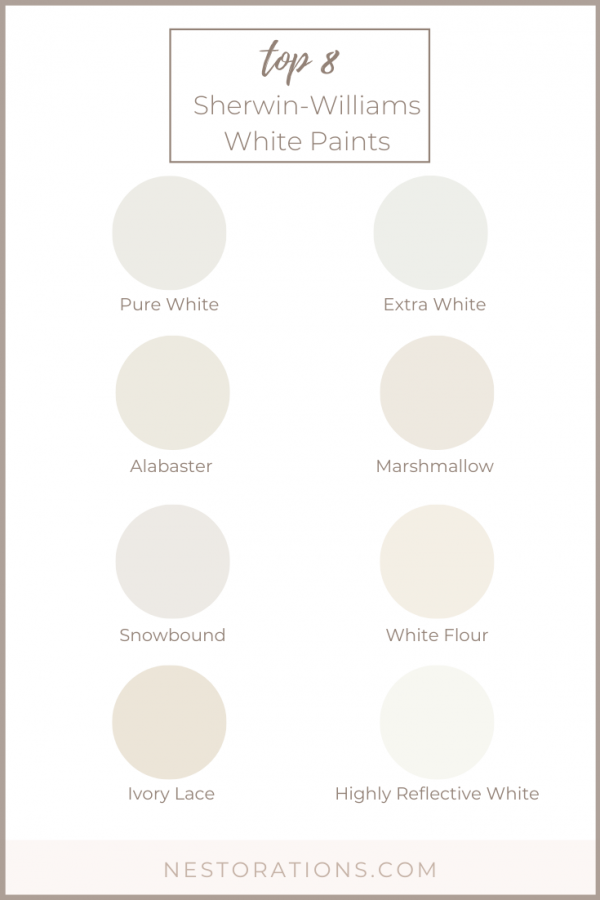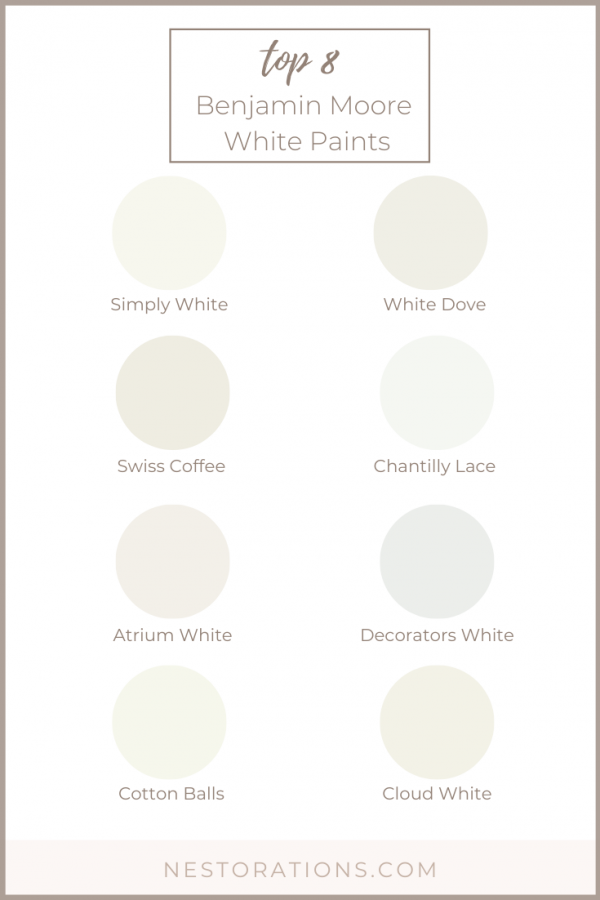 Leave a comment below if you've tried one of these colors in your home?  Have you ever cut or toned down a paint color before?  
If you learned something new or think this could help a friend or family member then please share this and make sure you subscribe below.  I'd love to share a little extra design love with you!
Please follow and like us: