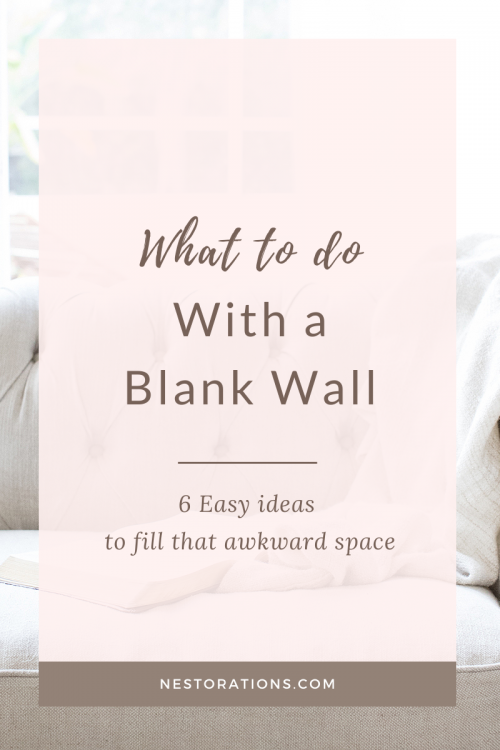 Why is it that anything blank is overwhelming?  Especially a blank wall.
Whether it's a blank screen on the computer, a blank piece of paper before your pencil makes contact, a blank sheet for writing music.  I think it feels like a commitment that we aren't sure about making.  It reminds me of writing high school and college essays…oh the dread.  The mere idea of filling up something that is completely empty scares most of us.  Heck, even when I first started writing blog posts like this one months ago, I used to get completely overwhelmed.  I felt stressed as I stared at the blank computer screen just willing the words to come out of me. 
But I learned something about writing blog posts that has helped tremendously and now I don't stress looking at the screen anymore. I learned to create an outline template so each time I'm ready to start a new post I have the comfort of a place to start. That's all I needed and it took several months of frustration for me to finally figure that out.  So, now I'll share that tip with you as it relates to your blank wall.  I'll give you an "outline of 6 options" that you can choose from to fill that wall so you aren't left with a blank space anymore.  And I created a handy image for you to Pin so you don't forget them.
A simple option to start with is to simply add furniture to your blank wall.  Ask yourself "Will it help to add furniture there?  Will it help serve a function?  Is it just decorative?"  Furniture doesn't have to serve a function and something decorative is totally okay.  Maybe it would help to have a piece of furniture there to fill the space and add some storage or place to add lamps or accessories. 
Could you add a collection of framed art or family photos to fill your space?  Adding family photos is a great way to tell parts of your story.  I personally like simple gallery wall frames and think Pottery Barn has some great, inexpensive options. You could mix in some other things, like signs, with your gallery wall, but a large gallery wall is definitely a great way to accent a blank wall.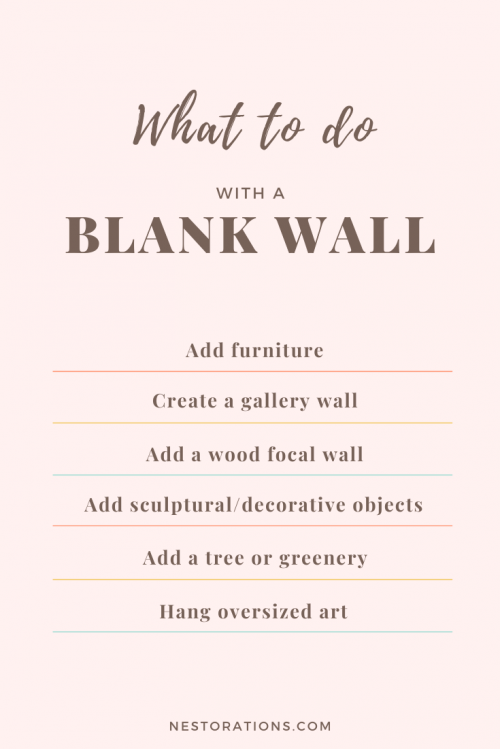 A wood focal wall…now you're talking my love language.  I love a good, wood focal wall to fill a blank wall.  There are endless choices to choose from and focal walls make a BIG statement.  If you want a simple look, you can always add basic panel moldings like the center image.  Be still my heart.
Add sculptural or decorative objects
When I say a sculptural or decorative object you could add a ladder, a mirror, a statue or fun decorative objects.  It can be simple and doesn't have to be fussy.  A mirror will add and reflect light in the space.  A ladder will be a minimal statement. A statue or decorative objects are unique and are conversation starters.  Fun, decorative objects like you see in the image below from Phillips Collection are worth considering to fill you blank wall.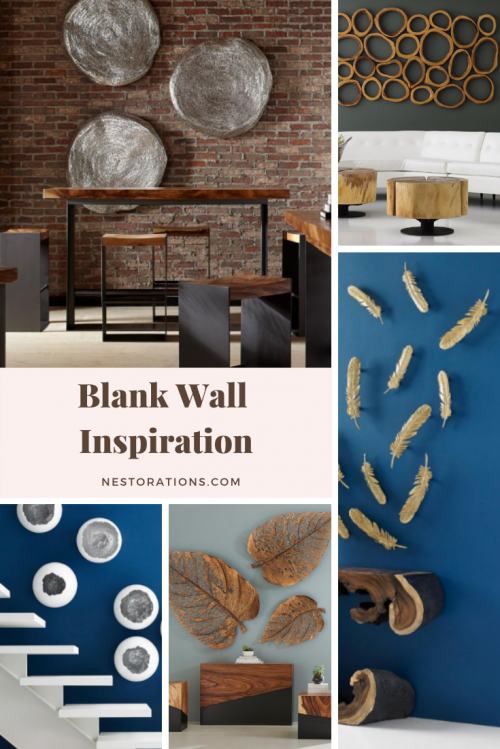 You can always add a little greenery to a wall.  It could be vases up a wall with greenery and/or succulents or even a large tree.  I love adding touches of nature in our homes.  It connects us to the earth and adds a bit of calm in our hectic lives.
Fill your blank wall space with large wall art and paintings.  Whether it's a single piece of art, a pair, or a trio of art you can't go wrong with large scale pieces. They will definitely make a statement.  
Conclusion-Final thoughts...
Be sure to pin this post for later with the handy graphics above so the next time you're staring at a blank wall in your home, you'll have an outline full of ideas to start with.  See what works for you and give it a try.  I can't wait to see what you do.  Be sure to tag me on social @nestorations with whatever you create.  
And of course if you still need some extra help or want to work together then be sure to reach out to schedule a discovery call.  I can't wait to connect with you!
Please follow and like us: