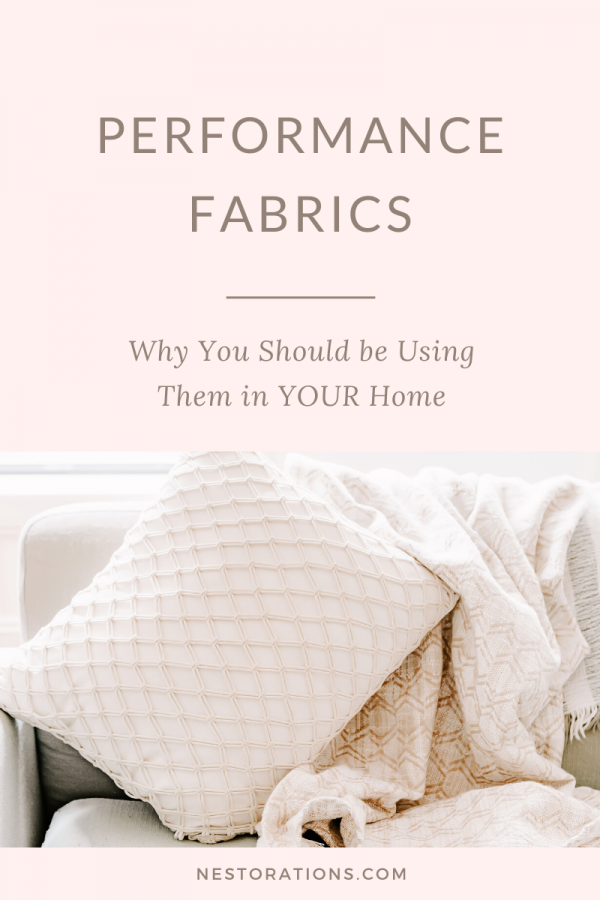 Do you have kids or pets?  Then, performance fabrics are a MUST for your home.  If you like curling up on the sofa watching movies and eating pints of Ben and Jerry's or if you enjoy a little Netflix binging with a glass or two of red wine, then performance fabrics are a MUST for your home. 
What are Performance Fabrics?
Performance fabrics are fabrics that are easy to clean and are made to withstand the wear and tear of everyday use.  Originally made for outdoor use, fabric manufacturers have realized the value of performance fabrics for indoors as well. Luckily now there are more options than ever for customers to choose from.  
There are lots of different players out there and some fabrics, like Sunbrella, really specialize in fade resistance compared to others.  Some characteristics of performance fabrics are: stain resistant, spill resistant, fade resistant, water resistant, mold and mildew resistant, odor resistant, as well as durable so they don't break down over time as easily.  Sounds amazing, right? Always check with the furniture store, your designer, or feel free to ask me if you have any questions about which fabric is right for you.
Performance Fabrics and Food Stains
Imagine this…yellow mustard on a white sofa.  Omg. I don't know about you, but the thought of that literally sent me into a panic when this happened at my own house.  Now, the rule in our house is that we eat in the kitchen and dining room so I have literally NO IDEA how yellow mustard ended up on the cushion of my sofa.  (Well, for anyone else with kids this whole mustard on a family room sofa situation actually doesn't seem so far fetched.) Apparently my son, who was ten at the time, was eating something at the kitchen island and in typical boy fashion the mustard gets stuck to his body somehow.  All you boy moms out there are nodding in solidarity on this one-ha! 
Anyway, it was time to find out if my own performance fabric really worked.  I unzipped the cushion cover, stuck it in the washing machine, took it out (picture me nervously searching for signs of mustard) and Voila!  Mustard stain GONE. BOOM! Performance fabrics to the rescue.
What about Dark Denim Stains?
Just last year my parents were visiting and stayed with us for a week.  Now, my mother (love her dearly) often wears really dark denim jeans. I didn't think anything of it at the time-but once they left I realized that my white sofa had turned a noticeable shade of blue where she usually sat.  Time to put that performance fabric to the test again! I unzipped the cushion cover, stuck it in the washing machine, took it out (again picture me nervously searching for signs of blue) and I'm happy to say that the denim stain disappeared. Performance fabrics to the rescue AGAIN.
Have you tried using performance fabrics in your own home, yet?  If you want a truly LIVABLE space in your home where you don't have to worry about every spill or stain, then I highly recommend them.
Please follow and like us: