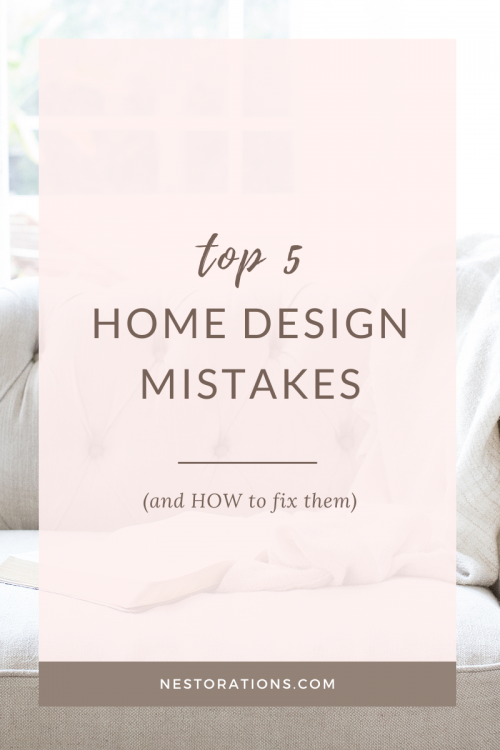 Nobody likes to make mistakes. Especially home design mistakes because they always waste your valuable time and money. Ugh. But let's be honest–mistakes happen.
Maybe you've made some of these mistakes because you feel overwhelmed when it comes to home design. If that's the case–trust me when I say that you're NOT alone.
I love the quote by Maya Angelou "when you know better, do better."  And when it comes to interior design mistakes you might not even know you're making them.  We don't always know what we don't know, right?  
But luckily I'm here to help you.
Go through this list and see what mistakes you can change in your home. Some mistakes have easy fixes that you can make today, while others might take a little more time. But, I know you can do it. And remember that I'm here to help. You got this! 
Design Mistake #1
Furniture that is matchy-matchy
I know it's tempting to go to a furniture store and buy the whole matching set of furniture.  It seems easy right?  But please pause before whipping out your credit card.  You want the interior of your home to look like it was built over time, more curated.  Try to mix and match the pieces in your room to create a more personal and custom look for your home.
The FIX: Pick one staple pieces (like your sofa) first and add other pieces in coordinating fabrics and finishes. Multiple fabrics and wood tones is a good thing.
Design Mistake #2
Hanging your draperies too low
I see this one all the time but luckily it has a pretty easy fix.  Maybe you've hung your drapery panels directly over your windows or sliders–it makes sense right?  But, if you hang your drapery panels at the ceiling or right under your crown molding you can actually elongate the room and make your ceilings look taller.  It's true!  It's a quick and easy change that will add some drama to your space.
The FIX: Move your rod higher and add longer drapery panels. 
Design Mistake #3
Hanging one small piece of art
on a large wall
This mistake is WAY too common but luckily it's really easy to fix. Ideally, art work should be about two-thirds the width of the furniture below it.  So if you have an 84″ sofa, the art work should be about 56″ wide.  It might seem scary to put something large up, but trust me-it'll look MUCH better.  
The FIX: Just move the small art to a smaller wall.  If you still want to put a small piece of art above your sofa you can create a gallery wall of smaller pieces that would take up a larger amount of space.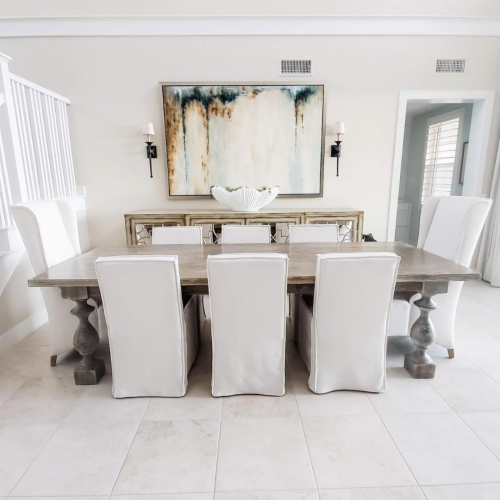 This art is the appropriate size for the large server below it.
Design Mistake #4
Placing your artwork too high
For the most part art should be hung at eye level. A good rule of thumb is that the center of the art should be about 58-60″ off the ground. But for hanging art over a larger piece of furniture, like a sofa, you can skip the eye level rule and hang it 6-8″ over your furniture. If you're hanging a cluster of frames or art for a gallery wall, treat the whole cluster as one big piece and center it on the wall or above furniture accordingly.
The FIX: Get out the tape measure and just move your art down to eye level.  An easy trick to get the height right (without putting 5 nail holes in your wall) is to get out some wrapping or craft paper, cut it to the size of your art and tape it to the wall.  Adjust as needed to get the height right.  
Design Mistake #5
Rugs that are too small for a room
We want our rugs to anchor the furniture in the room so don't be afraid to go bigger.  A small rug just makes the whole room look awkward and out of proportion.  For most living spaces an 8×10 is the minimum size you want to go with.   Just like Goldilocks, we want the rug size to be just right–not too big, not too small.  But when in doubt, I'd much rather you go bigger than smaller.  
The FIX:  Move your smaller rug to a hallway or bedroom and add a larger rug to your space. 
Conclusion...Final Thoughts...
There are lots of design mistakes out there but these are some easier ones to fix.  Was there anything on this list that surprised you?  
If you need help fixing any design mistakes then you're in luck my friend!  Subscribe below to get posts like these delivered to your inbox each week or follow me on Instagram to learn from me there.  Or schedule a free discovery call to talk about your home with yours truly.
Please follow and like us: