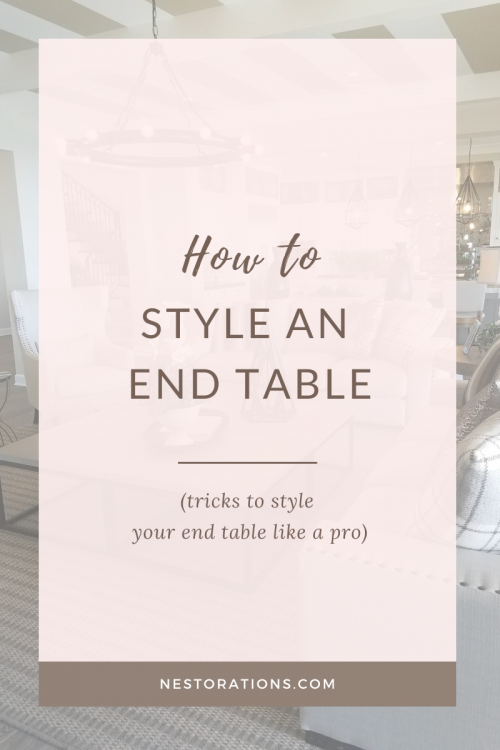 It's back to school time and not just for the kiddos.  This month's four-part blog series is a little interior design "back to school" session that's all about styling those tricky, but crucial areas in your home.  I'm talking about how to style an end table, how to style your coffee table, your console tables and how to style the ever-so-tricky bookcase.   We're going to start with the easiest which is how to style an end table.  
With a few simple tricks you'll be well on your way to a perfectly styled home.
Note:  These tricks will work for nightstands as well.  
If you didn't catch my blog post about the "Rule of Three" then definitely go check that one out.  Basically things look better visually in groups of three.  The Latin phrase "omne trium perfectum" sums it up by saying: everything that comes in threes is perfect, or, every set of three is complete.  For end table styling, try to stick with three objects on your end table.  And yes, your lamp can count as one of those three objects.  Or you can have three separate objects in addition to your lamp.
When using a group of three accessories a pair or cluster of accessories can act as one.  In this example below my group of three is: a tall vase, a smaller vase, and a stack of books with beads and porcelain flowers (these act as one).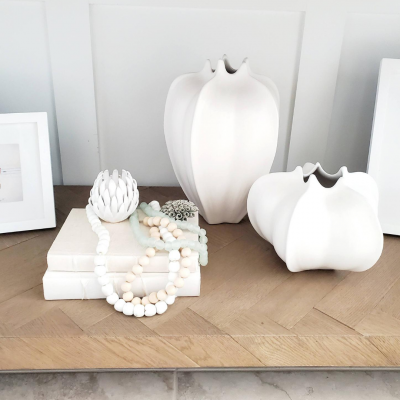 Vary the height of your 3 objects
This tip is really important.  When you style your end table choose objects that are different heights.  It creates a visual triangle so our eyes naturally have different places to look.  So make sure your end table accessories include a mixture of tall, medium height, and shorter objects.  See the Pinterest image below and be sure to pin it for later.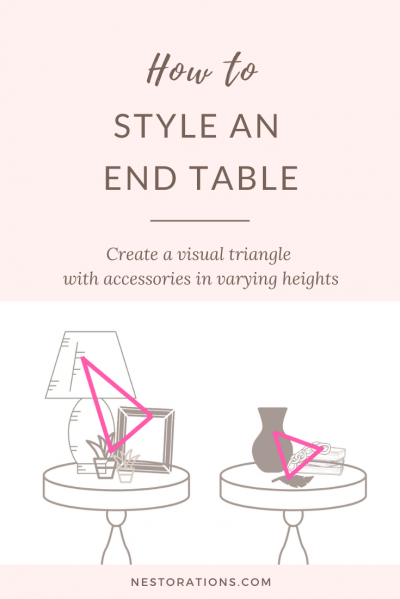 Your tall object could either be the lamp, a picture frame or vase.  Your medium height accessory could be another picture frame, or a small vase or a decorative box.  Your low accessory height will depend on the height of the two other accessories.  But things like small plants, a couple of stacked books with beads, or any small decorative accessory should work. 
In the image below you can see how I styled this end table.  The books, vase and beads count as one taller object.  The succulent is the medium height object, and the coral is the low object.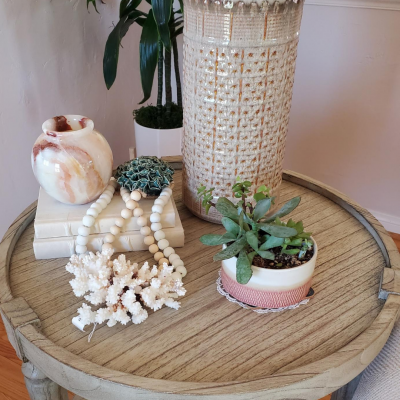 End table accessory options
Next, when choosing accessories for your end tables you'll have to first factor in the size of your end table.  Larger end tables can obviously hold larger accessories and hold more of them.  Also, figure out if you're adding a lamp or not.  If you're adding a lamp, then just look for two other accessories or grouping of accessories like stacked books with a small vase or something. Check out the image below for inspiration.  These examples are all from a local model home.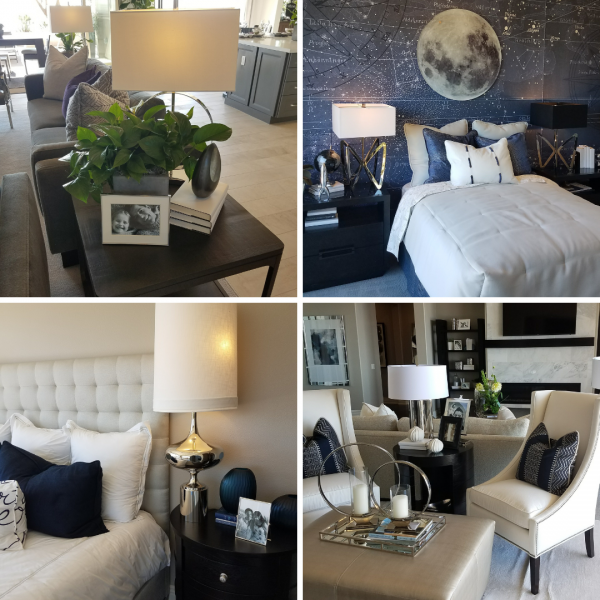 Accessories that I like to add to end tables are: picture frames (keep them simple so the picture actually stands out), stacked books, vases, decorative boxes, plants/succulents, interesting objects and strings of beads.
Click the image above to download my FREE guide to get my four new "How To" style guides (plus 5 other cheat sheets).  You'll learn how to style your end table, how to style your coffee table, how to style your console table AND how to style your bookcase.  Score!
Now that you've learned to style your end table, be on the lookout for my upcoming posts about styling your coffee tables, console tables and bookcases.  End tables are usually the easiest to tackle followed by coffee tables.  Console tables and bookcases can be trickier. 
If you want to get more accessory inspiration then head over to my Pinterest page.  I pin new posts daily and have a lots of accessory and decor inspiration.  See you there!
Please follow and like us: